Rox see Gray's big day as only the beginning
'He's a top-of-the-line talent,' Story says after righty's first MLB win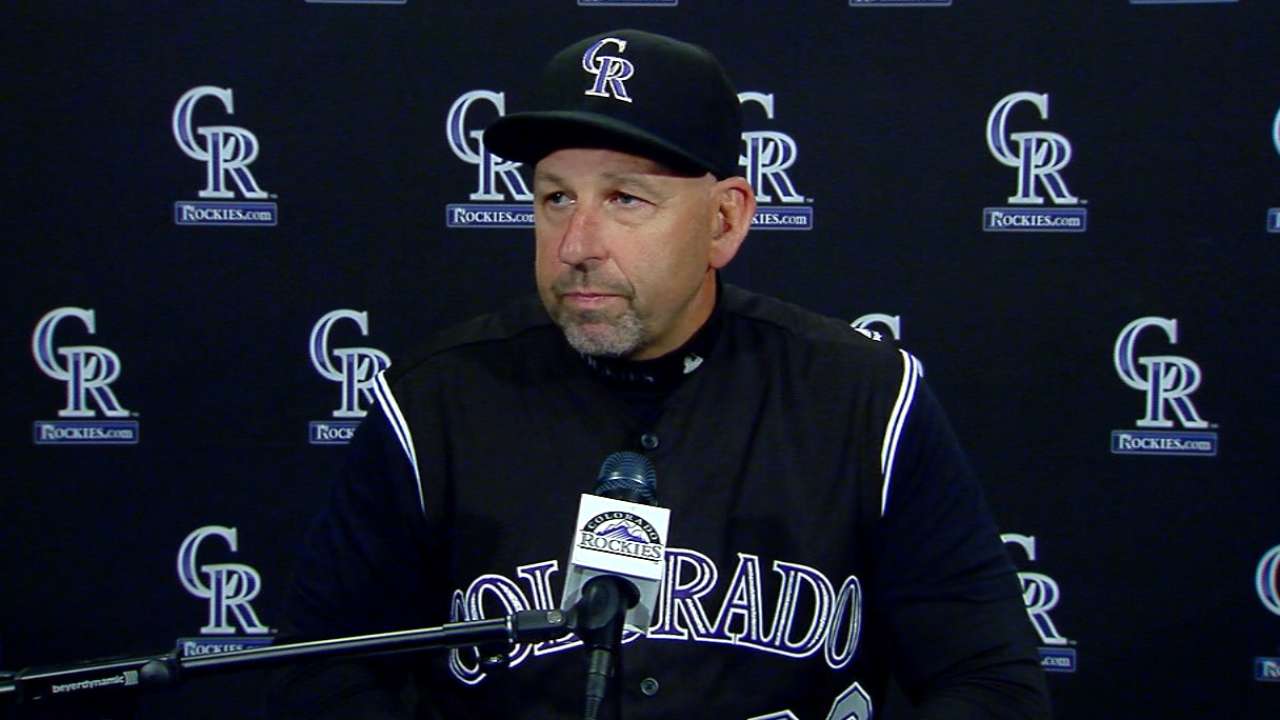 DENVER -- Joyous Rockies teammates carted right-handed pitcher Jon Gray to the shower and turned creative Friday night. Water, sports drinks, toothpaste … "There was Listerine in my eyes -- I don't know who decided to pour that on me," a happily stunned Gray said.
But all the cleansing substances couldn't whisk away the simple fact: sporting a fastball that touched 98 mph in the first and second innings and was 96 most of the night, and a slider that overmatched the Mets, Gray was downright filthy for seven innings while pitching the Rockies to a 5-2 victory over the Mets.
Gray, who struck out eight against five hits, earned his first Major League win after 14 often hard-luck starts. So the surprise shower was a flamboyant exercise to reward the rookie for his milestone.
Future wins won't be celebrated so wildly. In a sense, though, that was the happiest development. The Rockies expect it and Gray, the third overall pick in 2013 out of the University of Oklahoma, counts on more of these dominant games.
"I feel like everything is coming together the way it should," Gray said.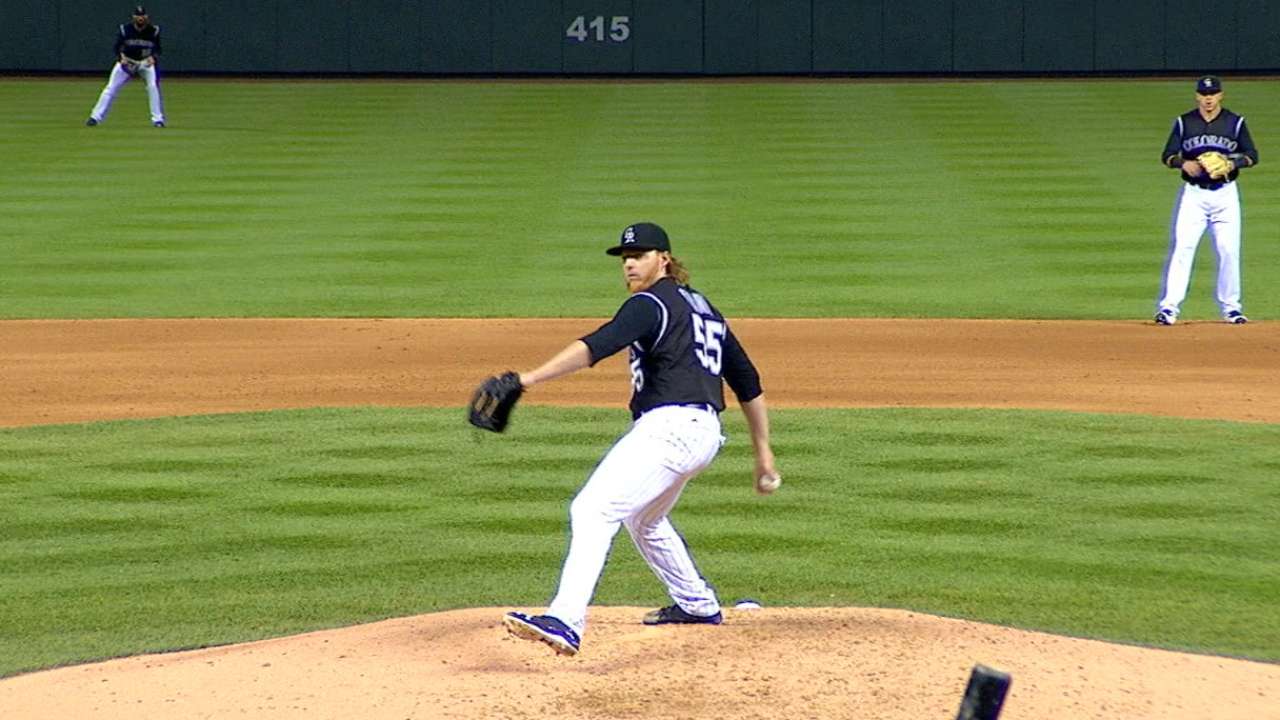 During nine late-season starts last year, a tight pitch limit often kept him out of eligibility for a decision. He started this year on the disabled list with an abdominal injury. But the production showed in Gray's previous two starts. He gave up two first-inning runs, then nothing else over six innings in a loss at San Diego, and followed that up by throwing seven scoreless at San Francisco in a no-decision.
"That's a few in a row. Really, really good ones, so that's a good sign for Jonny," Rockies manager Walt Weiss said.
Gray struck out Curtis Granderson, David Wright and Michael Conforto to open the first. His toughest stretch was the second, when he walked Neil Walker, hit Asdrubal Cabrera and, after thinking he had Kevin Plawecki on a 2-2 breaking ball, yielded a two-run double. From there he was mostly dominant.
Gray forced Plawecki into a grounder to end the fourth with two on base. Granderson doubled with one out in the fifth, but Gray fanned Wright and forced a soft fly ball. He finished with strikeouts of Alejandro De Aza and Granderson. Rookie reliever Carlos Estevez and closer Jake McGee, who earned his 10th save, locked Gray's first victory.
"I'm happy -- the last three games he threw great, and more are coming," said outfielder Gerardo Parra, whose triple in the fourth began the Rockies' scoring.
Rookie shortstop Trevor Story said the dominance of recent starts left him unaware that Gray had not won yet. He realized it when teammate gave Gray a shower he remembers vividly -- they did the same for him when he homered twice in the season-opener.
"He's a top-of-the-line talent," Story said. "He showed that from the first inning."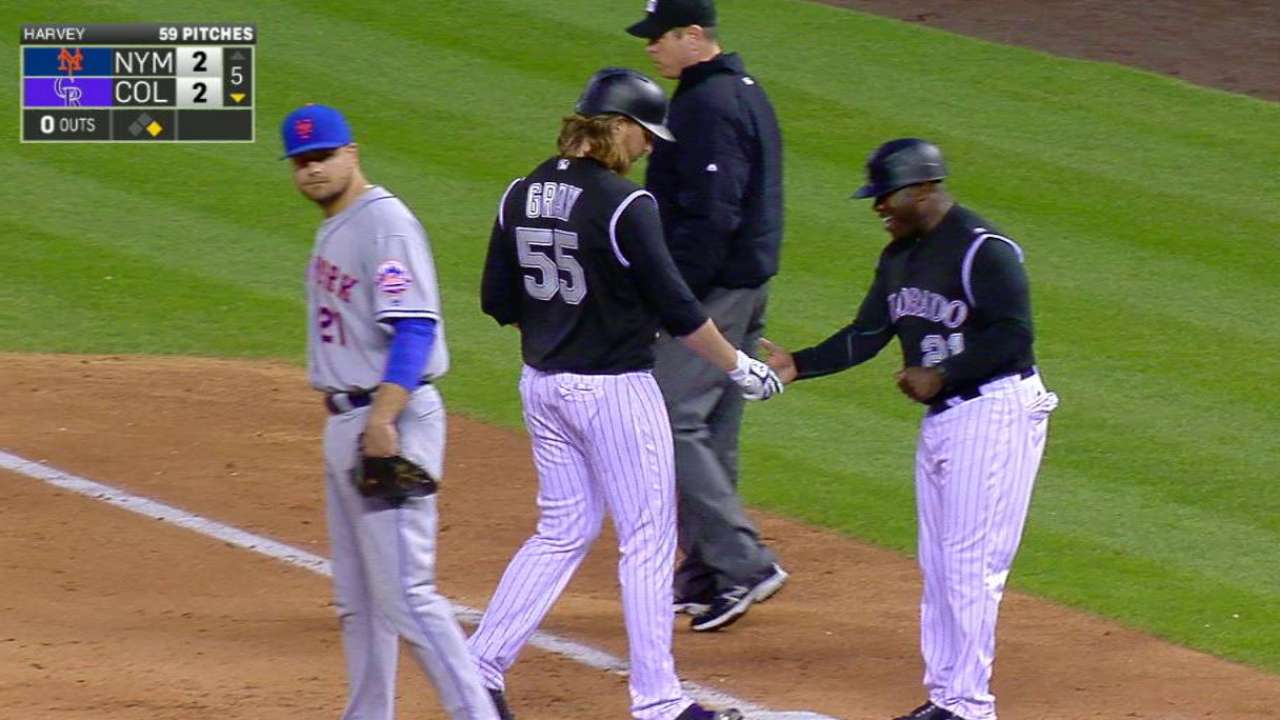 Gray is listed at 6-foot-4 and 235 pounds, and wears lengthy hair and a growing goatee to look grizzled, but everything else about him is unbridled. In previous rough starts, for example, he would throw a fastball powered by anger.
Eagerness was Friday's mood. With each passing inning, Gray trotted to the mound quicker to warm up, as if he wanted to get the Mets into the batter's box -- commercial breaks be darned.
"He was in the moment," catcher Tony Wolters said.
Gray said he had been working on his tempo, feeling his first innings were too deliberate. But the rush to get an inning going? Not planned at all.
"It think it was just the positive feeling carrying over," Gray said.
No matter what his teammates doused him with after the game, no one wants that feeling washed away.
Thomas Harding has covered the Rockies since 2000, and for MLB.com since 2002. Follow him on Twitter @harding_at_mlb, listen to podcasts and like his Facebook page. This story was not subject to the approval of Major League Baseball or its clubs.