Twins hoping to 'dig deep,' snap early skid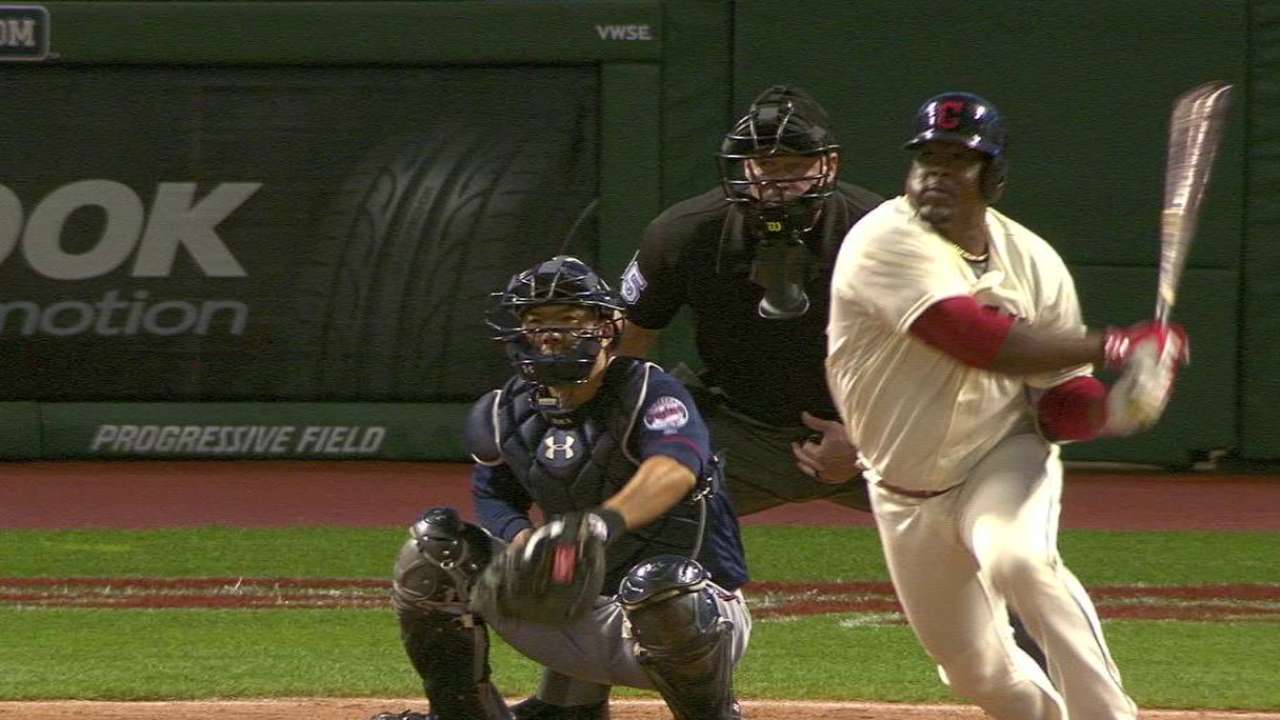 CLEVELAND -- Powered by a season-high four homers that went a combined 1,722 feet, the Twins appeared primed to snap their seven-game losing streak and pick up their third road win of the year.
Alas, the Twins let another one get away, as Trevor May couldn't hold a one-run lead in the eighth, giving up three runs. The Twins got a run back in the bottom of the ninth on an RBI single from Eduardo Nunez, and had two runners on base, only for Byung Ho Park -- who homered twice -- to strike out swinging and end the game in a 7-6 loss to the Indians that extended Minnesota's losing streak to eight games.
"A lot of drama at the end with Nunez getting a big hit for us, and I thought we had a chance to add on there, but we didn't and it was costly," Twins manager Paul Molitor said. "Trevor couldn't execute his pitches there, and the walk to [Jose] Ramirez really hurt. They capitalized with the big double to center [from Marlon Byrd] and another two-strike knock [from Juan Uribe]. We gave it a go in the ninth, which was good to see, but same result."
It was a result the Twins are all too familiar with this season, as they're an almost unfathomable 2-16 on the road. The offense showed signs of life with the four homers, but Minnesota went 1-for-9 with runners in scoring position to leave eight runners on base.
"We have power, but it's about doing the little things right to manufacture runs," said second baseman Brian Dozier. "You look up and we lose by a run, and we left a lot of runners on base."
Dozier, the clubhouse leader after the retirement of Torii Hunter, was left searching for answers after the game, as he said they're looking for something, anything to get the team going after its 8-26 start to the year.
"We need something to get us going in the right direction," Dozier said. "We have to find that something, whether it's just that one win. The beautiful thing is we have a game tomorrow, and it's only 30-something games into the season, but it's testing everybody in here from our character to the way we play the game. We have to dig deep and keep grinding."
Veteran right-hander Ricky Nolasco, who gave up four runs in six innings in a no-decision, didn't hold back when asked about the mood of the team given its situation, as the Twins have the worst record in baseball and are already 15 games out of first place just a year after finishing with their first winning record since 2010.
"We're beyond frustrated in here," Nolasco said. "I think everybody is. But nobody is going to feel sorry for us. We need to keep grinding and working hard. I know everyone is giving it everything they have, but we gotta get some results pretty soon, because this is getting pretty ugly."
Rhett Bollinger has covered the Twins for MLB.com since 2011. Read his blog, Bollinger Beat, follow him on Twitter @RhettBollinger and listen to his podcast. This story was not subject to the approval of Major League Baseball or its clubs.