Braves' bats remain silent for winless Teheran
Right-hander fires 7 strong frames in tough loss to Kansas City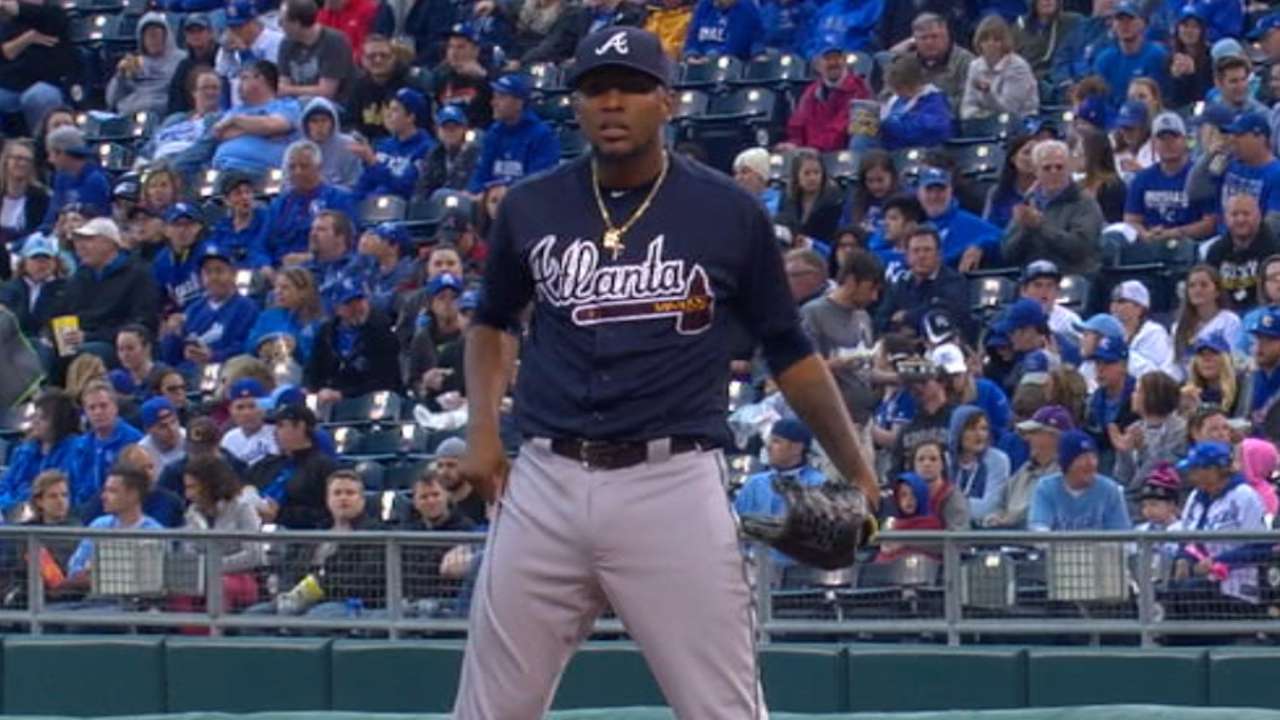 KANSAS CITY -- Right-hander Julio Teheran continues to do an admirable job for the Braves, even though he's now winless in eight starts. He certainly fits the description of tough-luck pitcher.
For the sixth time in those eight starts, Teheran gave his club an excellent chance to win on Friday night. In those six games (including five in a row), he has allowed two runs or fewer. But the offense fizzled again in a 5-1 loss to the Royals.
Teheran went seven strong innings, allowing two runs (one earned) on four hits. Nevertheless, he left in a 2-1 hole in what has become a predictable narrative. The won-loss record says Teheran is 0-4, but manager Fredi Gonzalez is fully aware of how misleading those numbers are.
"You can't ask for anything more," Gonzalez said of Teheran's effort.
The sixth inning told the story of how competitive Teheran has been for the Braves over the opening six weeks. The Royals, already leading 2-0, had runners at first and third with one out when Teheran revved it up to fan Salvador Perez and Cheslor Cuthbert. The Braves trimmed the deficit to 2-1 in the seventh, but the Royals pulled away in the eighth against Atlanta's bullpen.
Gonzalez said he sees no signs of frustration from Teheran regarding the lack of run support.
"I don't see it bothering him," Gonzalez said. "He goes out there every start and gives you a chance to win a game. If he keeps pitching the way he's pitching, he's going to be OK. You can't ask for a better performance than that. He's got a little bulldog in him this year."
Braves catcher Tyler Flowers said it was especially impressive to see Teheran get out of the first-and-third jam unscathed in the sixth.
"He definitely picked it up a notch there," Flowers said. "That's the time to do it. A couple of good hitters were coming up and that's a very contact-oriented team. He executed some pitches and challenged some guys."
Teheran realizes that run support is beyond his control and just wants to continue limiting the opposition.
"You just try to keep going forward," Teheran said. "Just try to concentrate on my job. I'm glad about the way I've been pitching."
Robert Falkoff is a contributor to MLB.com based in Kansas City. This story was not subject to the approval of Major League Baseball or its clubs.