Run saved is run scored; Valencia does both
Third baseman makes pivotal diving grab with bases loaded after hitting 2 HRs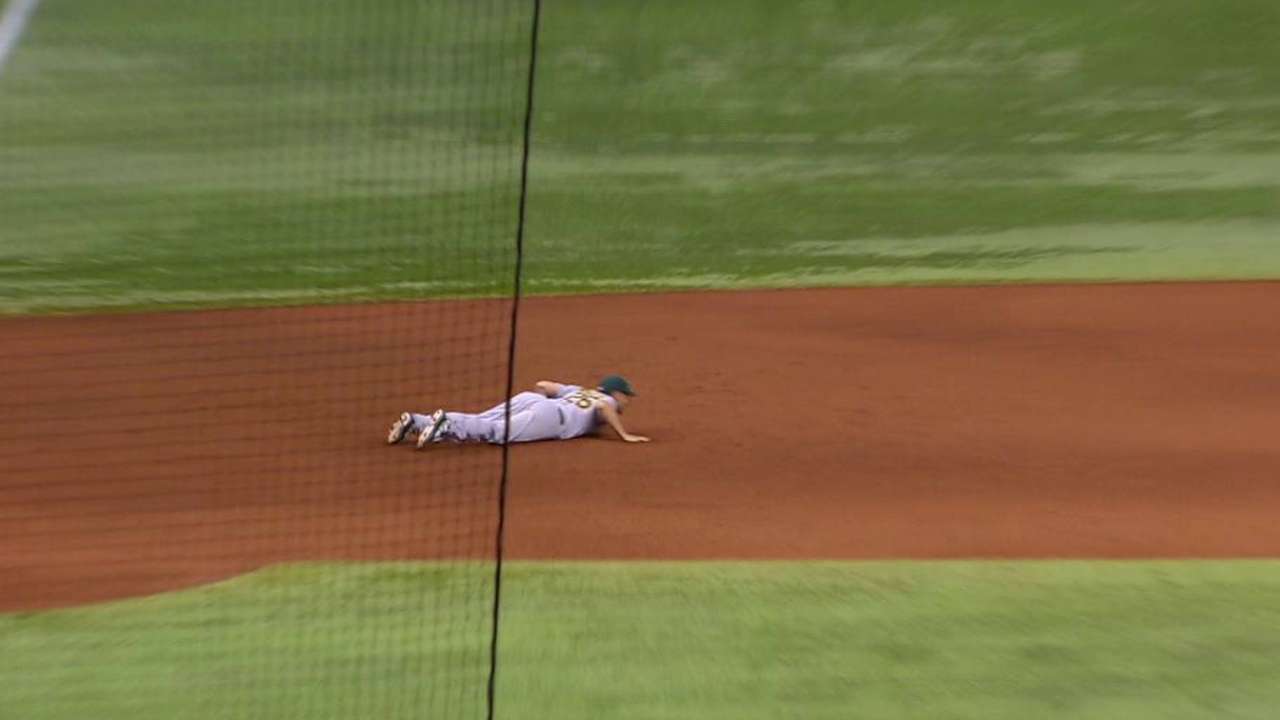 ST. PETERSBURG -- At last, Danny Valencia disrupted the home run column -- not once, but twice, against the Rays at Tropicana Field on Friday night, leading an A's power barrage that helped the club snap a five-game losing streak.
Valencia's strong play in Oakland's 6-3 victory extended to the defensive side as well, with the third baseman saving at least two runs in the ninth inning with a diving grab to rob Evan Longoria of extra bases.
"You make a play like that, it's like knocking in two runs for sure," A's manager Bob Melvin said.
Valencia did that, too.
• Cast your Esurance All-Star ballot for Valencia and other #ASGWorthy players
His first- and sixth-inning solo shots -- two of four A's homers on the night -- snapped a 69-at-bat homerless drought dating back to last season. That they came in his first game since Monday and just his third overall since returning from the disabled list made it even more impressive.
"It's definitely been a challenge," said Valencia, who reinjured his left hamstring in Monday's game in Boston, keeping him out of the rest of the series. "I told [hitting coach Darren Bush] I felt jumpy in the box, so it felt like I was almost swinging at everything. But I was able to get some good pitches and barrel them.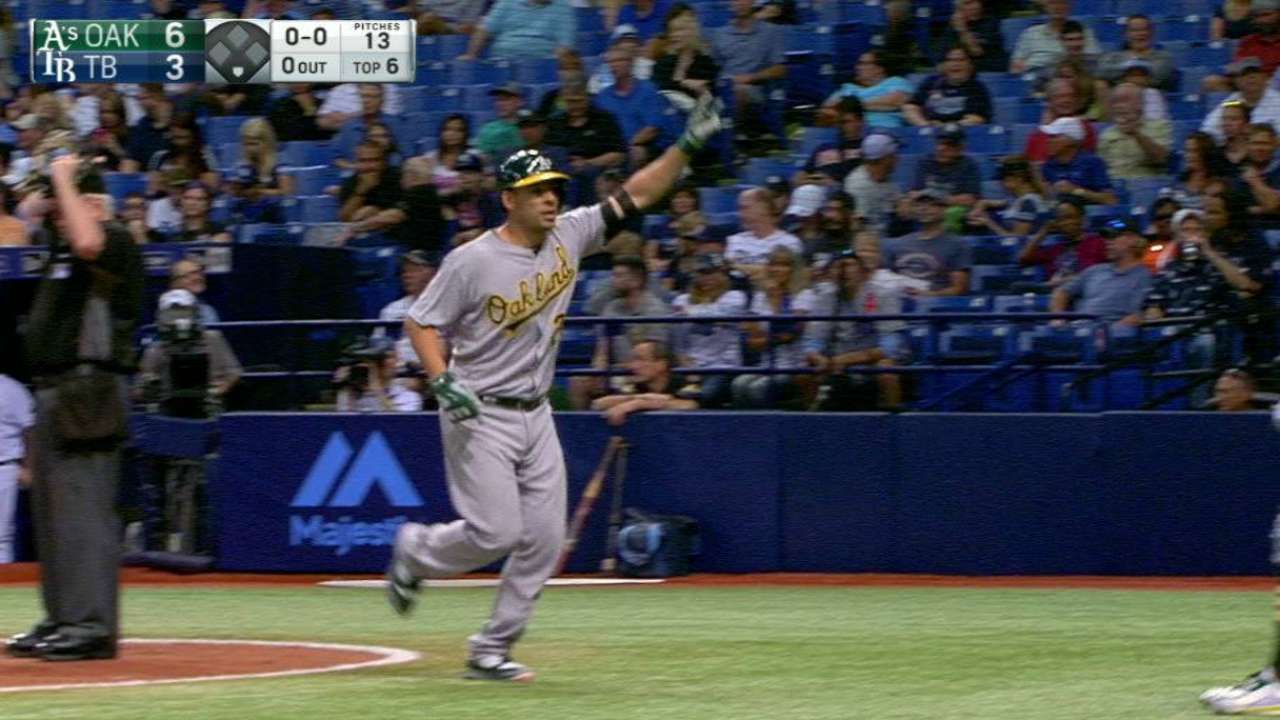 "It's just nice, because I've had a zero in that column, and it's the middle of May, so it's definitely nice to get in that column finally."
Valencia's first home run was the fourth off the C-ring catwalk in left field at Tropicana Field; his second was an opposite-field job.
"Once you come back off the DL, you're hoping you've got enough at-bats to where you have your timing and your rhythm, and when you have a game like that, you don't think about it anymore," Melvin said. "You just hit the ground running."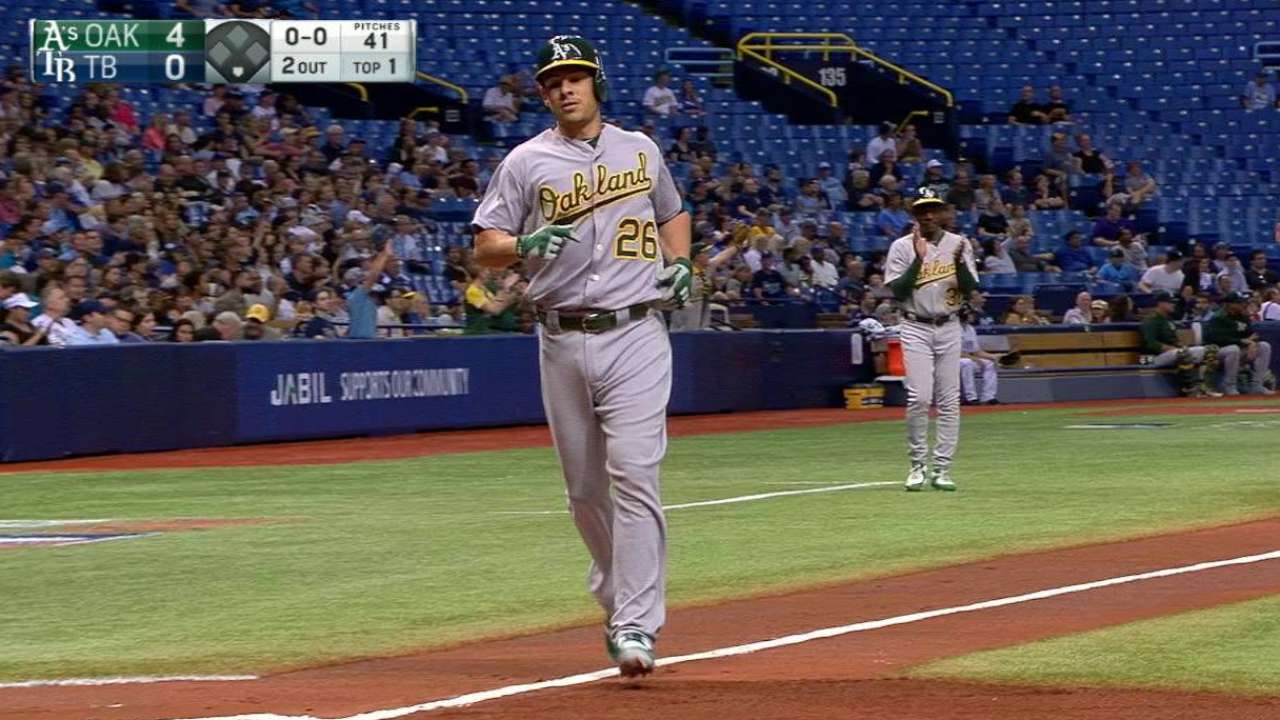 Valencia's ninth-inning snare helped Ryan Madson notch his ninth save; the game-changing play followed a one-out walk to Logan Morrison to load the bases and turned the potential winning run into an out. Madson got Steve Pearce to fly out to center to end the game.
"Longoria is notorious for pulling the ball, and the whole game it seemed like he was doing that," Valencia said. "All game, it felt like he was going to hit the ball to me. Just the anticipation, really, and luckily it was in the small vicinity that I cover, and I made the play."
"That was a big play," Melvin said. "You have to play close to the line, because if it goes down the line, three runs score. So he was close to the line but still got a good jump and read on it to make that play. The homers were important as well."
Jane Lee has covered the A's for MLB.com since 2010. This story was not subject to the approval of Major League Baseball or its clubs.