Lefty-free bullpen stung by homers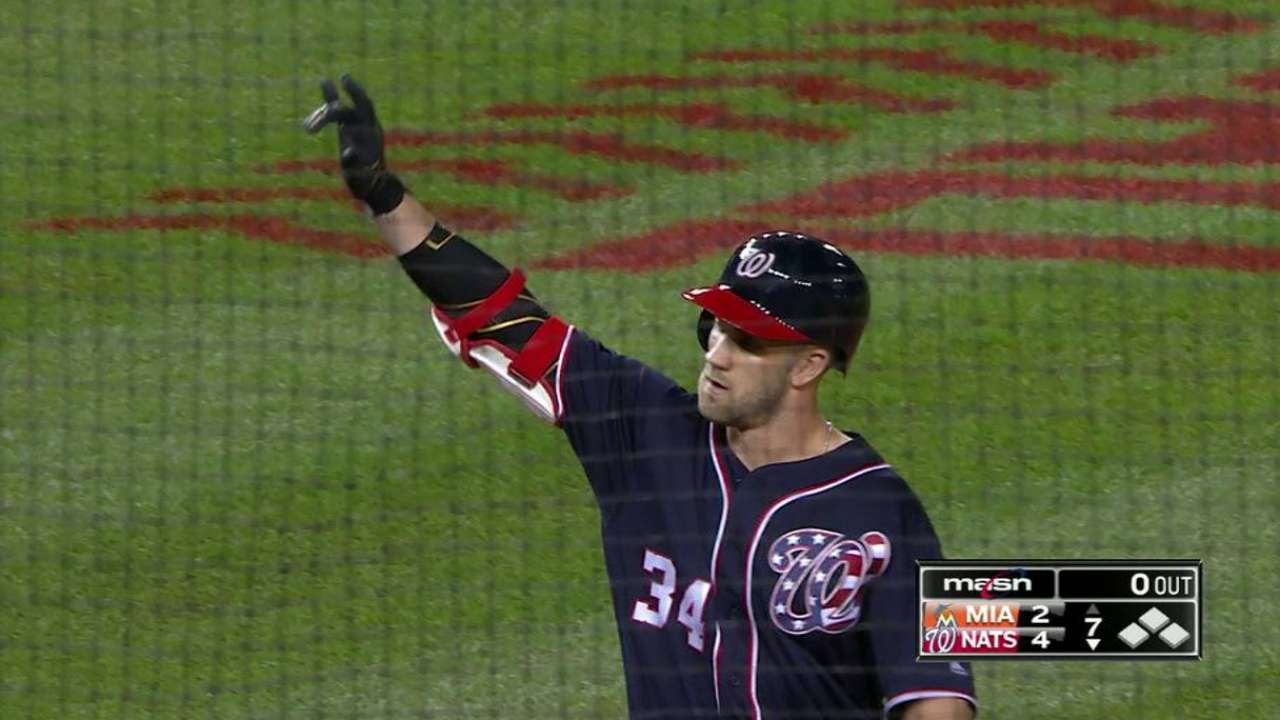 WASHINGTON -- When Marlins starter Tom Koehler exited the game with two outs in the sixth inning, the Nationals had yet to score a run. Then, Don Mattingly called down to the bullpen and balls started flying over the fence in Friday's 5-3 loss.
First, Stephen Drew hit a home run off Bryan Morris to drive in the runner Koehler had left on first base and tie the game at 2. In the seventh, Bryce Harper launched another two-run shot off Kyle Barraclough to give the Nationals a 4-2 lead. Chris Heisey added insurance in the eighth with a solo shot off Dustin McGowan.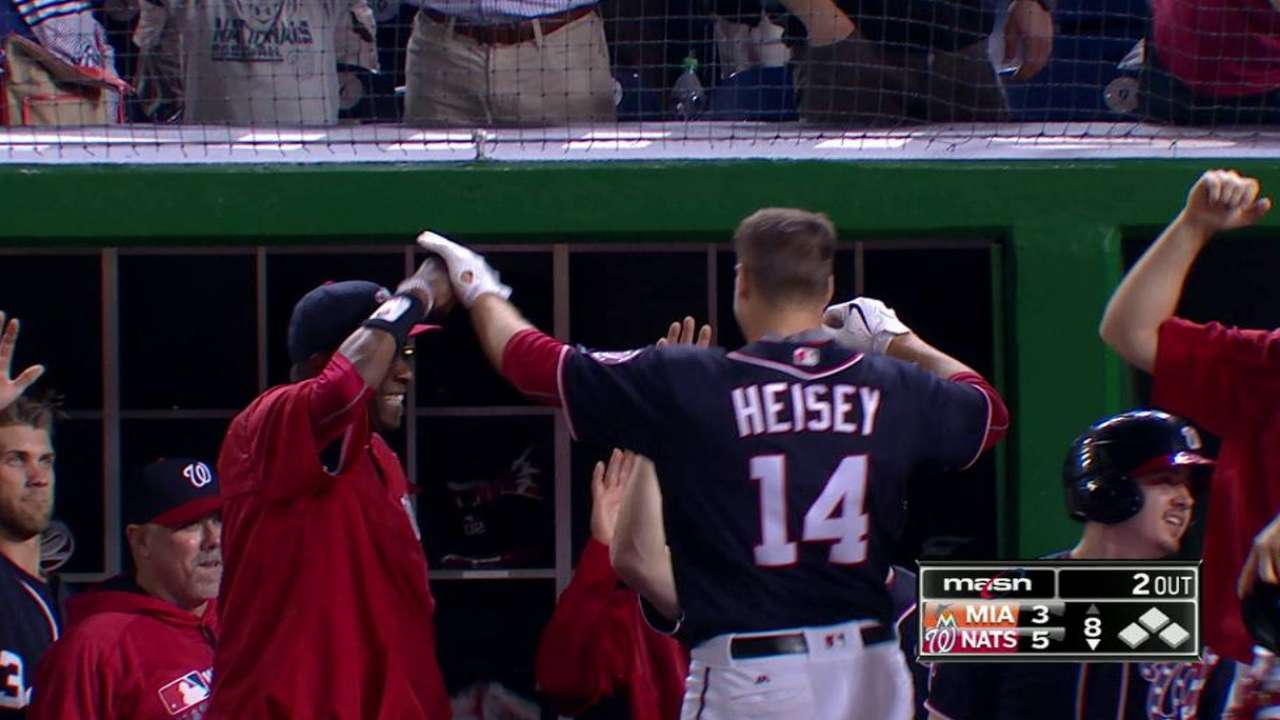 The Marlins' bullpen gave up four runs (plus an inherited runner) in 2 1/3 innings pitched.
Drew's blast came two pitches after Morris expressed frustration with home-plate umpire Chris Guccione over a pitch he felt should have been called a strike.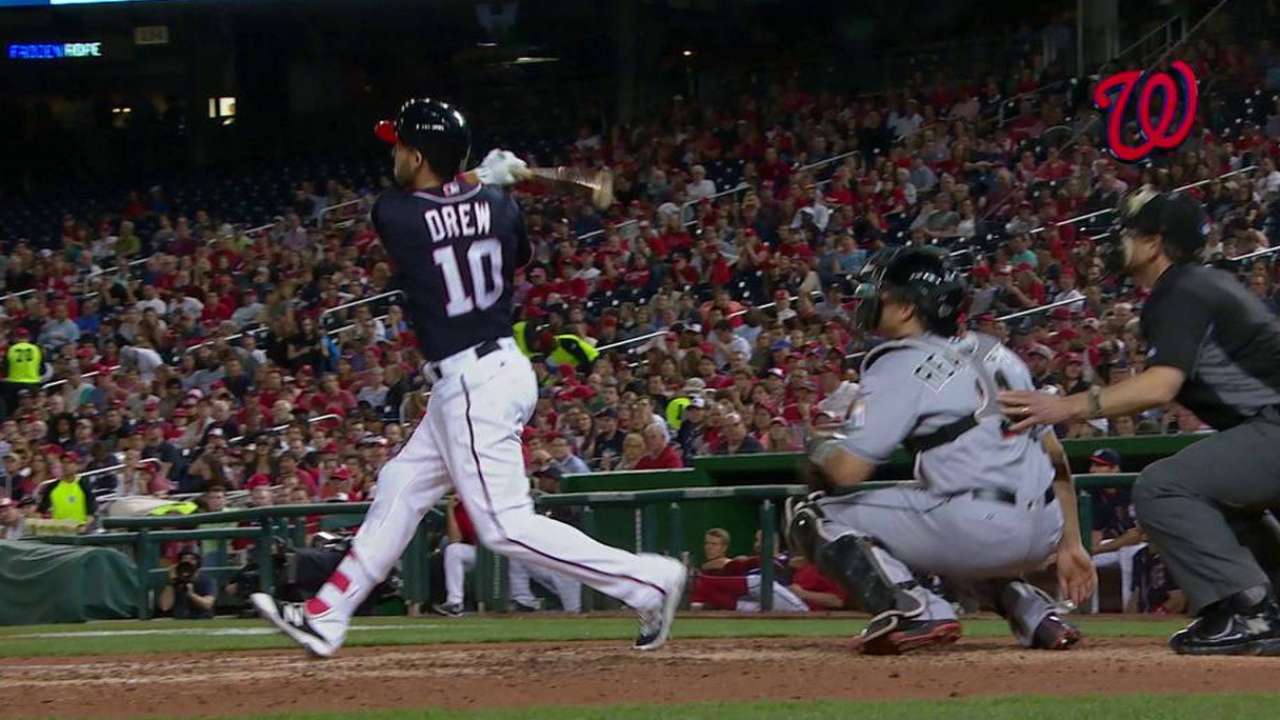 "I let that carry over to the next two pitches, which obviously I can't do," Morris said. "When I got to 2-1, obviously I didn't execute that pitch or I pulled it back over the middle of the plate, and he did what he's supposed to do as a professional hitter."
The next inning, Barraclough, who had allowed only two runs all season entering Friday, walked Anthony Rendon with nobody out to bring up Harper in a tie game. With the go-ahead run on first, the Marlins had little choice but to pitch to Harper, though Barraclough said he would have gone after the lefty slugger regardless.
"I'm not going to work around him. I'm going to go right at him and try to get him out," the righty said. "It's upsetting that I walked the first guy, but even if I didn't walk him, I'm still going to go right at [Harper]."
Harper's home run put the Nationals ahead, and Heisey's shot the following inning provided some cushion.
The Marlins were somewhat hindered by their lack of a left-handed reliever, as both Drew and Harper bat from the left side. With Mike Dunn hurt, Miami is the only Major League team without a southpaw in the bullpen.
Still, Mattingly said he didn't feel handicapped. Since April, he has stuck with Barraclough in the seventh, David Phelps in the eighth and A.J. Ramos in the ninth no matter the matchup.
"We pretty much lined up Clough there," Mattingly said. "We're not really worried if it's righty or lefty."
Alex Putterman is a reporter for MLB.com based in Washington. This story was not subject to the approval of Major League Baseball or its clubs.