Casilla apologizes to Bochy for outburst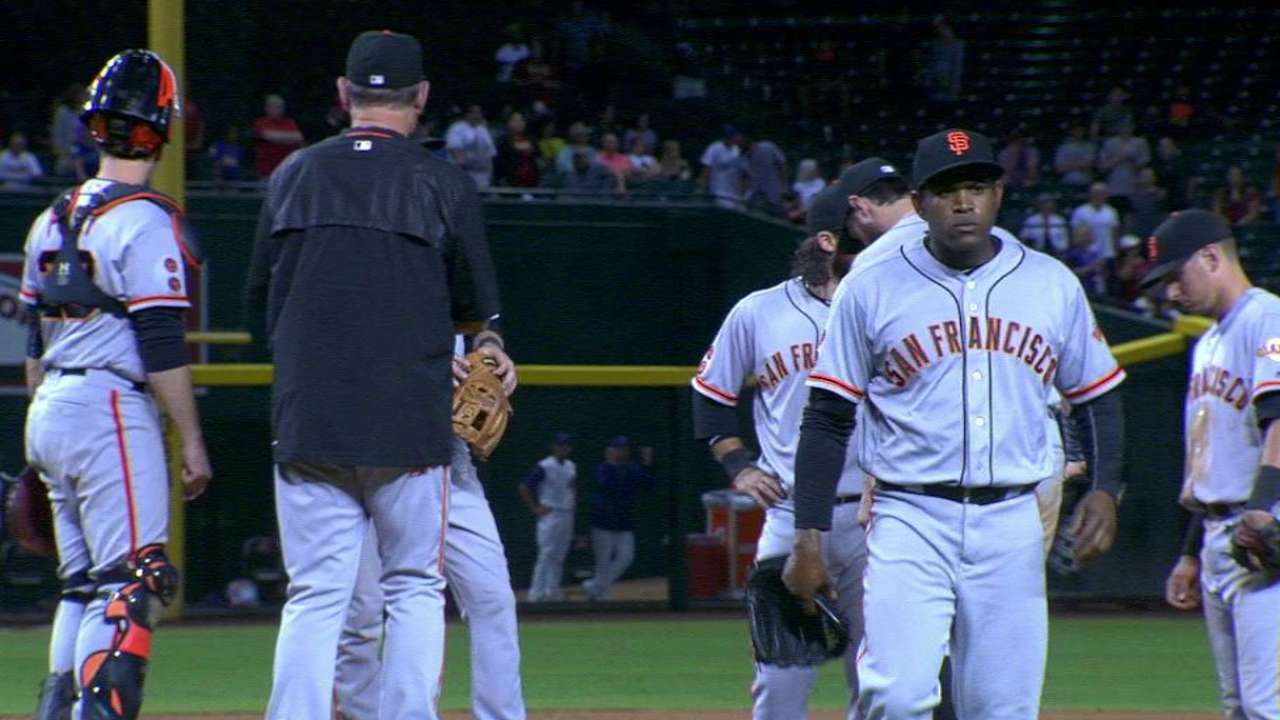 PHOENIX -- Giants closer Santiago Casilla said he had a night to sleep on it and went directly into manager Bruce Bochy's office before the game on Friday night and apologized for his emotional reaction on the mound with two outs in the ninth inning on Thursday night at Chase Field.
Bochy yanked Casilla after the right-hander loaded the bases by walking Paul Goldschmidt on four pitches in favor of left-hander Javier Lopez, who faced one batter to record a rare save in the 4-2 win over the D-backs.
Casilla animatedly danced around the mound as Bochy asked for the ball and when he reluctantly trudged away, the manager called him back. Lopez then came on to face the lefty-swinging Jake Lamb, who cracked his bat as he grounded out to second, giving Lopez only his 14th save of his career and first since 2013.
"I just apologized for my outburst from yesterday," Casilla said through an interpreter. "It's something that happened. I don't know what made me do it. A lot of times you just let your emotions get the best of you. Sometimes you say things without realizing it. And then, having thought about it overnight, I realized that I have to respect my manager."
There was no such drama Friday night, as Bochy went to Casilla with one out in the ninth inning and he responded by striking out Welington Castillo and Yasmany Tomas for his eighth save in the Giants' 3-1 victory. It was Casilla's 100th save as a Giant.
"It was good to get Casilla back out there, I think for his psyche. It was good for him to get the save. I know he was upset with himself about last night, but that's behind us. He goes out and gets two big strikeouts," Bochy said after Friday's victory.
Bochy said on Thursday night that the move was a "no brainer" because the D-backs had no right-handed hitters left on the bench and Lamb is now 0-for-3 lifetime against Lopez, 15-for-102 (.147) lifetime against left-handers.
Casilla admitted that it turned out to be the right move.
"Yes, Lopez is a great pitcher," he said, "and in the end it turned out to be the right move."
D-backs manager Chip Hale said Bochy's intent to put the right pitcher in the right spot is what makes him a great manager.
"I know how good Boch is and he's not afraid to take his closer out of the game," Hale said.
About the tumult it caused, Hale added: "Those are tough times. Managers don't care for that."
For his part, Bochy said the matter has been addressed and is now in the past. Casilla sounded pretty contrite about it.
"He was, but that's Santiago. I get it, at least part of it," Bochy said. "He's got to keep control. He came in and it's over. I'm going to leave it at that."
Barry M. Bloom is a national reporter for MLB.com and writes an MLBlog, Boomskie on Baseball. Follow @boomskie on Twitter. This story was not subject to the approval of Major League Baseball or its clubs.