One of Powell's bats auctioned at Camden Yards
O's scout helping to raise money for cancer charities, throws ceremonial first pitch
BALTIMORE -- When Orioles scout Ryan Powell got the chance to participate in one of the team's intrasquad games during Spring Training, it was so his mother, Wendy, could see the former independent league catcher play baseball again. Yet Ryan wanted to help not only Wendy, who was diagnosed with brain cancer in June 2015, but also other families dealing with similar challenges.
So Ryan teamed up with the company Victus, which crafted 15 special bats for him to use. After the March 29 game in Sarasota, Fla., one bat went to Wendy, while the others -- all autographed by players -- are being auctioned off to benefit different cancer-related charities. One of those was part of a special silent auction the Orioles held during their game against the Tigers on Friday night, when Ryan was on hand to throw out the ceremonial first pitch.
"This bat really represents all cancers, not just one," he said. "It represents everyone who's going through these battles."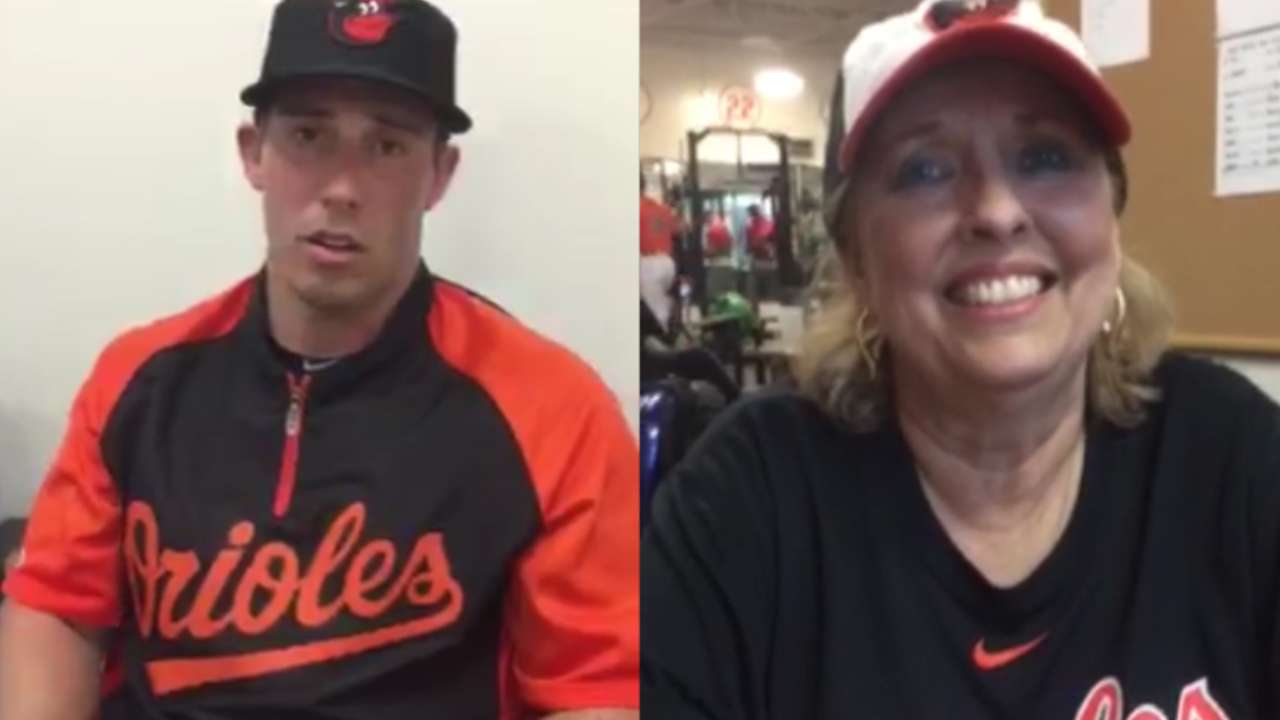 The auction at Camden Yards allowed fans in attendance to bid on memorabilia through the MLB.com Ballpark app. Proceeds will benefit Shannon's Fund, which helps patients and their families with expenses and was created in memory of Shannon Obaker, the Orioles' director of community outreach, who died of cancer in 2007, at age 29.
The bat that was part of the auction is inscribed with Powell's initials, as well as his mother's, and includes autographs from the entire Orioles team.
Since getting to play in front of his mother, Powell has resumed his usual scouting role but has been able to visit her regularly in Florida. During that time, he has continued to see the positive impact of his brief return to the field.
"It's day to day," Powell said. "She's had her difficult days; she's had her up days. But since everything's been happening, there's been a whole lot more smiles, and that's what's most important. Before this happened, it really was one of those things where she was losing some of that zest. I really felt it was important that we lifted her spirits, and we definitely accomplished that."
On a day when he stood on the mound at Camden Yards, Powell was particularly glad to be a part of the Orioles' organization, for reasons that went far beyond the first pitch.
"I couldn't be more thankful to the Orioles," he said. "They've been absolutely fantastic to my family and I, and very understanding. A lot of the time when I talk to them, we'll be talking about a player or certain things, but one of the first things they'll say is, 'Hey Ryan, how's Mom?' It's a very class group in this organization."
Andrew Simon is a reporter for MLB.com based in the Washington metro area. Follow him on Twitter @AndrewSimonMLB. This story was not subject to the approval of Major League Baseball or its clubs.