DeShields sent to Triple-A to work on swing
Rangers slide Desmond over to center field, Rua in left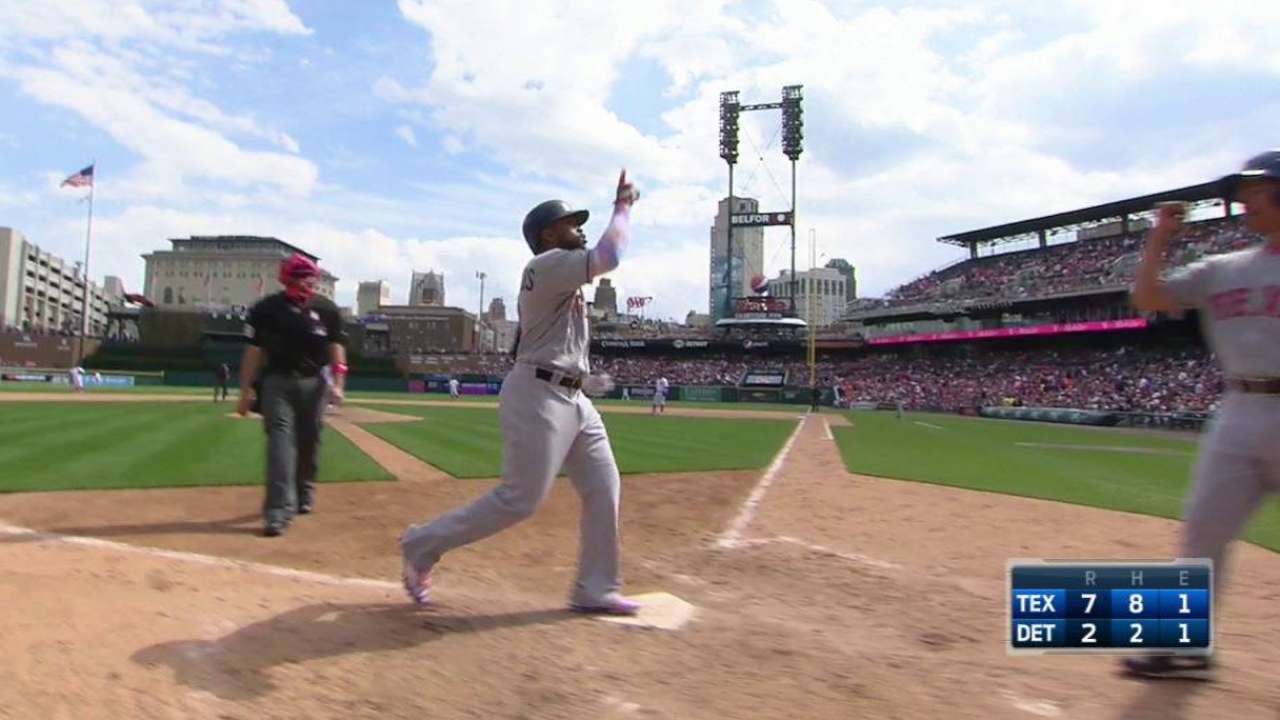 ARLINGTON -- The Rangers optioned outfielder Delino DeShields to Triple-A Round Rock on Friday, leaving Ian Desmond as their starting center fielder.
Ryan Rua will hold down left field until Shin-Soo Choo is ready. Choo is on the disabled list with a strained right calf and is currently playing in extended spring training.
Choo could begin a medical rehabilitation assignment as early as this weekend and possibly return in seven to 10 days. At that point, the Rangers would have him and Nomar Mazara in the corner-outfield positions.
DeShields was hitting .217 with a .294 on-base percentage and a .302 slugging percentage in 30 games, and he had lost his spot as the leadoff hitter to Rougned Odor. He was the Rangers Rookie of the Year in 2015 after hitting .261 with .344 on-base and .374 slugging.
"When we are at our best, he is our catalyst," general manager Jon Daniels said. "He was last year, and we believe he can be again. We feel it's best to let him go down and clear his mind. The physical talent and desire is there. We've got to get him back to playing the way he did last year when he sparked us."
DeShields said he needs to get his energy back and start having fun playing baseball again.
"It was like I was trying to work baseball instead of play baseball," DeShields said. "I can look at this as being the best for me, or the worst for me and bury myself. I believe I can come back here, hopefully sooner than later, and help this team win."
The Rangers hope DeShields can do what Odor did last season. He was the Rangers' Opening Day second baseman but was optioned to Triple-A on May 8 with a .144 batting average. He returned on June 15 and hit .292 with a .527 slugging percentage over 91 games.
"He can look at the experience of Rougned," manager Jeff Banister said. "That blueprint is right there. Players get sent down for similar reasons. Go down, find the edge, work on your craft and when given another option, come up and make the most of it."
Rangers beat
• Left-hander Cesar Ramos was in the bullpen on Friday, just in case of emergency, but will likely start against the Blue Jays on Sunday. Ramos is filling in for right-hander A.J. Griffin, who is on the disabled list with inflammation in his right shoulder.
• Yu Darvish, who is on the disabled list while completing his recovery from Tommy John surgery, is expected to make the fourth start on his rehab assignment on Tuesday for Double-A Frisco at Midland. He is scheduled to pitch five innings and 75 pitches, and will likely have one more start after that.
• The Rangers have reached a tentative agreement with right-hander Kyle Lohse, but it is a Minor League contract and pending a physical. Lohse is expected to be assigned to Triple-A.
• Mazara is the first Rangers player to hit safely in 26 of his first 28 Major League games.
T.R. Sullivan has covered the Rangers since 1989, and for MLB.com since 2006. Follow him on Twitter @Sullivan_Ranger and listen to his podcast. This story was not subject to the approval of Major League Baseball or its clubs.