May making smooth transition to Twins' 'pen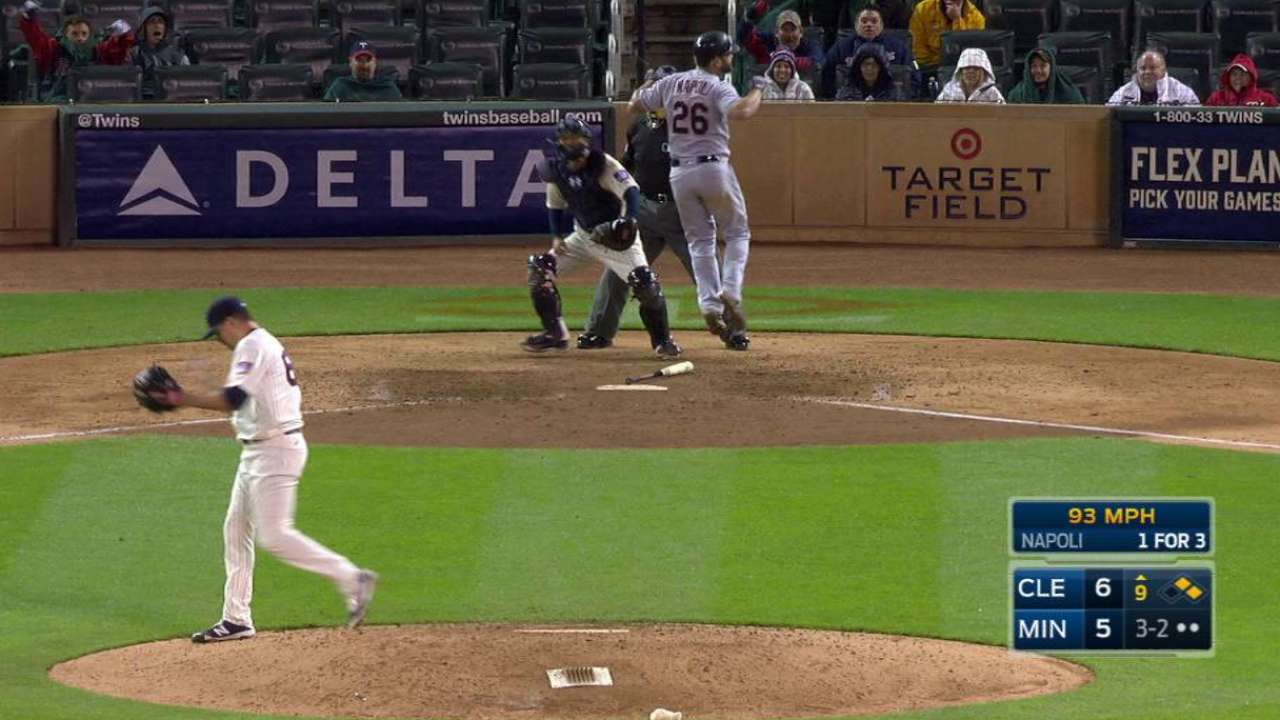 CLEVELAND -- Right-hander Trevor May has been a bright spot in the bullpen for the Twins this year, as he ranks among the league leaders in strikeouts per nine innings, but he had a tough outing in Friday's 7-6 loss to the Indians.
May entered with a 1.89 ERA and was carrying a scoreless streak of eight innings, but after giving up three runs in the eighth, he saw his ERA rise to 3.20. May, though, still has racked up 29 strikeouts in 19 2/3 innings, ranking seventh among American League relievers by striking out 13.27 batters per nine.
"I think he's regained his confidence with his changeup and his curve, while he's kind of eliminated that slider he used as a starter," Twins manager Paul Molitor said before the game. "His fastball command early, he was probably overthrowing, and we saw a lot of high fastballs out of the zone. I think when you're talking about a young man whose experience in the bullpen stretches about three to four months, it's still kind of a process for him."
As Molitor noted, coming into Friday's game May has ditched his slider this year, instead increasing his fastball usage from 60.1 percent to 65.3 percent while mostly sticking with four-seam fastballs. He's also throwing his curve a career-high 21.5 percent of the time, while still mixing in his change 13.2 percent of the time. Additionally, he's seen his fastball velocity jump in relief, as it's averaging 94 mph compared to 92.9 mph last year.
"I'm executing better," May said. "I'm just trying to get ahead of guys. I walked too many in the beginning and had some mechanical things I was working through. It was also really cold, so it was tough to get loose. The transition to the bullpen and getting ready to pitch every day took a little longer than I expected."
May said he scuffled early in the year while adjusting to pitching out of the bullpen, as he went into Spring Training competing for a spot in the rotation. He hadn't pitched in back-to-back days entering the season and knew exactly when he'd pitch in Spring Training, so he said it took time for him to get used to being available every day.
"It was just getting ready, body-wise," May said. "Getting ready as a reliever in Spring Training is different than the regular season. It took me a while to get used to that. But the work has been fairly consistent, and that's helped."
May last gave up a run on April 24 against the Nationals, and he said he's tried to mix his pitches better since that outing.
"I felt like I was really predictable and didn't throw any changeups to righties and was just pumping fastballs in there," May said. "So I've tried to use my changeup more in fastball counts to both sides of the plate. And sometimes only throwing offspeed stuff to a hitter."
Molitor, though, said even with May's impressive numbers, he still plans to stick with Kevin Jepsen as the club's closer.
"[Jepsen's] got more experience out there doing what he's doing than other people I would consider," Molitor said. "Right or wrong, I'd like to get him into a save situation to see how he responds, as opposed to trying to keep a game close."
Rhett Bollinger has covered the Twins for MLB.com since 2011. Read his blog, Bollinger Beat, follow him on Twitter @RhettBollinger and listen to his podcast. This story was not subject to the approval of Major League Baseball or its clubs.