Yost tells Royals to keep grinding in 'discussion'
Orlando, Dyson to split time in RF like Colon, Infante at 2B
KANSAS CITY -- Technically, Royals manager Ned Yost held a closed-door "discussion" with his team last weekend in Cleveland.
But he loathes any more to call them team meetings.
"They're not really team meetings," Yost said. "It's just to tell them, 'You guys are fine. Keep plugging away.' When you're struggling and not producing, you feel like everyone is looking at you sideways. But this isn't a group that loses its energy much."
The Royals had lost 12 of 16 entering Friday's game with the Braves, but other than the discussion he had with them a as a group last Friday, Yost doesn't anticipate trying to light any fires.
"You don't need to," Yost said. "It was just to let them know, 'Hey, I see you. I see you busting your [butt] out there.' These guys are World [Series] champions, man."
Second base/right field fluid
Yost said as he did with backup Christian Colon and starter Omar Infante at second base, he will mix in backup outfielder Paulo Orlando with Jarrod Dyson in right field for the time being.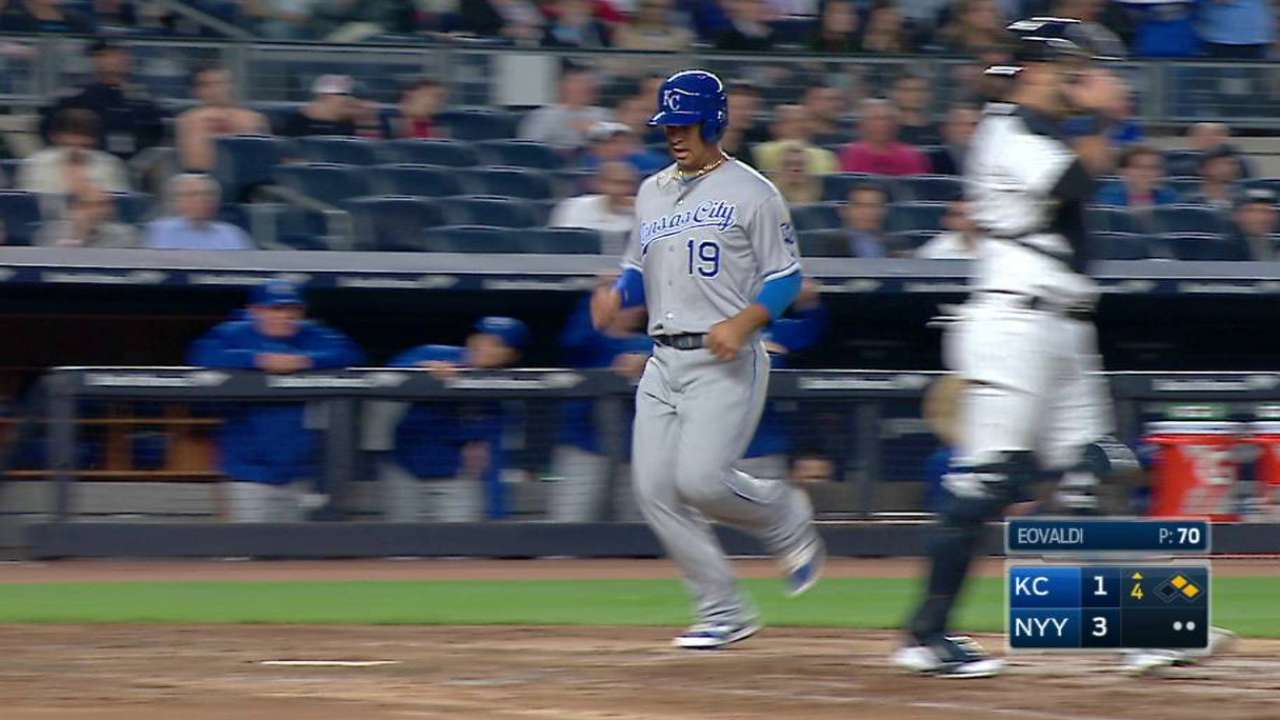 "We're just looking for production," Yost said.
Dyson entered Friday in a 4-for-35 (.114) stretch.
Medlen, Moose updates
Right-hander Kris Medlen was scheduled to have an MRI on Friday, but Yost said he hadn't heard any results.
Meanwhile, third baseman Mike Moustakas, on the disabled list with a fracture in his left palm, took dry swings for the first time since the DL move last weekend in Cleveland. He also played catch for the first time since then. He said he is improving.
Ned Bobblehead Day
The Royals will have a Ned Yost Bobblehead Day on Saturday. And Yost was ready to critique the image.
"There's two things wrong with it," Yost said. "It's got too much gray hair and it's too skinny."
Asked where he might put the bobblehead in his house, Yost said, "When you have lost 12 of 16, you don't think of stuff like that."
Yost said he wasn't too worried if his hunting buddies give him grief about the bobblehead.
"Oh, I plan on giving them all one," he said, to laughs from reporters.
A moment of silence at #TheK in honor of fallen KCK Detective Brad Lancaster. pic.twitter.com/SPTKPiDl3l

— #VoteRoyals (@Royals) May 14, 2016
Moment of silence
The Royals held a moment of silence before Friday's game for Kansas City, Kan., police detective Brad Lancaster, who was shot and killed in the line of duty last week.
Jeffrey Flanagan has covered the Royals since 1991, and for MLB.com since 2015. Follow him on Twitter @FlannyMLB. This story was not subject to the approval of Major League Baseball or its clubs.