Francoeur sees Braves building like Royals
Veteran outfielder says Atlanta is taking same steps with talent in Minors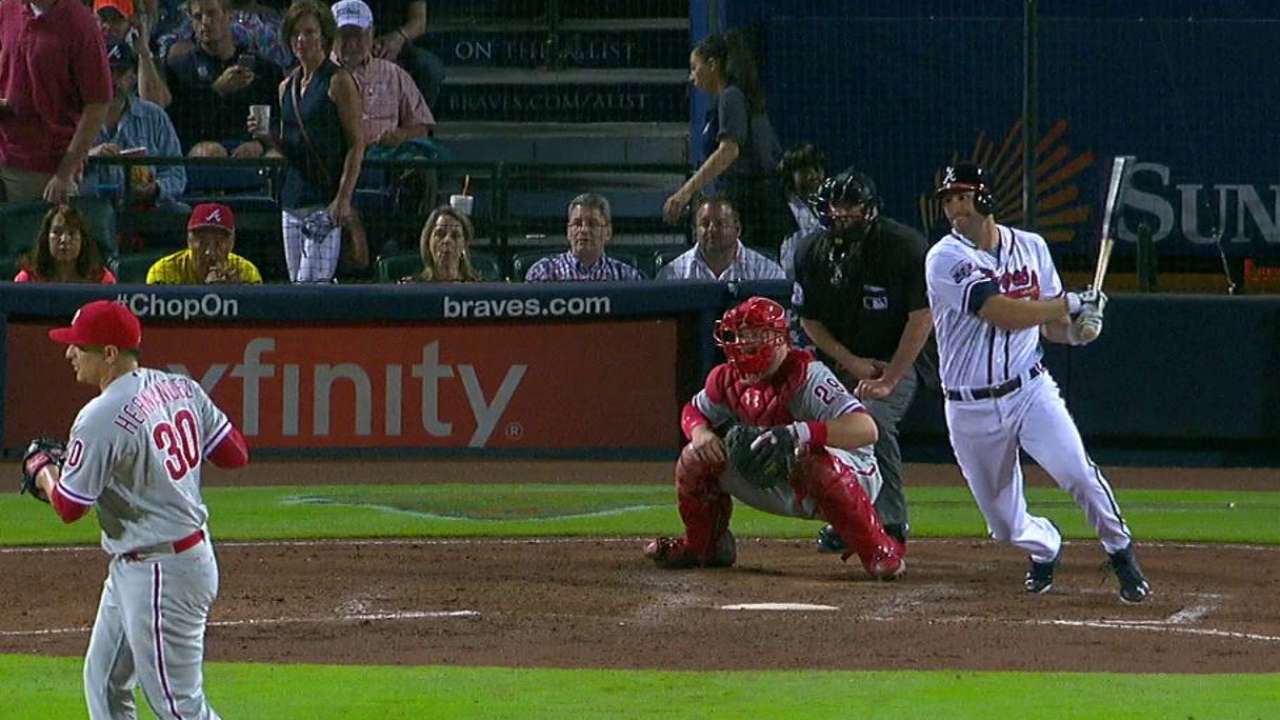 KANSAS CITY -- Outfielder Jeff Francoeur can see some similarities between the contemporary Braves and the Royals clubs he played on in a three-year span from 2011-13 which were laced with growing pains.
For Francoeur, a weekend trip to Kauffman Stadium has revived the memories of how the Royals laid the building blocks for a team that increased its win total for six consecutive seasons, culminating in a World Series title in 2015.
"You saw the talent they had at the lower levels," Francoeur said. "It's honestly similar to where the Braves are right now. Bringing guys slowly along. You add them up a little bit at a time. And then, before you know it ..."
Francoeur's voice trailed off as he recalled the early days of players like Alex Gordon, Eric Hosmer and Mike Moustakas in the Major Leagues.
"They brought Hos and Moose [Moustakas] up. Moose was the one they were waiting on to figure it out. And he would. It was just a matter of time," Francoeur said. "Alex? It took him two or three years to really get it going."
Mixing that trio with the likes of Salvador Perez, Alcides Escobar and Lorenzo Cain, the Royals have established the type of stout young nucleus that the Braves' organization hopes to emulate down the road.
Francoeur's family made the trip to Kansas City and had lunch with the families of Gordon and reliever Luke Hochevar on Friday. When the Royals were developing their young nucleus during Francoeur's time in Kansas City, they sprinkled in some established veterans to show the way on and off the field. That's a role that Francoeur currently has with the Braves.
"I feel comfortable," said Francoeur, who capped a game-tying, four-run rally in the seventh inning against the Phillies on Thursday with an RBI single. "You get those opportunities and take advantage of it."
Robert Falkoff is a contributor to MLB.com based in Kansas City. This story was not subject to the approval of Major League Baseball or its clubs.