Andriese appreciates consistency of new role
Rays' fifth starter to make second start of 2016 vs. A's on Saturday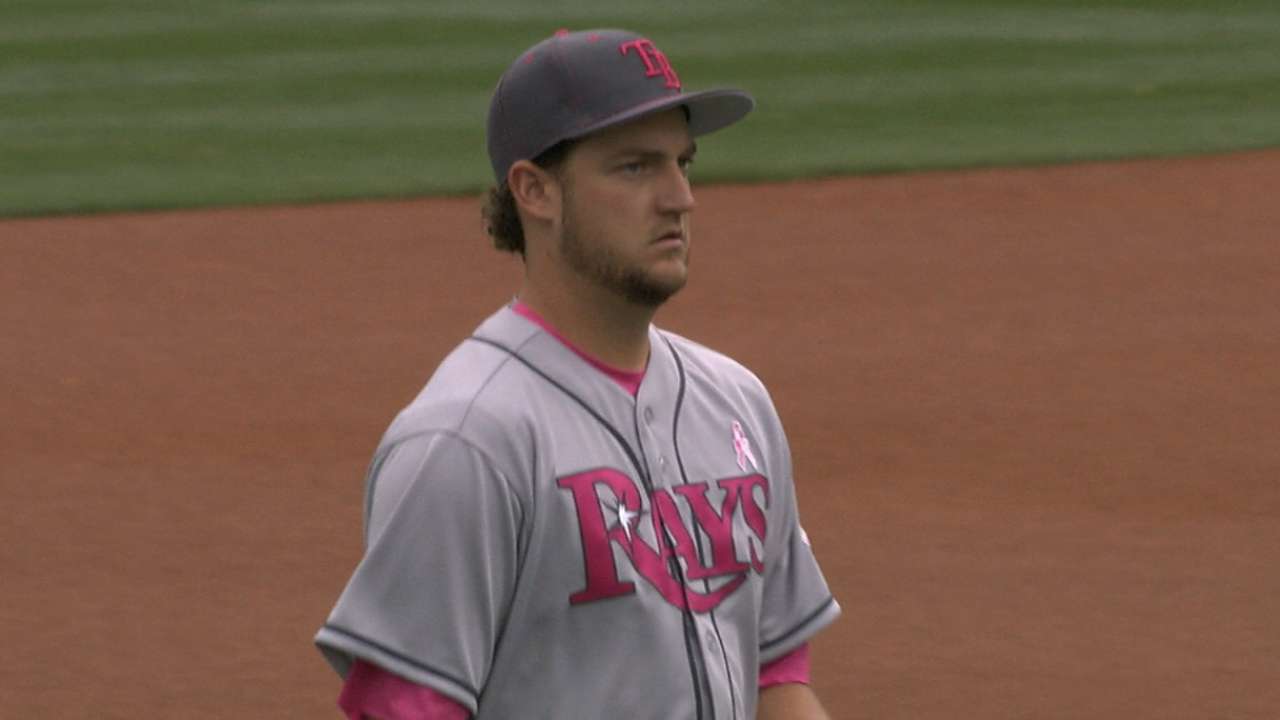 ST. PETERSBURG -- Now working as the Rays' fifth starter, right-hander Matt Andriese is eager to enjoy consistency in the Major Leagues. He'll look to build on the momentum he produced in a victory over the Angels last Sunday in his season debut, when he allowed one run and four hits with three strikeouts in a career-long seven innings.
Next up: Starting against the A's on Saturday at Tropicana Field.
"I'm happy to get in a routine," Andriese said Friday. "I'm just coming out here, and hopefully I'll just be competitive and give the team a chance to win tomorrow. I'm excited for the opportunity."
Andriese, 26, admitted feeling nerves in the first inning of his outing at Angel Stadium, where a large group of friends and family watched from the stands behind the Rays' dugout. He's from Redlands, Calif., located about 52 miles northeast of the ballpark.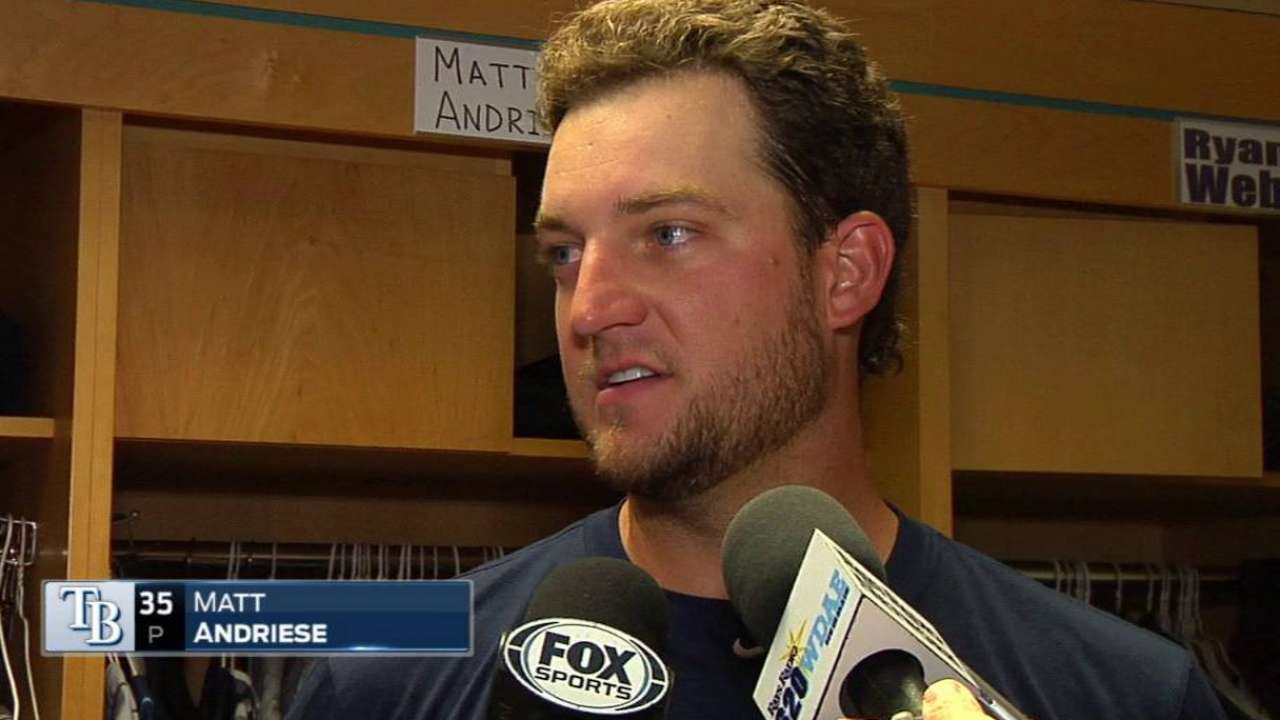 "It kind of felt like a big league debut in a sense that my family was there and a lot of friends were there, too," Andriese said. "Yeah, it was a pretty exciting game. I just hope to build off that."
Andriese, who made his debut in the Major Leagues with the Rays last year, is a career 4-5 with a 3.84 ERA in 26 appearances (nine starts). He faced the A's once last season, allowing two runs and four hits in 2/3 of an inning on Aug. 23 in Oakland.
Before being promoted, Andriese was 1-2 with a 3.41 ERA in six starts with Triple-A Durham this season. He said he's more sure of himself on the mound this year, especially with his fastball command.
"The second year always gives you a lot of confidence," Andriese said. "Last year, you're kind of feeling your way out."
Rays manager Kevin Cash said Andriese's potential is intriguing.
"From what we've heard from everybody in Durham -- and we're not nit-picking -- we're going to see even more from him, an even better outing," Cash said. "So Matt did a tremendous job making some big pitches when guys got on base in his Sunday start. Hopefully, he gets out there and keeps them off base and kind of coasts a little bit more."
Andriese understands he doesn't have much room to coast as tries to try to prove himself with the Rays. The process continues Saturday.
"I feel like, as a young pitcher you're always out there to prove yourself, regardless of what people are saying," Andriese said. "You're just out there -- you want to prove to people that you belong here. I've just got to go out there and can't put too much pressure on myself. But at the same time, I just want to go out there and try to win a ballgame."
Andrew Astleford is a contributor to MLB.com based in Tampa. This story was not subject to the approval of Major League Baseball or its clubs.