Some friend: Springer burns ex-UConn mate
Facing former college teammate, outfielder goes yard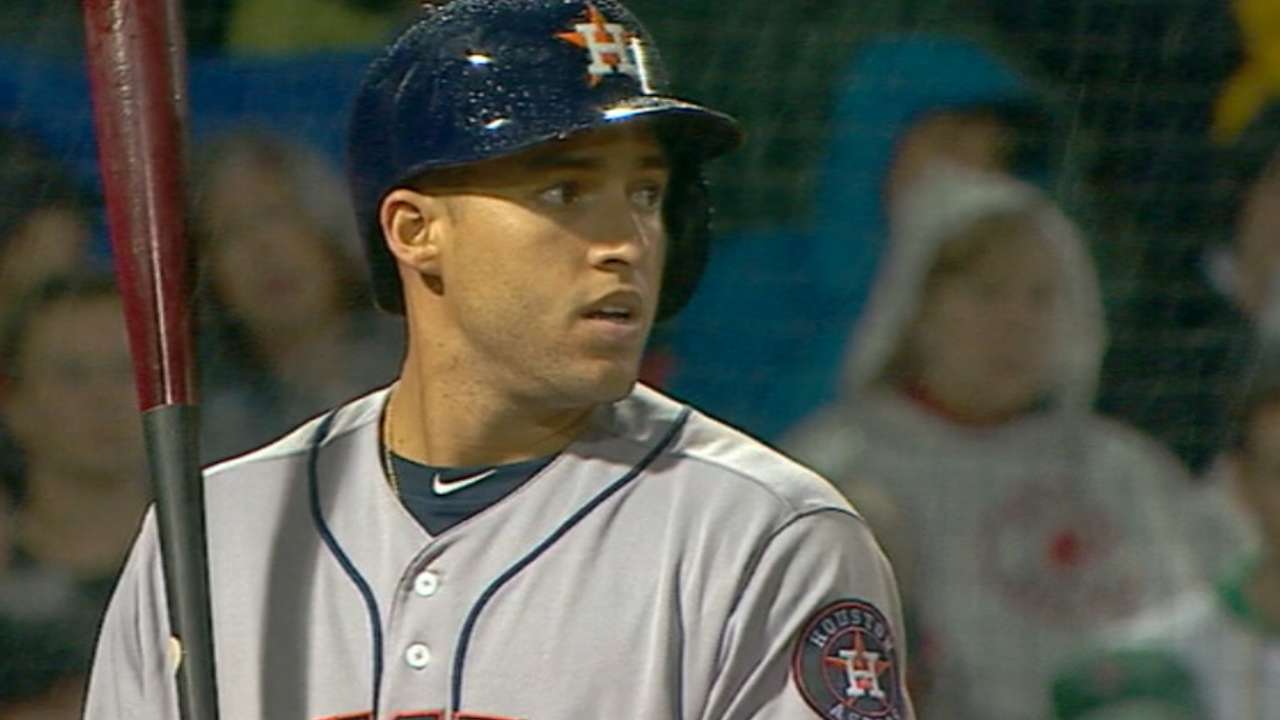 BOSTON -- Getting the best of his college teammate by hitting a home run in their second head-to-head meeting was something Astros outfielder George Springer couldn't help but smile about, but sending his team to a 7-6 come-from-behind win over the Red Sox at Fenway Park was even better.
Springer's two-run homer over the Green Monster off Red Sox reliever Matt Barnes in the sixth inning snapped a 5-5 tie and enabled the Astros to polish off their largest comeback of the season. Springer went 3-for-5 and tied a season high with four RBIs.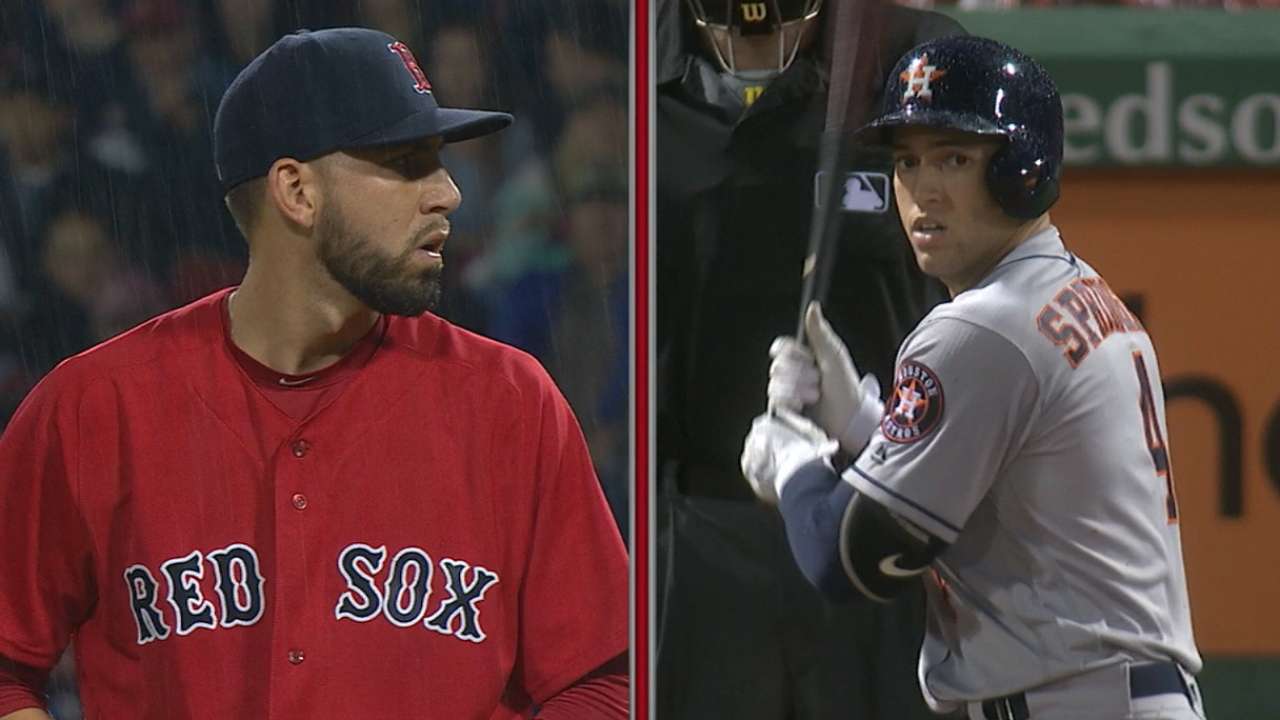 "The team wins -- that's the most important part," a politically correct Springer said. "I don't really look into that. I'm just happy that I was able to help us win and that we were able to come back tonight and sneak out of here with a good win."
• Cast your Esurance All-Star ballot for Springer and other #ASGWorthy players
Springer grew up as a Red Sox fan in New Britain, Conn., and played his first game at Fenway on Thursday. He was a teammate of Barnes for three years at the University of Connecticut, and later in the Cape Cod League and the USA Baseball national team.
"I don't know if he's too happy with me right now," said Springer, who was retired by Barnes earlier this year in their only previous meeting. "But he got me before. I guess we're even."
Barnes said the homer was frustrating because it gave the Astros the lead, but he said he expected to hear about it from Springer.
"I think he was sitting on that pitch," Barnes said. "It was a 3-2 curveball. I went back and looked at it. It was bottom half. It was painted and it wasn't hung. I was trying to throw it for a strike. He was probably sitting on it, because I hadn't located my fastball well during the at-bat."
Springer wouldn't bite on the emotions of homering at Fenway in front of friends and family. The moment wasn't lost on Astros manager A.J. Hinch, though.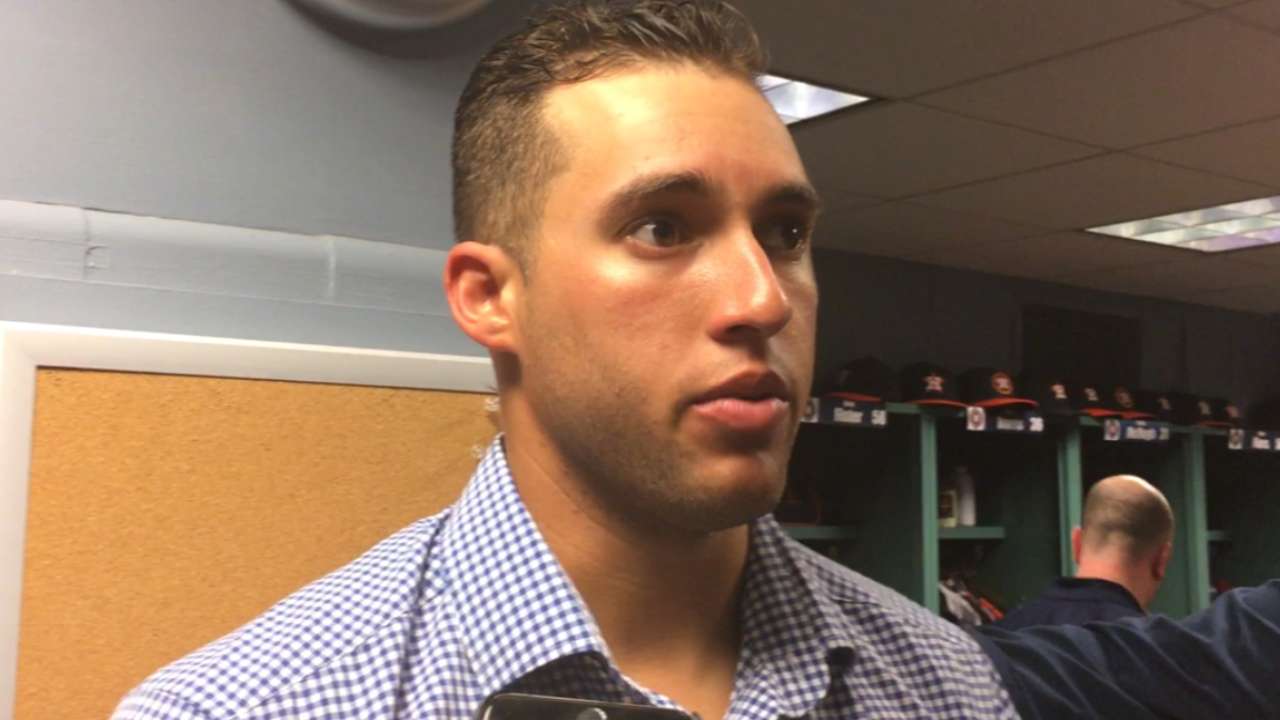 "This is a special moment for him just given playing here at Fenway," Hinch said. "He was pretty excited. Obviously, it's against his boy from college in a big spot, in a big game, and really gave us a lot of energy."
Springer was injured in his first two years in the Majors when the Astros came to Boston. He had a strained quad in 2014 and last year broke his wrist in the game prior to the Astros coming to Boston. The homer was the first of his career against the Red Sox.
"It's awesome," Springer said. "Obviously to get that hit there is obviously big, but I'm just more concerned with helping us win and doing anything that I can to help us win regardless of the stadium."
Brian McTaggart has covered the Astros since 2004, and for MLB.com since 2009. Follow @brianmctaggart on Twitter and listen to his podcast. This story was not subject to the approval of Major League Baseball or its clubs.