Kids featured during Play Ball Weekend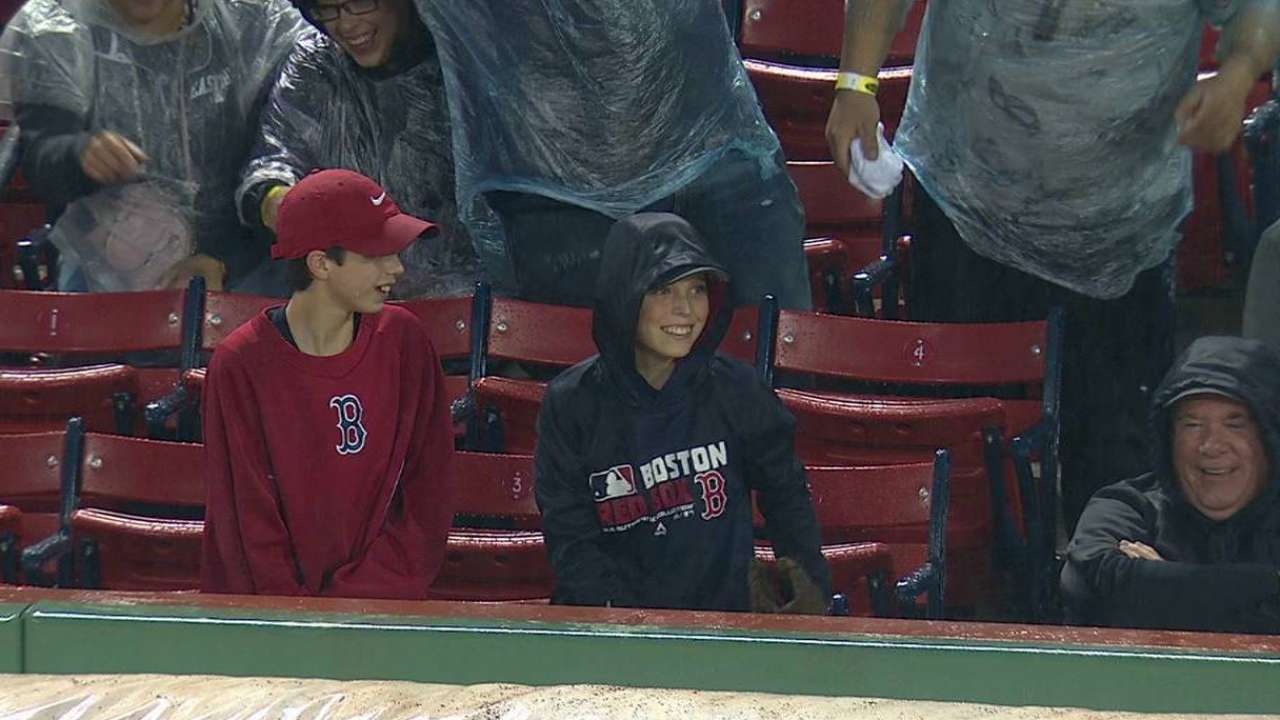 BOSTON -- "Play Ball!" The two words baseball fans of all ages love to hear.
This weekend, though, they are not just words.
Major League Baseball is hosting its inaugural Play Ball Weekend, a league-wide effort by MLB and all 30 clubs to engage young baseball fans and celebrate youth participation in baseball and softball. The new initiative, which will make kids a starring attraction at ballgames along with 750 active players of note, will launch Saturday and Sunday in ballparks around the Majors.
On Friday night, as the Red Sox hosted the Astros at Fenway Park for the second game of their four-game set, kids could be seen all over the historic ballpark. At the start of the game, as the Red Sox took the field, several youngsters from the Lanesboro Youth Baseball league accompanied the Red Sox starters onto the field for the national anthem.
• Complete Youth Baseball coverage
The honorary bat kids for the game were Andrew, 8, Julie, 10, and Nick Perfetti, 16, of Braintree, Mass.
In the bottom of the fifth inning, 11-year-old Ella Valenzuela had the honor of reading the Sox's lineup from the public address booth high above Fenway Park. She started with Mookie Betts, at the top of the order, and continued with Dustin Pedroia, Xander Bogaerts, David Ortiz and Hanley Ramirez.
Play Ball Weekend is an extension of the Play Ball initiative, which launched in 2015 as the sport's largest effort to encourage widespread participation in both formal and casual baseball and softball activities. Play Ball Weekend is also a symbolic recognition of what MLB clubs do year-round to support the growth of youth baseball and softball in their respective communities and beyond.
Play Ball Weekend at Fenway Park is part of a broader effort by the Red Sox designed to bring children and young adults closer to the game. The club's "Calling All Kids" movement includes new virtual reality stations at Fenway, a mobile truck experience that will bring elements of the ballpark out to the community later this season, free tickets to games for fans 14 and under and $9 tickets for high school and college students.
Maureen Mullen is a contributor to MLB.com based in Boston. This story was not subject to the approval of Major League Baseball or its clubs.