History of Wrigley resonates for Hurdle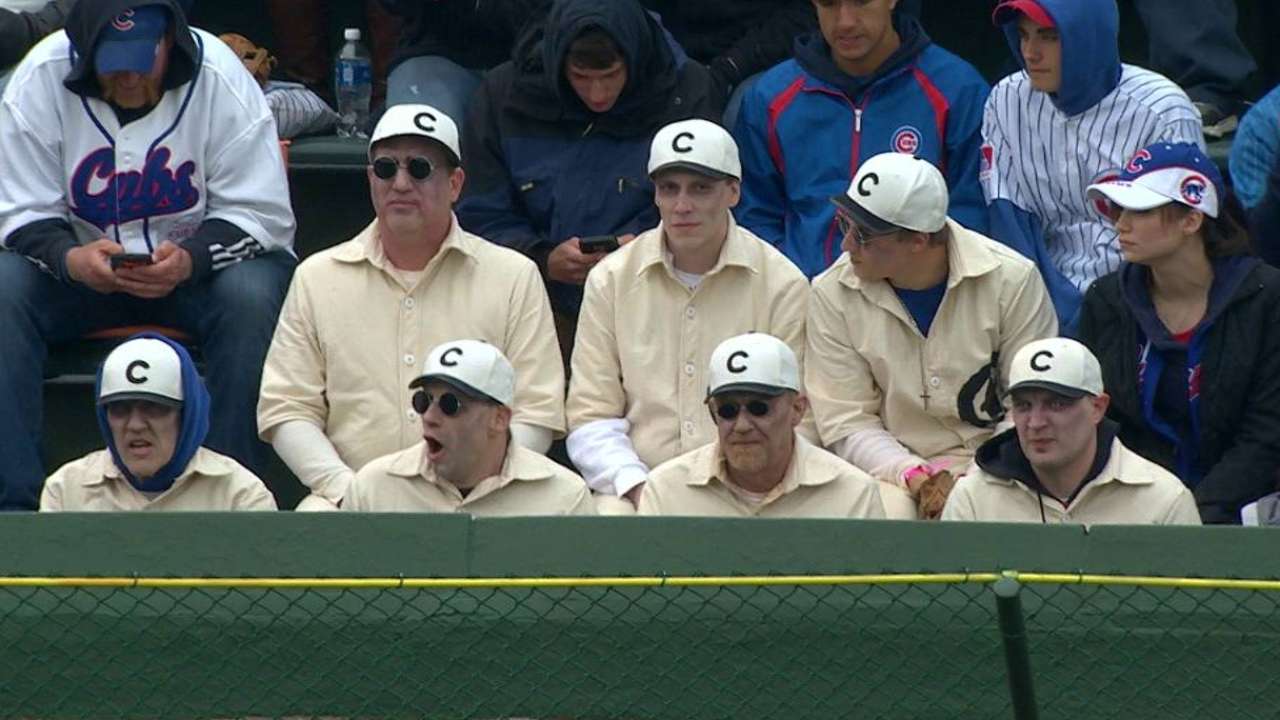 CHICAGO -- The Wrigley Field visiting clubhouse is as tiny as it gets -- that's certainly no secret in baseball.
On Friday, Pirates manager Clint Hurdle sat in the even tinier visiting manager's office, where there was barely enough room for a small group of reporters. There is no convenient bathroom like in most offices, and the list of amenities starts and ends with the Keurig coffee machine stationed in the back corner.
Hurdle, though, couldn't help but express the fact he was happy to be there.
"The size of the lockers speaks to the size of the men who played when this thing was built," Hurdle said. "But truthfully, you look at the guys who have lockered out there -- Henry Aaron has lockered out there. Willie Mays has lockered out there. Give me a break. For guys like myself who have been around, it doesn't get any better than that. It's a museum, a library, it's a long of different things in its own right, along with a ballpark, and it's very special. I really enjoy my time in Chicago and the time at Wrigley Field."
Of course, the Cubs have been a tough subject for the Pirates as of late. Early this month, the Cubs completed a three-game sweep at PNC Park, outscoring the Bucs, 20-5. There was also the heated National League Wild Card Game last season in which a Jake Arrieta shutout ended Pittsburgh's season.
But the rivalry -- even with the Pirates on the down side recently -- only makes for more of what is likely to be an entertaining early-season series. Hurdle said there is no level of intimidation for his team, despite the Cubs' MLB-best 25-8 record entering Friday.
"I think sometimes we don't give players enough credit," Hurdle said. "They can figure out most of that on their own. They've been doing that for most of their lifetime, and this isn't the first time they've run into stiff competition at any level. They also know the season is 162 games long. They've all been possibly on clubs that have gotten off to good starts and maybe not have finished that way."
The Cubs already held a seven-game division lead on the Pirates as of Friday afternoon, but Chicago dropped both ends of a doubleheader Wednesday against the Padres. With a good series this weekend, Hurdle's Bucs could begin to make up ground quickly.
"They've watched the tape," Hurdle said. "We've prepared for them like we have any other team. We know there's holes. The Padres showed us some more."
So while competition is serious and important, don't think Hurdle won't embrace the sights and sounds.
"A weekend series at Wrigley, that's special," he said.
All that noted, the visitors' clubhouse at Wrigley could be remodeled as soon as next season. And in that case, Hurdle won't be holding on to history so tightly.
"I'll prefer a remodel of the visiting clubhouse," Hurdle joked.
Cody Stavenhagen is a contributor to MLB.com based in Chicago who covered the Pirates on Friday. This story was not subject to the approval of Major League Baseball or its clubs.