2004 No. 1 pick Bush debuts with Rangers
Righty called up, pitches perfect inning on path to redemption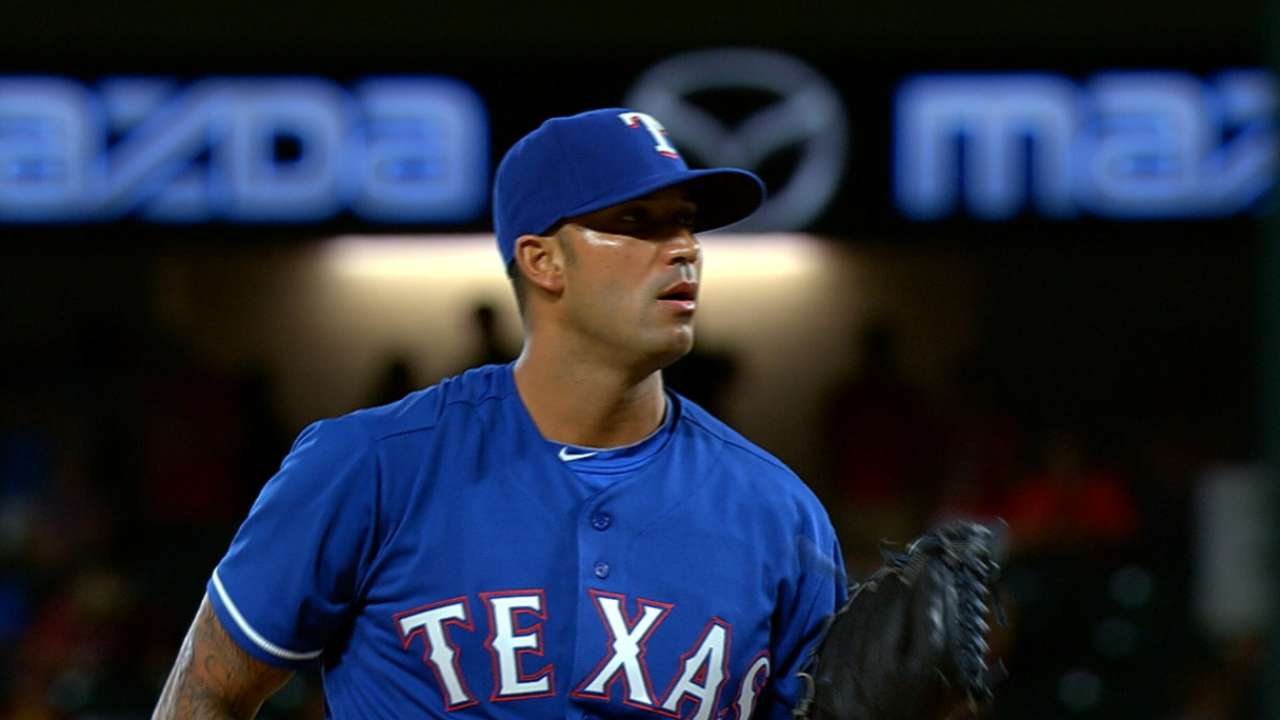 ARLINGTON -- Less than seven months after he was released from a Florida prison, Matt Bush is in the Major Leagues.
"It's a miracle I'm here," the 30-year-old Bush said. "It's such a dream come true."
The Rangers called up Bush, a right-handed reliever, from Double-A Frisco on Friday. He has served his time in prison for a third DUI and vehicle collision that almost killed a 72-year-old motorcyclist. He has taken the necessary steps to deal with his alcoholism and get his life under control.
Now, he is part of a Major League bullpen. He made his Major League debut in the ninth inning Friday night in the Rangers' 5-0 loss to the Blue Jays. Bush had to face right-handed sluggers Josh Donaldson, Jose Bautista and Edwin Encarnacion. He struck out Donaldson -- the 2015 American League Most Valuable Player -- and retired the other two on popups before leaving to a nice ovation.

"I was just focused on being myself and continue what I was doing in Double-A," Bush said. "It was pretty surreal having those guys in there. It was just a boost of confidence, to be able to have a good inning like that is awesome."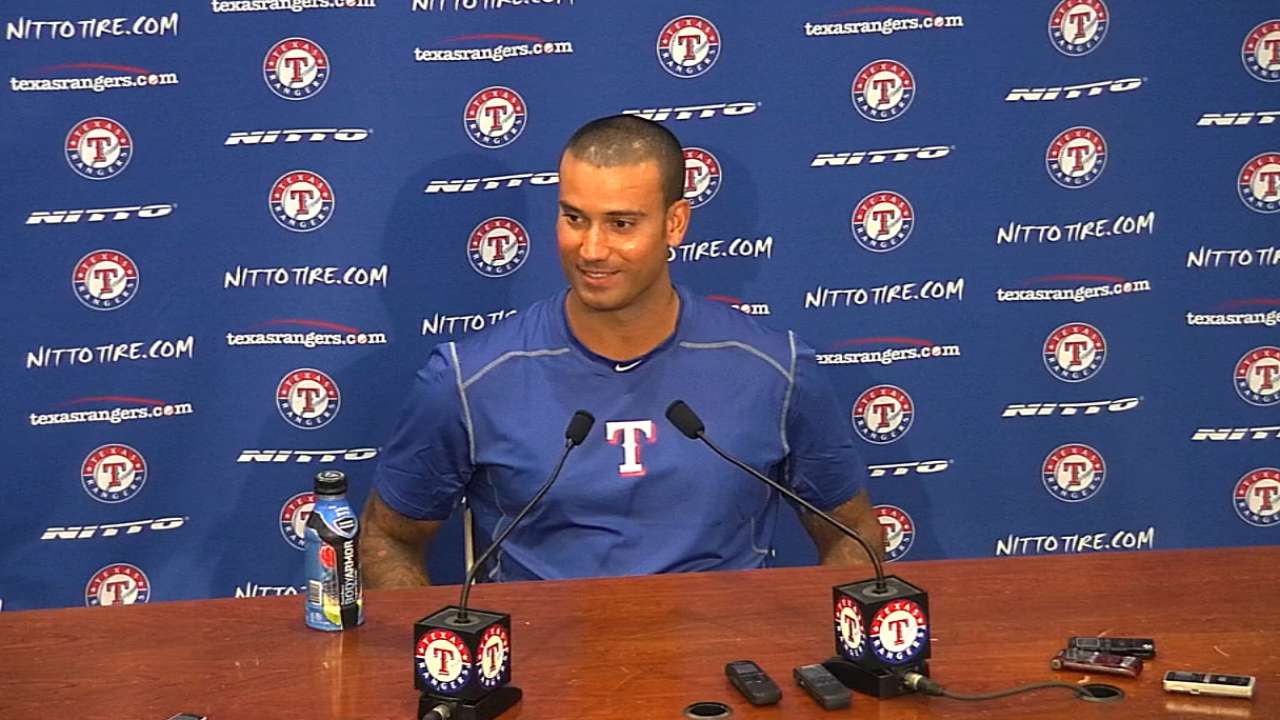 "I'm extremely excited. … I feel like jumping up and down," Bush said before the game. "Knowing how hard I have been working and following the course, it's unbelievable. It's hard to explain. Baseball is the easier part. It's what I am gifted at.
"The battle is off the field. I put myself through a lot, but I've learned to take it one day at a time. I know the mistakes I have made, and I don't want to go through that again."
Bush was the No. 1 overall pick in the Draft by the Padres in 2004, taken one spot ahead of Justin Verlander. Bush originally was drafted as a shortstop and later switched to pitching. But his career was almost ruined by alcohol, and on March 22, 2012, he was involved in a collision in Port Charlotte, Fla., in which he hit and almost killed Tony Tufano while driving drunk.
He pled no content to driving under the influence with serious bodily injury and was sentenced to 51 months in prison. He was released on Oct. 31, 2015.
"For myself, my family, my friends … it was devastating," Bush said. "I don't ever want to be that person again. I like myself sober. I'm living a dream, and I don't want to stop."
The Rangers signed him on Dec. 18 at the initial recommendation of Roy Silver, a special assistant in the organization who also helped Josh Hamilton during his drug and alcohol recovery. The Rangers hardly expected at the time that Bush would get to the big leagues so quickly, but he started changing their minds in Spring Training, including three scoreless innings for the Rangers in two Cactus League games.
He began the season at Double-A Frisco and was 0-2, but he had a 2.65 ERA in 12 games. In 17 innings, he has allowed nine hits, four walks and struck out 18.
"From Day 1, his stuff has been Major League ready," general manager Jon Daniels said. "The surprise, if anything, is how good his command was. He has improved some things and the staff at Frisco did a great job. From our evaluation, he is Major League ready."
That's the talent evaluation. There is still the mental and emotional side of a pitcher who has had much to overcome in his life.
"I don't think any of us are in a position to know what he has been through, what he has experienced in prison and since then, the consequences of his actions," Daniels said. "From our observation and the people around him, Roy Silver, people experienced in dealing with alcoholism, he is doing very well. He is an outstanding teammate, fulfilled all the conditions, very communicative with Roy, our player-development people and staff.
"We know at some point he will experience things he has never experienced before. People around him feel he is well-equipped to handle it."
Bush must follow certain conditions though, including regular communication with the organization, attend AA meetings, not drive a motor vehicle and adhere to a curfew. Like Hamilton, he will have assistance. Either Silver or his father, Danny Bush, will travel with the Rangers.
Bush also has to perform at the Major League level. But he has been preparing for this even while he was in prison.
"I thought it would be a difficult process," Bush said. "I thought it might be independent league, who knows. I didn't know if I would play again. But I always envisioned it would be possible so I kept myself in shape. God willing, if I had the opportunity, I would be physically prepared."
The Rangers will not coddle Bush as far as when he pitches. Manager Jeff Banister said Shawn Tolleson is the closer, but he will not be afraid to use Bush in any situation.
"When we bring guys up, we obviously feel they have the skill-set to pitch in a game," Banister said. "Do we think about all factors? Yeah, but we bring them up because we think they are ready to perform at the Major League level. You can't run away … you don't have a fancy script, because those situations don't always present themselves."
T.R. Sullivan has covered the Rangers since 1989, and for MLB.com since 2006. Follow him on Twitter @Sullivan_Ranger and listen to his podcast. This story was not subject to the approval of Major League Baseball or its clubs.