Bucs add Figueroa, send Lobstein to Triple-A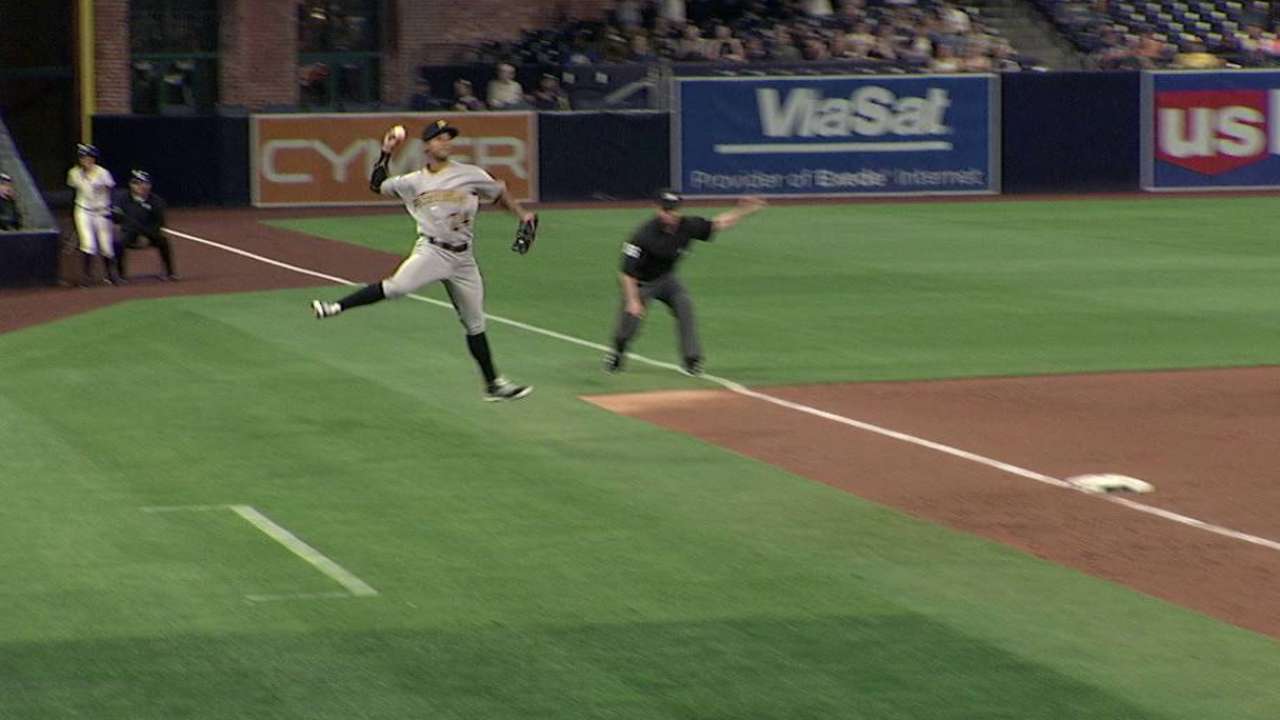 CHICAGO -- Balance has finally been restored to the Pirates' 25-man roster, as the club recalled infielder Cole Figueroa on Friday and optioned left-hander Kyle Lobstein to Triple-A Indianapolis. The moves bring the Bucs' bullpen back down to seven while bumping the bench to five.
The Pirates had carried eight relievers and four reserve hitters since April 18, but with a rainout Tuesday, an off-day Thursday and the bullpen showing signs of improvement, the factors finally aligned for a return to the prototypical roster.
"The workloads are in a manageable place," manager Clint Hurdle said. "Everybody has got appropriate rest. We've got length, we've got multiple-inning guys in place. So we felt this was a time also to take a step of faith and say the seven in the bullpen and the five starters are going to take care of it.
"And we can add the position player. There have been a couple of situations here where we've felt the void in the past week."
Figueroa's arrival will give the Pirates a versatile infield and a valuable left-handed bat. The extra pinch-hitter will help the Bucs avoid situations such as last Sunday, when starting pitcher Francisco Liriano was used as a pinch-hitter to save the short bench.
Figueroa was on the team's Opening Day roster, and he went hitless in nine at-bats. In Triple-A, he hit .340 with two home runs and eight RBIs in 47 at-bats.
"When I was up here the first time, I didn't think my at-bats were bad," Figueroa said. "But sometimes if three fall in, you're hitting .300. If none fall in, you're hitting zero and it looks terrible."
Lobstein will go to Indianapolis after posting a 4.79 ERA in nine appearances this season. Hurdle said Lobstein will likely pitch out of the bullpen, but the goal is to stretch him out and possibly insert him in the Indianapolis rotation at some point.
Worth noting
• As expected, Hurdle said it's unlikely Jung Ho Kang will hit sixth in the Pirates' order for long. Kang entered Friday 5-for-15 with three homers since he was activated one week ago, but he has hit sixth four times and ninth once.
"That's a guy you'll probably see in the middle of the lineup somewhere once we feel he gets a good number of at-bats and good looks under his belt," Hurdle said.
• Starling Marte has been hit by a pitch seven times this season, tied for third most in baseball. Marte said after he was hit in Wednesday's game against the Reds that such occurrences have started to impact his approach at the plate. Hurdle, though, said he hasn't noticed any change in Marte's typically aggressive style.
"I would never dishonor what he has to say, but I haven't seen him back away. I haven't seen him give on breaking balls. I haven't seen him not compete on hard stuff in or any of that whatsoever," Hurdle said.
Cody Stavenhagen is a contributor to MLB.com based in Chicago who covered the Pirates on Friday. This story was not subject to the approval of Major League Baseball or its clubs.