Phils hope promising 1B Joseph can provide boost
Ruf optioned to make room for International League's leading hitter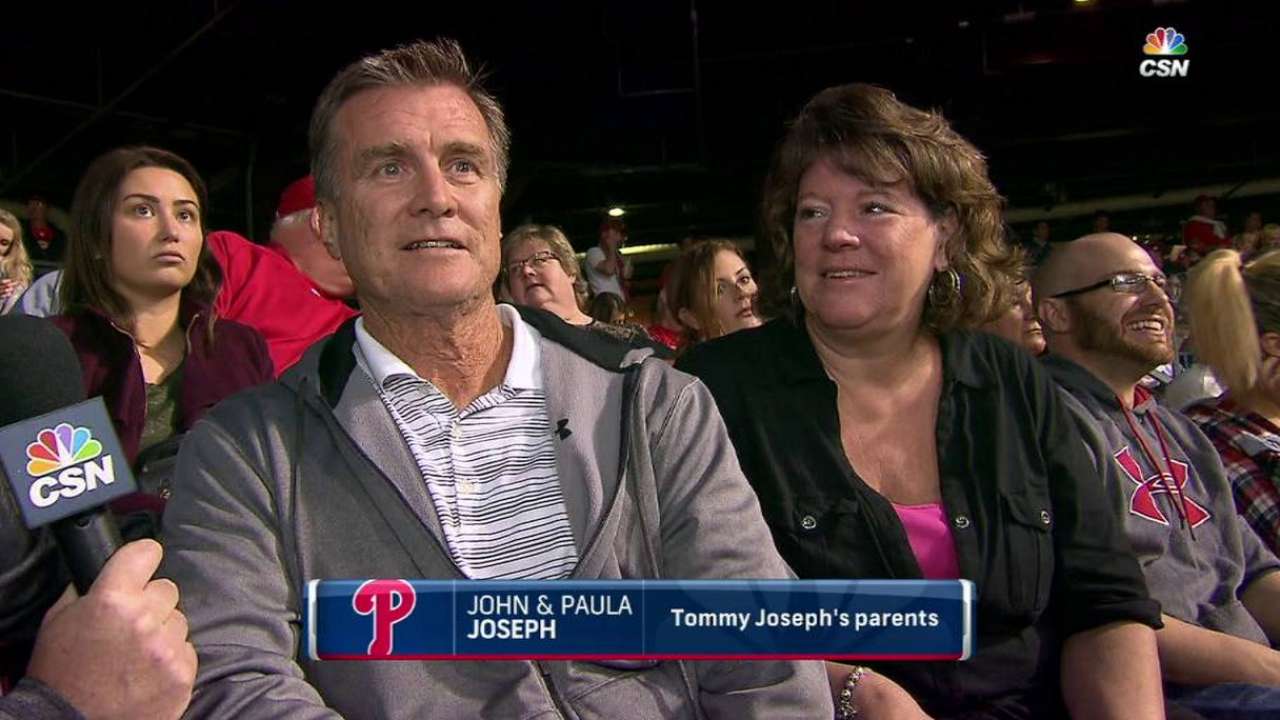 PHILADELPHIA -- The Phillies selected the contract of first baseman Tommy Joseph from Triple-A Lehigh Valley prior to Friday's 3-2 win over the Reds. In a corresponding move, Darin Ruf was optioned to Triple-A.
Joseph was hitting .347 with six home runs in 27 games for Lehigh Valley. The 24-year-old is leading the International League in OPS with a .981 mark. In his Major League debut on Friday, Joseph went 0-for-2 with a walk and a run scored.
"I like his approach. For his first game in the big leagues, I think he got that out of the way, he got his feet wet," said Phillies manager Pete Mackanin. "I think he's going to be fine. He's got a good approach. He's relaxed at the plate. He just had a couple pitches to hit that he swung through and missed but I like his approach."
Philadelphia's first basemen are hitting .174 with eight home runs (eight from Ryan Howard) and a .624 OPS. Ruf was hitting .158 with no homers and three RBIs in 31 games.
"That's one of the reasons that we're making the move," Mackanin said before Friday's game. "This is the start of ways to improve the offense, and we're hoping he can do it."
Mackanin isn't sure of how the young first baseman will be used. When he delivered the news to Ruf that he'd been sent down, Mackanin gave him an excuse for his struggles: the Phillies hadn't faced many lefties. If the trend continues, it will be equally difficult for Joseph to get at-bats if he takes over Ruf's role in the first-base platoon. Mackanin, however, didn't rule out Joseph growing into a bigger role.
"We might mix him in with some right-handers." Mackanin said. "It'll depend on how well he's swinging the bat. In close to 100 at-bats he was hitting .370 or something like that and [Triple-A manager] Dave Brundage told me that most at-bats were quality at-bats. If he could do the same here, there's no telling what could happen."
Brundage gave Joseph the news after Thursday's IronPigs game in Columbus. They played at 11 a.m., though, so Joseph could only tell friends and family for almost a whole day after he found out -- with one rule: it can't get posted on social media.
"That was the thing I had to end every conversation with, 'Hey don't let it get out,'" Joseph said.
The Phillies acquired Joseph in 2012, when they dealt Hunter Pence to the Giants. At the time, Joseph was a catcher, but injury problems -- namely concussions -- forced him from behind home plate to first base.
After Joseph recovered, he was unable to regain his form at the plate, so the Phils removed him from the 40-man roster in October. He passed through waivers unclaimed.
"When I got taken off the roster, it just lit a fire," Joseph said. "Knowing I still had a job and the Phillies were going to invite me back to Spring Training. It just gave me that much more motivation."
Joseph, however, got contacts for his astigmatism in the offseason. He showed up to camp 25 pounds lighter. And it was there, in Spring Training, Joseph found an approach that worked for him and stuck to it.
"I took an approach I had in Spring Training and took it into the season," Joseph said. "My routine for the last two weeks [of Spring Training] was pretty much the same every day and through the entire season, every day. I've found a comfort zone and was able to capitalize on pitches in the zone."
When the Phillies acquired Joseph in 2012, MLBPipeline.com ranked him as Philadelphia's No. 3 prospect. He didn't rank in the Top 30 on this season's list. But after the first month of the season, Joseph is looking more like the centerpiece the Phils thought they were getting from the Giants nearly four years ago.
Evan Webeck is a reporter for MLB.com based in Philadelphia. This story was not subject to the approval of Major League Baseball or its clubs.