Greinke sees NL West as 'a fight at the end'
Despite loss, D-backs in striking distance of first place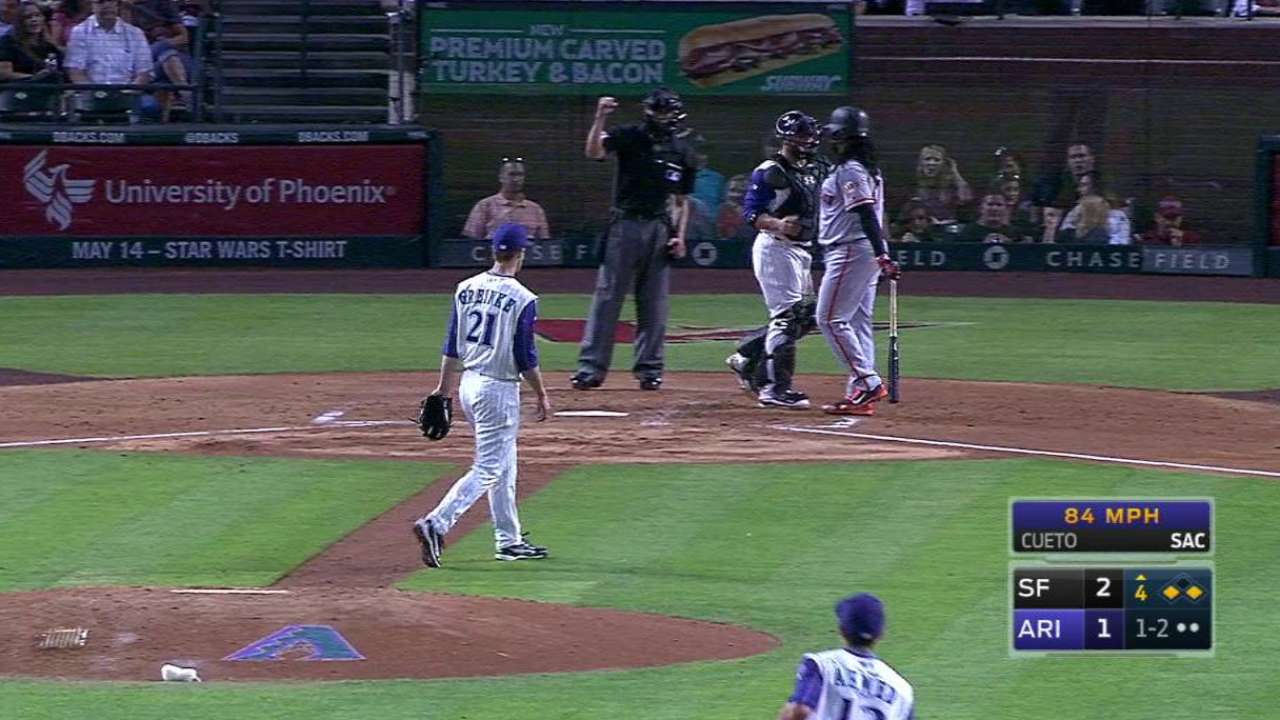 PHOENIX -- D-backs starter Zack Greinke has played in the National League West long enough to know how unpredictable the division can be throughout the course of a season.
Yes, the D-backs dropped to 17-20 following Thursday's 4-2 loss to the Giants at Chase Field. And yes, it was also Greinke's third defeat, and he was once again hit hard at times. But the veteran remains hopeful his club will continue to play well because "it should be a fight at the end."
The pitcher is right and everyone in the home clubhouse knows it.
Despite the loss, the D-backs have won five of their past seven and are just two games behind the Giants and Dodgers, who are tied for first. The Rockies are 1 1/2 out of first and the Padres are 2 1/2 out.
"For our sake, it's good that no one has really run away, I'm sure everyone else feels the same way, but all of the teams are fairly even," said manager Chip Hale, whose club is 10-10 against its divisional foes. "The Rockies have come out and have proven to all of us that they are better than people predicted. The Padres just swept the Cubs, who seem to be unbeatable in Chicago. They have some pitching and good players. It's very even right now."
On Thursday, it was Greinke's turn on the mound.
"He gave us six innings, four runs and a chance to win the game," Hale said. "They did have some good swings against him and I thought they put together some good at-bats, pushed his pitch-count pretty high."
In the end, he was charged with eight hits in six innings. He walked three and struck out four in the 104-pitch effort. Giants starter Johnny Cueto outpitched the Arizona ace, giving up only two runs on eight hits in seven innings. Cueto struck out nine in 115 pitches.
"I thought we played pretty good today, but not quite good enough," Greinke said. "I thought we played well and have been playing good the past week or so."
The four-game series continues Friday with Shelby Miller squaring off against San Francisco's Jeff Samardzija. Patrick Corbin will oppose Jake Peavy on Saturday and Rubby De La Rosa will the series finale against Matt Cain on Sunday.
"We feel like if our pitching gets straightened out like we think it can, we can go on a run," Hale said. "That's the thing -- which team is going to go on that run?"
Jesse Sanchez is a national reporter for MLB.com based in Phoenix. Follow him on Twitter @JesseSanchezMLB and Facebook. This story was not subject to the approval of Major League Baseball or its clubs.