Powerful O's put together big rally with small ball
Club's 5-run 7th inning against Tigers features five singles, triple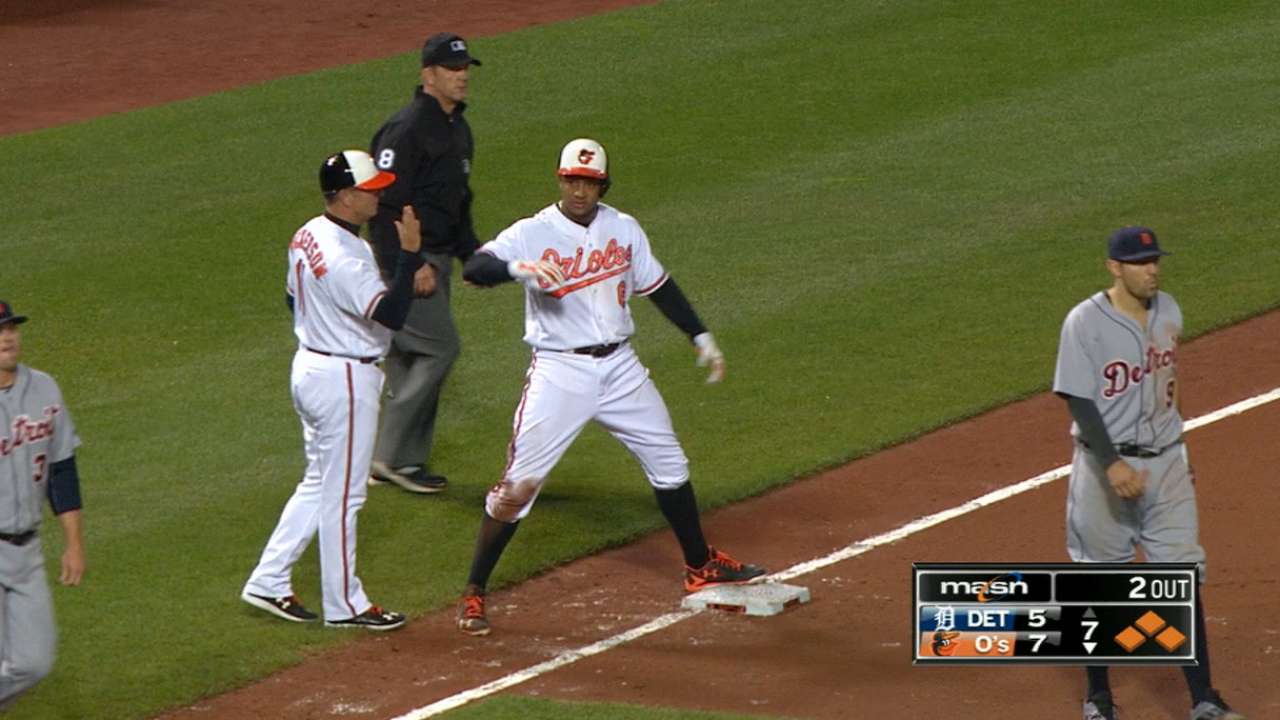 BALTIMORE -- The Orioles entered Thursday night's game against the Tigers with an American League-best 49 home runs, including 13 during a high-scoring four-game winning streak.
Yet when Baltimore rallied from a five-run deficit for a 7-5 win at Camden Yards, it did so without the benefit of a long ball. Instead, Baltimore's decisive five-run seventh inning against the Detroit bullpen featured five singles and Jonathan Schoop's tiebreaking two-run triple, the first three-bagger of his career.
• Cast your Esurance All-Star ballot for Davis, Machado and other #ASGWorthy players
O's first baseman Chris Davis, who smacked an RBI double in the team's two-run sixth and an RBI single in the seventh, was asked if the offense is labeled unfairly as an all-or-nothing, homer-dependent bunch.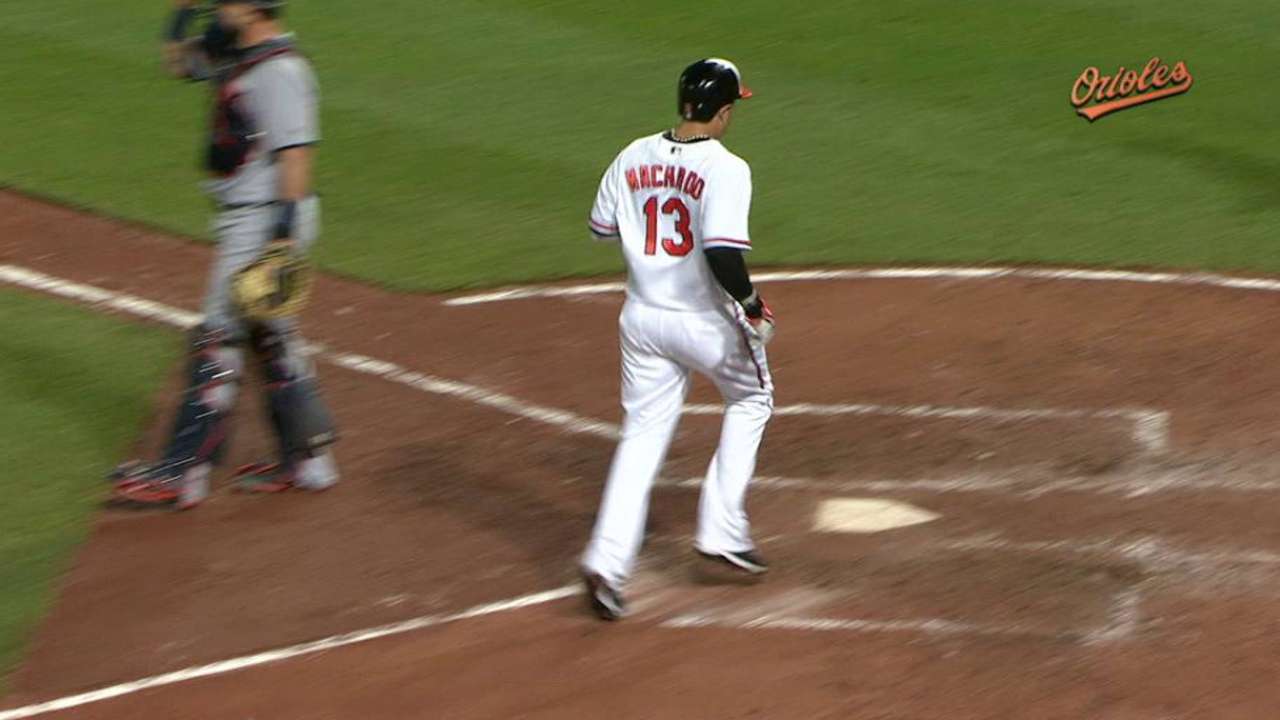 "I think so," said Davis, who leads the Majors with 168 homers since 2012. "It's been such our forte the last few years that it's kind of hard to get away from. But we put emphasis on it in Spring Training, going into this season, that we wanted to have quality at-bats. That's something that [hitting coach Scott Coolbaugh] really preaches. You're not just going up there and swinging, you're looking for a certain pitch and you make the guy come to you. We've done a good job of that, and it's definitely paid off."
With one out in the seventh and the O's down 5-2, the top of the lineup ignited an outburst. Joey Rickard, Manny Machado and Adam Jones hit consecutive singles off righty Alex Wilson to score one run.
Detroit then brought in Justin Wilson to face Davis, who was familiar with the lefty, a member of the Yankees last year. Davis fell behind 0-2, but Wilson caught too much of the plate with a fastball, and Davis lined it to right to make the score 5-4.
A Mark Trumbo flyout brought up Pedro Alvarez, a .201 career hitter against lefties, including 1-for-12 this season. Alvarez got enough of a cutter to shoot it past diving first baseman Miguel Cabrera for the game-tying single, moving Davis to third.
"He sticks his nose in there," O's manager Buck Showalter said of Alvarez's encounters with southpaws. "He's had some good at-bats this year off left-handers. It depends on which ones they are, just like any hitter."
Alvarez's hit brought up Schoop, who was well aware he was still looking for his first career triple, in his 261st game.
"I never thought it was going to happen, ever," he said.
On a 3-1 count, Wilson threw a 95-mph heater over the outside corner, and Schoop went with it, shooting a line drive inside the right-field line and to the wall. Alvarez scored from first, and Schoop made it to third without a throw, capping the furious rally.
"To be honest with you, when I hit it, Alvarez was on first base, I kind of just dropped my head and tried to get a triple," Schoop said. "Try to make them throw the ball to third base and get the RBI for us to get one more run."
Andrew Simon is a reporter for MLB.com based in the Washington metro area. Follow him on Twitter @AndrewSimonMLB. This story was not subject to the approval of Major League Baseball or its clubs.