Velasquez loses aggressive approach in 7th
Phillies starter allowed four runs after six scoreless innings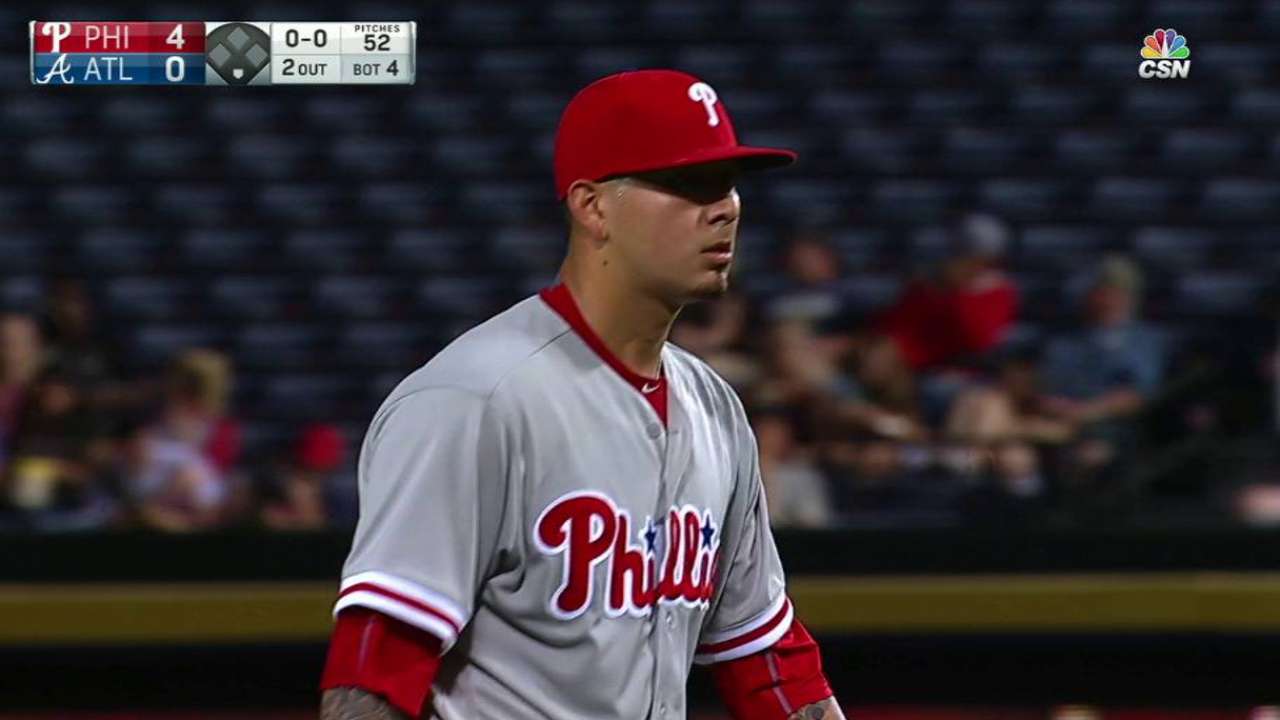 ATLANTA -- For the first six innings of the Phillies' 7-4, 10-inning win over the Braves, Vince Velasquez was in complete control.
After pounding the zone with his fastball for six scoreless innings, Velasquez stumbled in the seventh when he shied away from throwing his fastball.
"He just changed his whole approach," Phillies manager Pete Mackanin said. "Earlier, he started throwing some soft, off-speed secondary stuff. I would have rather he went right after the hitters in that seventh inning, and he just threw too many off-speed pitches. But he's going through a learning experience. This is pitching in the big leagues, and he's going to make mistakes."
The Phillies gave Velasquez a 4-0 cushion heading into the seventh. After Freddie Freeman led off the frame with a single to center, Velasquez walked Kelly Johnson and gave up another single to A.J. Pierzynski to load the bases with no outs for Gordon Beckham.
"I just started slipping," Velasquez said.
Velasquez decided he wanted to throw a curveball to Beckham, who was 0-for-2 up to that point. The result: a bases-clearing double to left-center to make it a 4-3 contest.
"Beckham was pretty much late on all my fastballs, and I don't know why I threw that pitch in the first place," Velasquez said. "... I always challenge guys, and why I was passive and threw that off-speed was my doing, and I take full responsibility for that."
The Braves tied the game at 4 after Jeff Francoeur's RBI single off David Hernandez, who relieved Velasquez after the three-run double. But the Phillies rallied back in extra innings as Cameron Rupp put them back on top, 7-4, with a bases-clearing double.
Aimee Sachs is a contributor for MLB.com based in Atlanta. This story was not subject to the approval of Major League Baseball or its clubs.