Braun extends streak, but misses with RISP
MILWAUKEE -- Three times on Thursday night, the Brewers sent their hottest hitter to the plate with an opportunity to change a game. Three times, Ryan Braun came up empty.
Braun smacked a fourth-inning single to extend his hitting streak to 12 games, but he was retired in three at-bats with runners in scoring position in a 3-0 loss to James Shields and the Padres at Miller Park.
• Cast your Esurance All-Star ballot for Braun and other #ASGWorthy players
"We had the right guy up there in our scoring opportunities, and it just didn't play tonight," manager Craig Counsell said. "We had the right guy up there, for sure."
Braun was the right guy because he is batting .431 (22-for-51) with a .473 on-base percentage and 1.081 OPS during his hitting streak, pushing his overall batting average to the fourth-best in baseball at .376. He's reached safely in 22 straight games.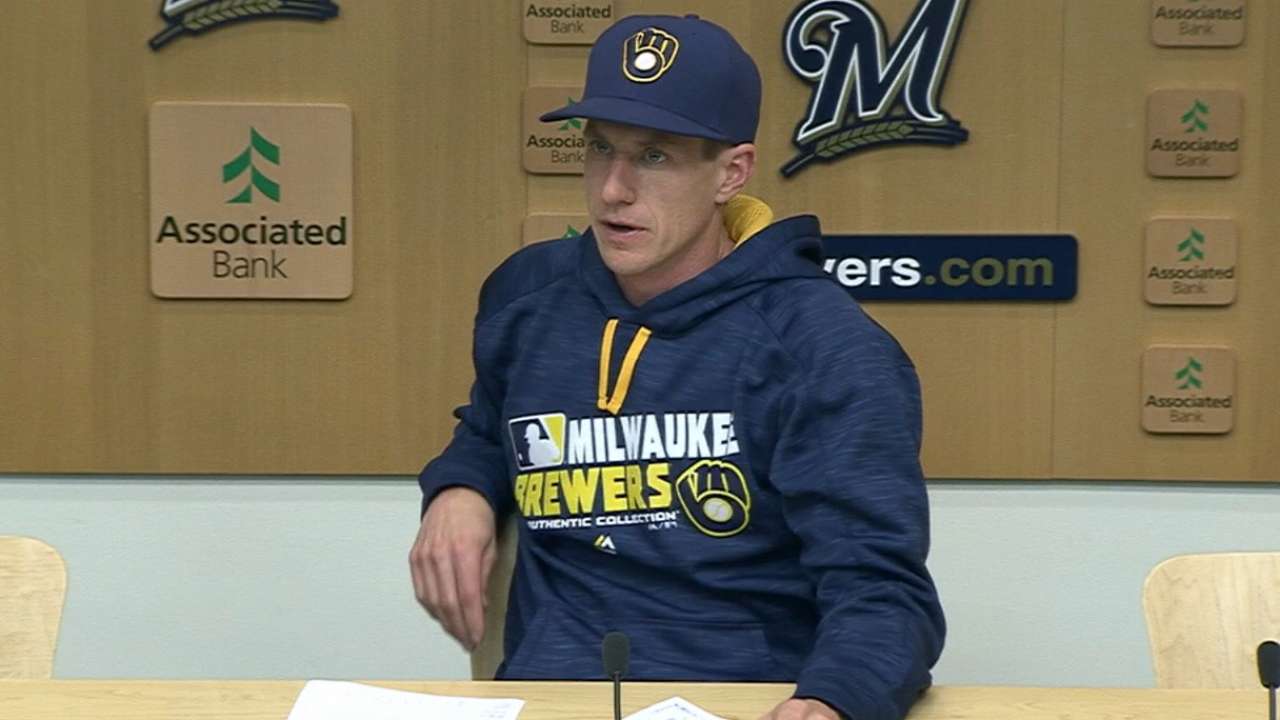 Yet Thursday was a night of frustration. With a runner at third in the first inning, one out and the Padres' infielders playing in, Braun grounded out. With the Padres leading 1-0 in the sixth, Braun batted with runners at the corners and one out, and grounded into an inning-ending double play. In the eighth, with the Padres' lead at 2-0, Braun batted with runners at first and second with two out, and ended the inning with a fielder's choice.
"In those situations," said second baseman Scooter Gennett, who drew a walk ahead of Braun's at-bat in the eighth, "it's hard not to feel good about it. Especially when 'Brauny' is in there."
The best battle was with Shields in the sixth. Braun was down in the count, 0-1 and 1-2, but stayed alive by fouling off a pair of fastballs before looking at an offspeed pitch for Ball 2. Shields came back with another, the seventh pitch of the at-bat, and Braun grounded it hard to third base for a relatively routine double play.
"He's pretty hot this year, he's a good hitter," Shields said. "That ground ball in the sixth inning was huge. I was just trying to mix up my pitches, threw him a couple of changeups down and in that he swung and missed on. Got him to roll over, so it was big."
Adam McCalvy has covered the Brewers for MLB.com since 2001. Follow him on Twitter @AdamMcCalvy, like him on Facebook and listen to his podcast. This story was not subject to the approval of Major League Baseball or its clubs.