MLB.com Columnist
Bill Ladson
Historic outing still sinking in for Scherzer
WASHINGTON -- Nationals right-hander Max Scherzer attended the seventh annual "A Night at the Park," which was hosted by third baseman Ryan Zimmerman on Thursday night. It's safe to say that Scherzer is still on cloud nine after striking out a record-tying 20 batters in a 3-2 victory over the Tigers on Wednesday.
Scherzer became just the fourth pitcher to strike out 20 batters in a nine-inning outing, joining Roger Clemens (twice -- April 29, 1986, and Sept. 18, 1996), Kerry Wood (May 6, 1998) and Randy Johnson (May 8, 2001).
Roaring 20! Max ties mark
•
K's to the Max: Scherzer ties mark with 20
•
DYK: Facts, stats from Scherzer's 20-K gem
•
New-look lineup backs Max's historic start
•
Scherzer OK missing out on the 21st K
•
Nationals awed by Scherzer, but not surprised
•
Scherzer saved season's best pitches for Miggy
•
Current, former players rave about Scherzer
•
Ramos, Scherzer racking up historic moments
•
Bauman: Scherzer shines under bright spotlight
•
Cut4: Scherzer's nastiest third strikes
•
Ausmus has had a front-row seat for K history
•
Tigers tip their caps to Scherzer
•
Full game coverage
Sights & sounds
Scherzer ties record with 20th strikeout
Scherzer's historic 20 K's
Scherzer on tying record
Baker on Scherzer's 20 K's
Photo gallery
Asked if what he accomplished against Detroit has hit him, Scherzer said, "Yes and no. The only reason I say no is because, this is a major, major, major accomplishment. The guys who accomplished this are some of the best of all-time. To be mentioned among [some of the greats], I can't fathom that. I watched them as a kid dreaming of being in their position. That will never hit me because I envision them as the best I have ever seen."
After the game ended, Scherzer went home and said he was in his cloud nine moment. He thought about how competitive the game was, how he was facing his ex-teammates for the first time and going against former Nationals pitcher Jordan Zimmermann.
"The Tigers were giving their best in a 3-2 ballgame, I was going through the heart of the lineup and everything is on the line," Scherzer said. "That is as much adrenaline as you can possibly get. That's what I will always remember, how competitive that game was and what it meant to me."
It seems hard to believe Scherzer is the same guy who was hit hard by the Cubs last Friday. In that game, he allowed seven runs in five innings, as the Cubs hit four home runs. What did Scherzer do to turn things around on Wednesday? It was simple. He believed in himself.
"Sometimes you have to look at a start and say, 'Nothing is wrong.' Even when you get lit up, you still have to say 'Nothing is wrong,'" Scherzer said. "You just need to make a few tweaks. That's sometimes the hardest thing to do as a professional athlete, because when you get lit up, you wear it, especially as a starting pitcher. You have to wait five days. You don't go out there the next day.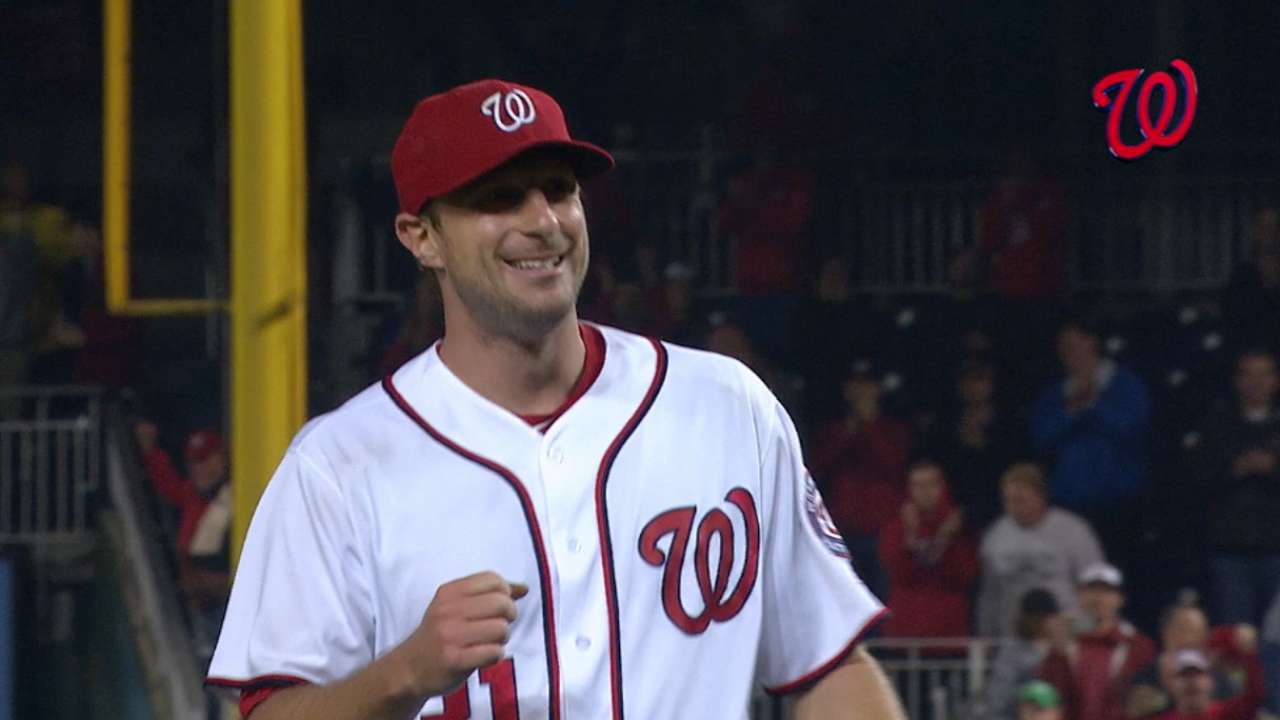 "You have to have the ultimate faith and belief in what you do. … Just go out and try to compete and just do a couple of things different. Know that you are going to have success. I stayed within myself. I've been in these situations before. I know how to get out of them. That was the scenario where I had to do that."
Bill Ladson has covered the Nationals/Expos for MLB.com since 2002 and writes an MLBlog, All Nats All the Time. He also can be found on Twitter @WashingNats. This story was not subject to the approval of Major League Baseball or its clubs.