Red Sox write history: 11+ runs in 4th straight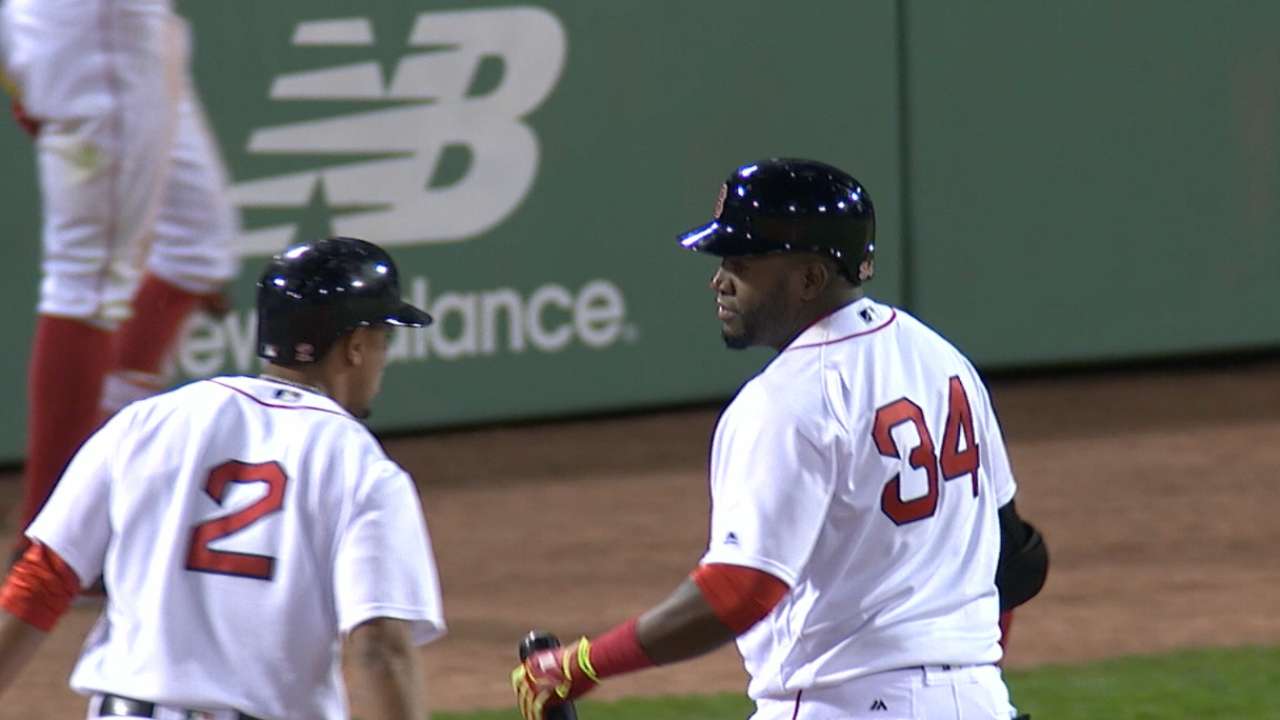 BOSTON -- After his team secured a fifth consecutive win with a fourth straight game of at least 11 runs on Thursday night at Fenway Park, Red Sox shortstop Xander Bogaerts compared Boston's unstoppable offense to a video game.
"This is kind of like Playstation," Bogaerts said after hitting his third home run of the season and driving in three runs in an 11-1 rout of the Astros. "Only teams on Playstation score this many runs."
• Cast your Esurance All-Star ballot for Bogaerts and other #ASGWorthy players
The Red Sox claimed a collection of historic feats in the win:
• Boston, which scored 40 runs in a just-completed three-game sweep of the A's, became the Majors' first team to score double digits in four straight games since the Red Sox did so in an August 2007 four-game set with the White Sox in Chicago. David Ortiz and Dustin Pedroia are the two holdovers from that team.
• The Sox have scored 11 or more runs in four straight games for the first time since 1950.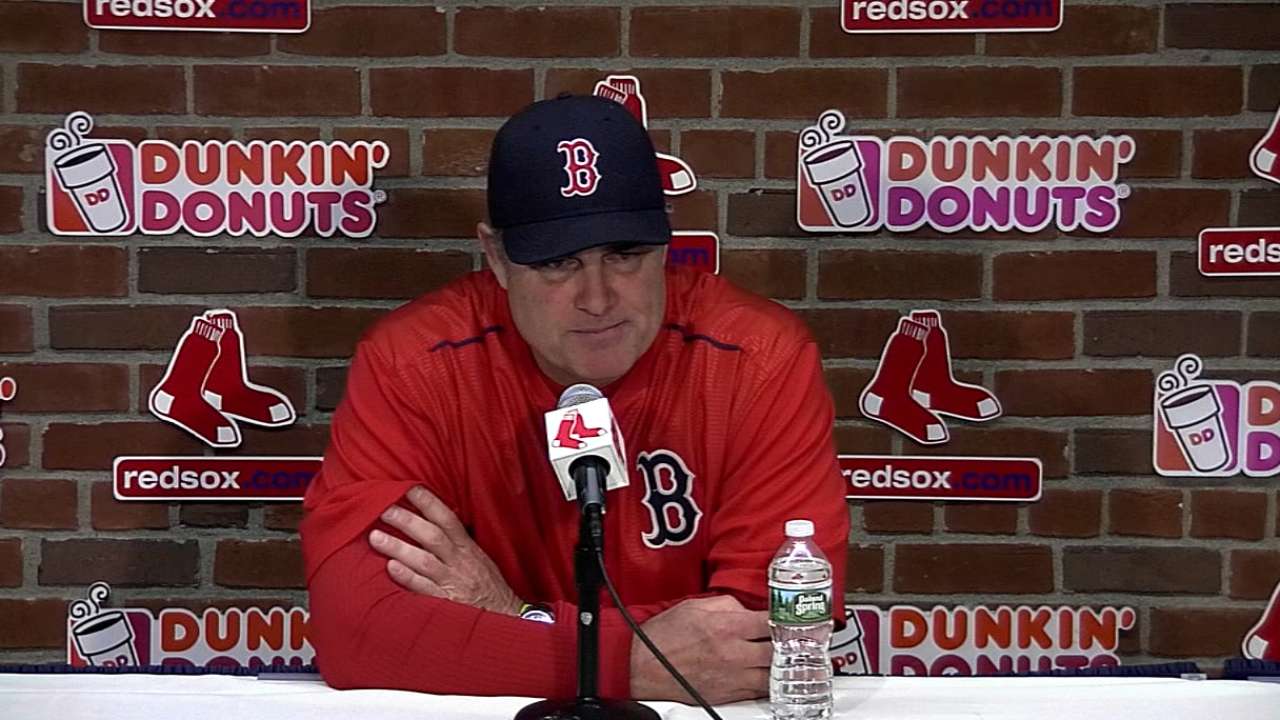 • Boston became the first team to score at least 11 runs and record at least 14 hits in four consecutive games since the 1930 Philadelphia A's, who were led to a World Series title by Hall of Famers Jimmie Foxx, Mickey Cochrane and Al Simmons.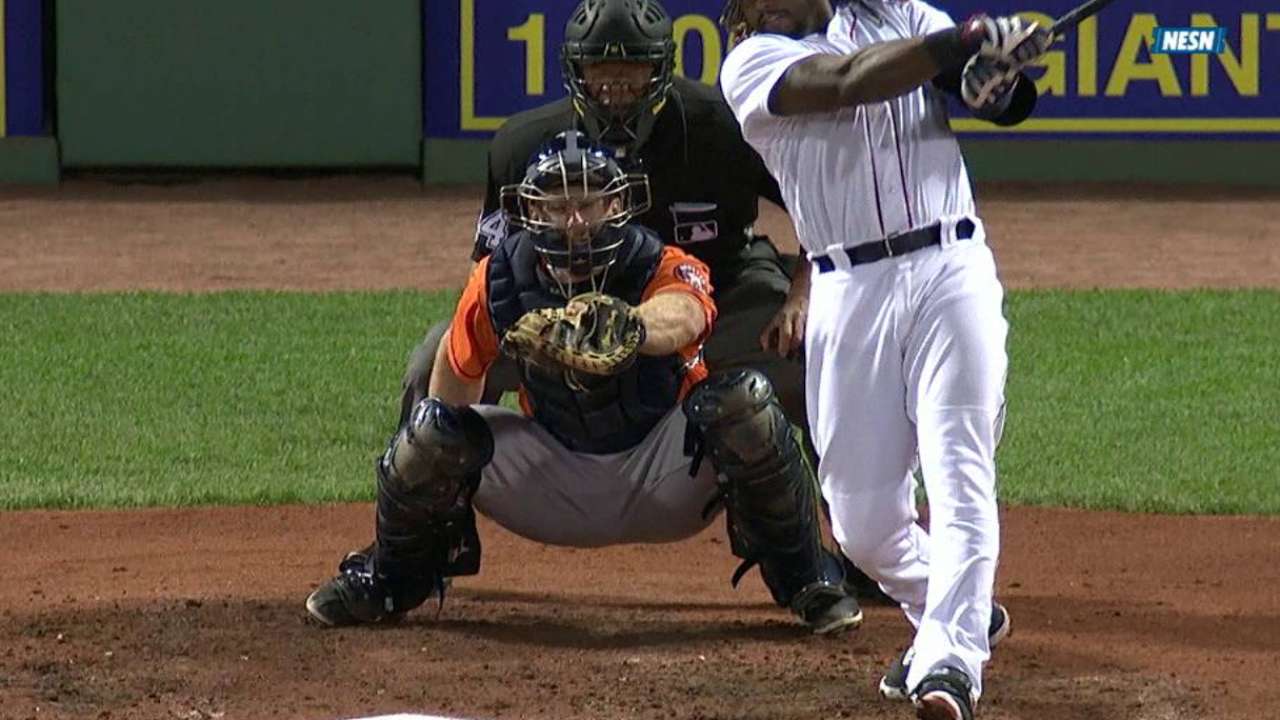 • For the first time in Fenway Park history, the Sox have recorded at least eight runs and at least 12 hits in six consecutive home games.
For the second time in as many games, all nine of Boston's starters not only reached base, all recorded at least one hit. Even a soft popup near Houston starter Dallas Keuchel by red-hot outfielder Jackie Bradley Jr. dropped in for a hit.
"It's one of those runs," Bradley said. "I think each team will go through those moments when they get really hot. We definitely want to minimize the cold spells, be able to put together some good at-bats and be some tough outs."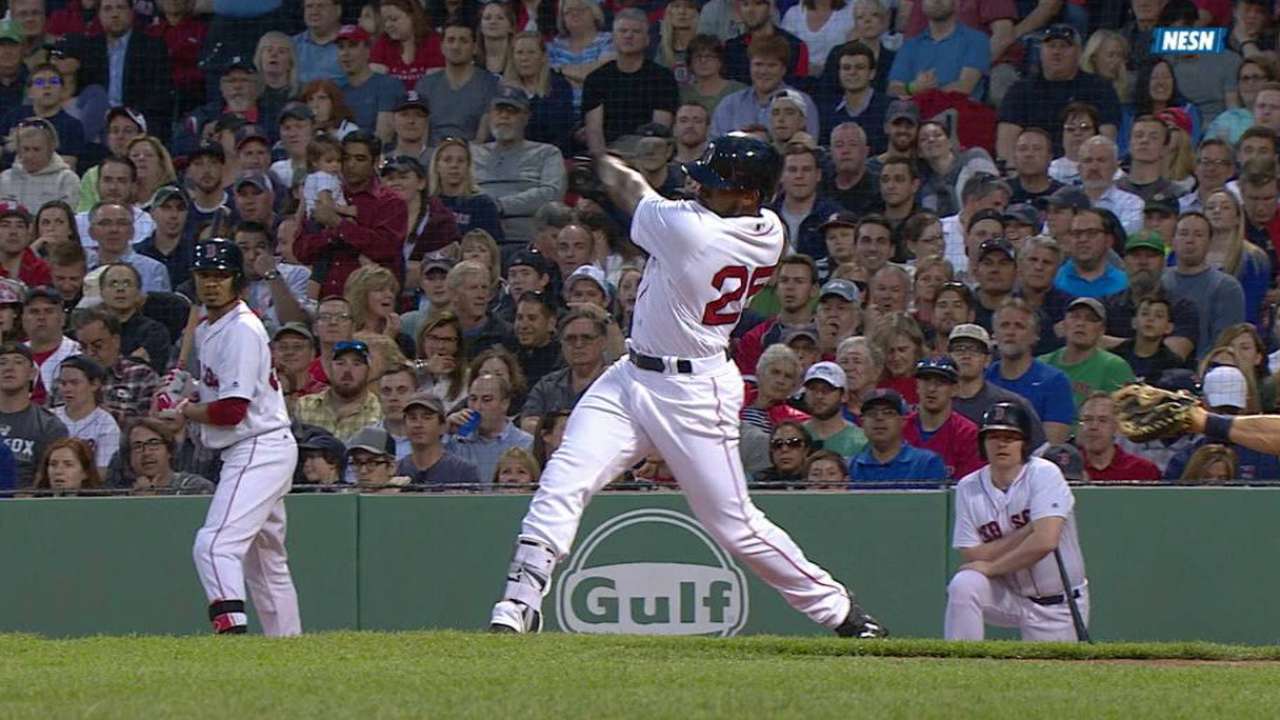 Bradley extended his career-long hitting streak to 18 games, matching teammate Mookie Betts' longest streak from last season and marking the longest active hitting streak in the Majors. The center fielder is hitting .412 (28-for-68) with an eruption of extra-base hits (five doubles, three triples, six home runs) and RBIs (25) during his run. Bradley has driven in 14 runs in his last four games, recording an RBI in each.
Red Sox manager John Farrell takes pride in his team's relentless attack.
"The more we can make that customary, we're probably in pretty good shape," Farrell said.
Thursday's hit parade began with a first-inning single by Pedroia that was followed by the first home run of the night, a drive off the bat of Bogaerts. The shortstop has hit safely in 19 of his last 21 games and has reached base at least twice in 16 of those games.
"It's unbelievable; I don't think I've ever seen anything like this," Bogaerts said.
On Thursday, seven Red Sox starters recorded at least one RBI, and seven scored at least one run.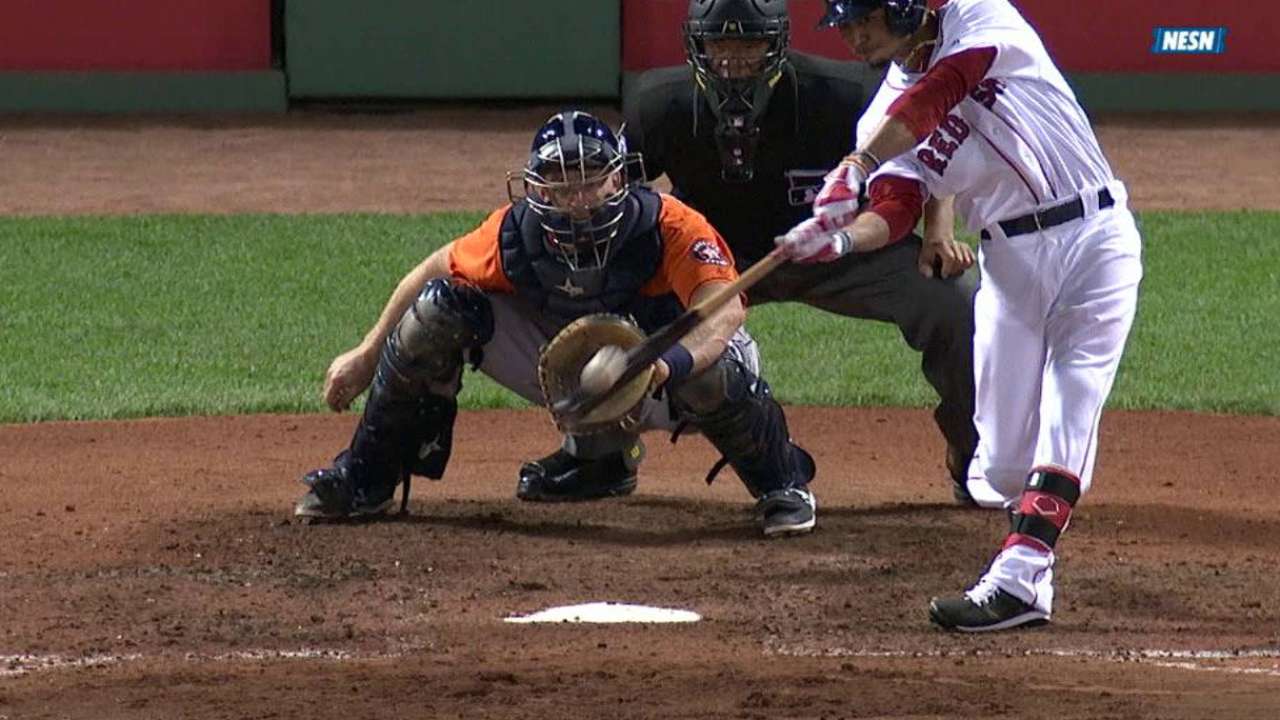 "From the outside looking in, it's not normal," said Betts, who hit a three-run homer in the sixth. "But I think from the inside, it's like, 'That's a good at-bat.' That's what we're supposed to do. It's just how we're rolling."
Riding a seven-game home winning streak, Boston has also won 10 of its last 13 games and 14 of 18.
"Everybody's hot, and it's just fun to watch," veteran outfielder Chris Young said. "If one guy's not getting it done, the next guy comes up and gets it done. It doesn't matter how we're doing it. ... We're getting it done."
Deesha Thosar is a reporter for MLB.com based in Boston. This story was not subject to the approval of Major League Baseball or its clubs.