New Angel Chacin feeling healthy, 'great'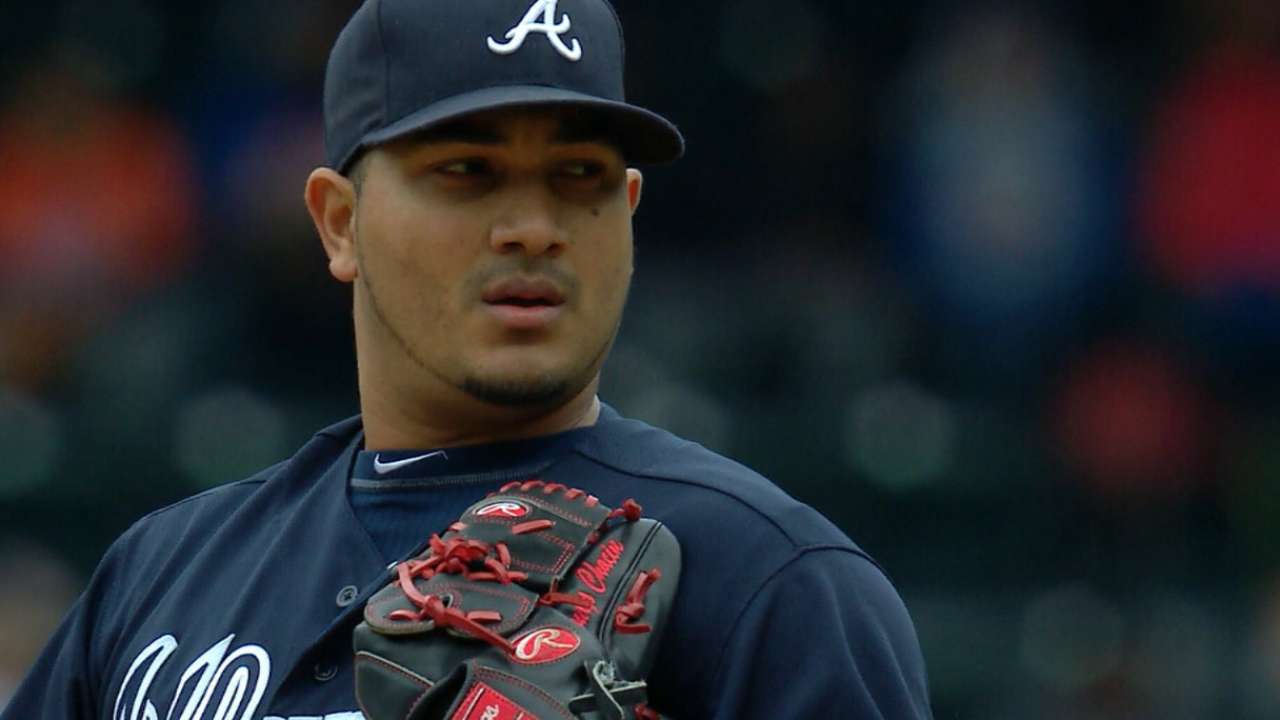 ANAHEIM -- Jhoulys Chacin's success is directly tied to the strength of his right shoulder.
For four years, the 28-year-old overcame the adverse conditions of Coors Field and established himself as one of the Rockies' best starting pitchers. Then, in the spring of 2014, his shoulder began to bark. He spent the first five weeks of that season on the disabled list, came back, pitched for two months, never felt right, went back on the shelf and never pitched for the Rockies again.
"It was hard for me to get used to throwing the ball," Chacin said Thursday, his first official day with the Angels. "Not even pitching -- just throwing the ball was hard for me. It was a long process for me to get back to where I am right now. I'm finally back healthy and throwing. I'm having fun playing, pitching, and just doing what I like to do."
Chacin received a platelet-rich plasma injection in his shoulder late in that 2014 season and spent all of 2015 trying to regain strength, while bouncing around with the Indians and D-backs and spending most of his summer in the Minor Leagues.
Chacin said he didn't feel 100 percent until a stint of winter ball in his native Venezuela this past offseason. He parlayed that into a Minor League contract with the Braves, then cracked the Major League rotation and posted a 5.40 ERA through his first five starts, before the Angels -- with four critical pitchers on the shelf -- acquired him for Minor League reliever Adam McCreery on Wednesday.
Chacin's numbers might be better than his ERA portrays.
He had a 3.27 ERA before giving up eight runs in 4 2/3 innings to the Mets on May 4. His adjusted Fielding Independent Pitching score is 3.31, which would be the second-best among healthy Angels pitchers. And he's struck out 27 batters and issued only eight walks in 26 2/3 innings, with an impressive 48 percent ground-ball rate.
Chacin was added to the active roster on Thursday, taking the spot of reliever A.J. Achter, who was sent back down to Triple-A.
Chacin will make his Angels debut on Saturday, against the division-rival Mariners in Seattle.
"Finally I'm healthy again," said Chacin, who relies mostly on a sinker, slider and cutter. "My last two years were hard on my shoulder. But last year, and all of this year, I've been fine. I had one really bad game, but besides that, I've been feeling great."
Worth noting
• Angels manager Mike Scioscia is hopeful of having shortstop Andrelton Simmons back within six weeks post-op, which lines up as June 21. Simmons had surgery to repair the ulnar collateral ligament of his left thumb on Tuesday and was given a rough timeline of six to eight weeks. Players normally return in two to three months from the same procedure.
• C.J. Wilson, dealing with shoulder woes since the start of Spring Training, took part in his third bullpen session in five days on Thursday, throwing more than 40 pitches at Angel Stadium. The 35-year-old left-hander will take the next three days off, then hopes to take part in a simulated game on Monday. He still appears to be on track for a mid-June return.
• The Angels have a three-man bench. They need the extra reliever because their starting pitchers have completed six innings only once in the last 13 games, forcing the bullpen to absorb 54 1/3 innings in that span. Scioscia isn't sure how much longer he'll go with this construction.
• Cuban shortstop Roberto Baldoquin was placed on the disabled list for the second time with recurring discomfort in his right hamstring. Baldoquin -- given an $8 million signing bonus in December 2014 which prevents the Angels from signing a player for more than $300,000 in the international market -- is 3-for-18 for Class A Advanced Inland Empire. He finished last year with a .235/.266/.294 slash line in 77 games.
Alden Gonzalez has covered the Angels for MLB.com since 2012. Follow him on Twitter @Alden_Gonzalez and Facebook , and listen to his podcast. This story was not subject to the approval of Major League Baseball or its clubs.