Norris dealing with hand contusion after HBP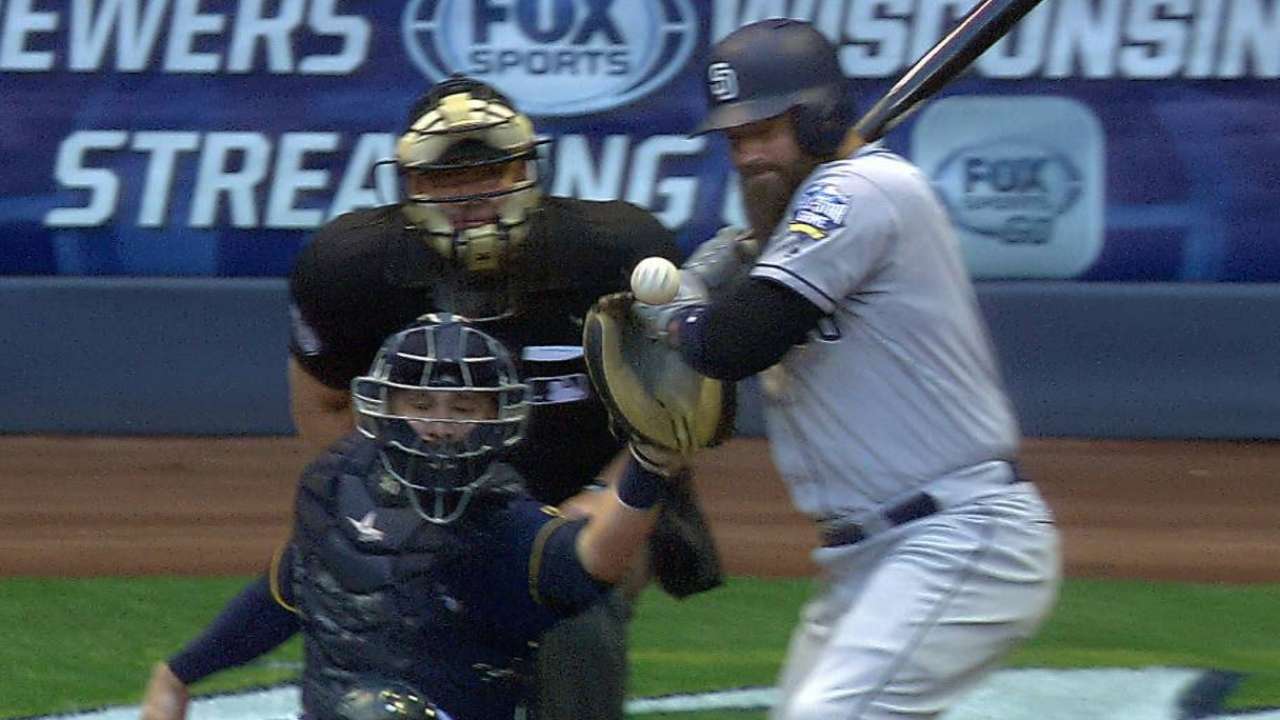 MILWAUKEE -- Padres catcher Derek Norris left Thursday's 3-0 win over the Brewers with a left hand contusion after being hit by a pitch.
Although Norris said the feeling resembled that of his previous broken bones, X-rays on his left hand came back negative.
"It wasn't my choice," Norris said of coming out of the game. "I got back in the dugout and there was some swelling and stuff. They didn't really leave it up for discussion. It was just, 'You have to come out and we have to get this thing figured out. If you go out there, you could make it worse and something bad could happen.' It wasn't up to me."
Norris was hit by a 95-mph fastball from Brewers starter Jimmy Nelson with two out in the second inning. Norris stayed in the game as a runner, but he was replaced by Christian Bethancourt prior to the start of the bottom of the inning.
For manager Andy Green, the decision to take Norris out was an easy one.
"The swelling and the discoloration, it was an easy decision, and he wasn't resistant to it, because he knew he couldn't at the time," Green said. "Hopefully he'll be good tomorrow. If not tomorrow, we'll have to make a determination on if it's a DL thing or if it's a few-day thing."
San Diego has three catchers on its 25-man roster after claiming Hector Sanchez off waivers from the White Sox on Wednesday. Sanchez is expected to join the Padres for Friday's game.
Norris had started 28 of the Padres' 36 games behind the plate. The 27-year-old is hitting .187 with two home runs and four RBIs.
"I don't think it's a lucky situation when you get a guy hurt, but when you've got another catcher coming in the next day to give you coverage, you feel better about going into the game and maybe carrying Derek banged up for a few days," Green said. "If he's not capable of catching, that way you can get by with it."
Andrew Gruman is a contributor to MLB.com based in Milwaukee and covered the Padres on Thursday. This story was not subject to the approval of Major League Baseball or its clubs.