Profar, Gallo await big league opportunity
Path to Majors blocked for now, but both players put up good starts in Triple-A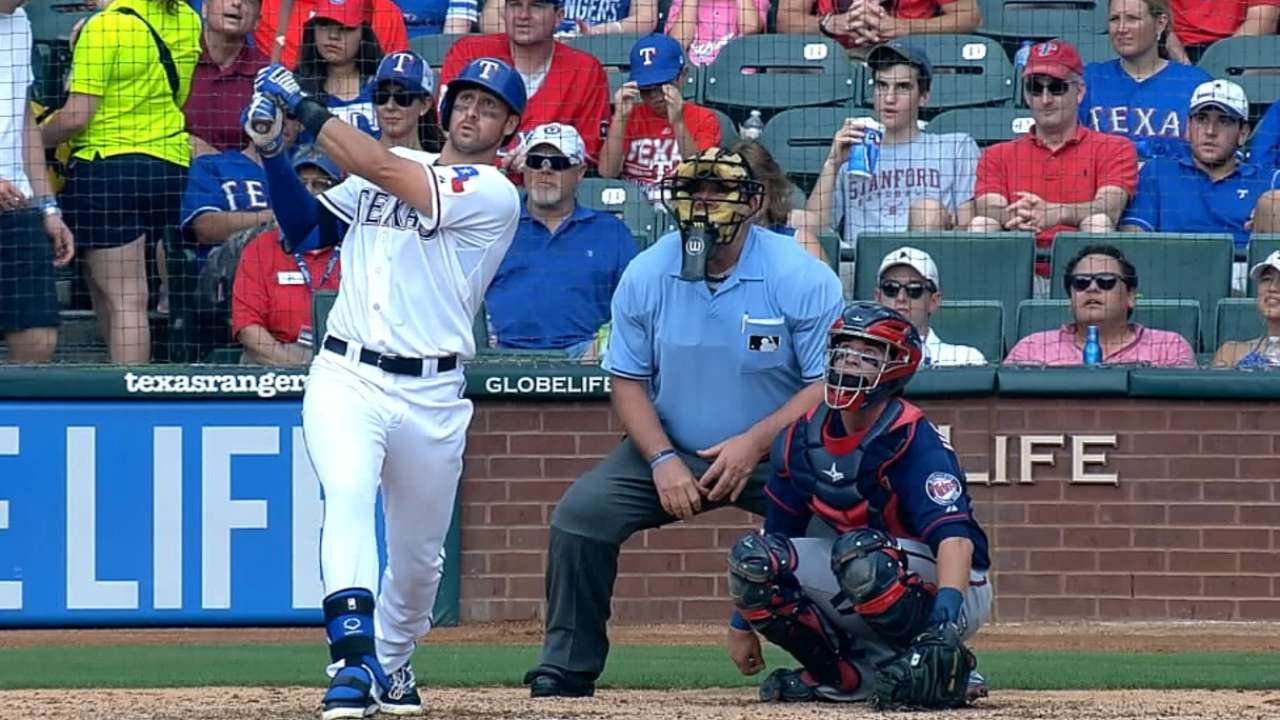 ROUND ROCK, Texas -- Shortstop Jurickson Profar is feeling 100 percent healthy and just happy to be playing every day. Third baseman Joey Gallo, the Rangers' No. 1 prospect, is almost over a strained left groin muscle and is hoping to be back playing next week.
"I'm shooting for [next Thursday in] El Paso," Gallo said.
If Gallo does play then, it will be standing next to Profar in Triple-A Round Rock's infield, and that will likely be the arrangement for the foreseeable future unless something unusual happens.
Gallo and Profar are still two of the Rangers' most valuable Minor League players, but right now, there is no room at the big league level. So they continue to work on what they need to work on and await their opportunity.
"There are a lot of teams," Profar said. "I know I'll be in the big leagues soon, so I'm getting ready. I just want to play in the big leagues and win, if it's [Texas] or somewhere else."
Profar was in the big leagues in 2012-13 until he suffered a torn muscle in his right shoulder. The injury cost him two years of his career, but that is behind him, and the shoulder is no longer an issue.
"I'm playing every day," Profar said. "I'm loving coming to the ballpark and playing baseball. It's nice. I'm working on the stuff I need to do to get back. I'm working on my whole game … hitting, fielding. I'm making sure when I get back, I'm at the top level.
"I don't feel like I'm ready yet. I'm not there yet with my hitting, but I'm very close. My fielding is better than my hitting. My hitting is not bad, but I want it to be real good. This is a different league level."
Profar and Gallo both got off to good starts for Round Rock. Profar went into Thursday's game against Oklahoma City hitting .271 with 20 runs scored, two home runs and 13 RBIs in 29 games.
Gallo was hitting .254 with seven home runs, 16 RBIs and a .642 slugging percentage. He had 21 strikeouts and 17 walks in 67 at-bats before going on the disabled list at the beginning of May.
"It was going well," Gallo said. "I was having good at-bats. I have a better plan this year. Triple-A is different than the Major Leagues. You know you're going to see a lot of offspeed pitches, and you know when they are going to walk you. My two-strike approach … I've had good success with that. Hopefully the injury doesn't set me back."
Profar and Gallo still have to wait for their opportunity much like former teammate Nomar Mazara, who was called up in April when Shin-Soo Choo went on the disabled list.
"We were in Iowa," Gallo said. "I looked at the guy next to me and said, 'He isn't coming back.' He's a freak, one of the best players I've ever played with. I want to be up there with him."
Gallo is blocked, just like Profar. The Rangers have a set infield of Mitch Moreland at first, Rougned Odor at second, Elvis Andrus at short and Adrian Beltre at third. Gallo can play multiple positions, but right now he is focused on third base, and the Rangers gave Beltre a two-year contract extension through 2018.
"I'm happy for him," Gallo said. "He deserves it."
Gallo said his glove isn't limited to third base.
"I can use it anywhere," Gallo said. "I think they want me to go behind the plate."
Gallo did once catch hometown buddy Bryce Harper in Las Vegas youth baseball before he took one in the ribs. That was the end of that.
Gallo could always switch to pitching. His scholarship to LSU would have allowed him to do both.
"Yeah, I would do both, play third base and then go pitch the ninth inning," Gallo said.
The Rangers have no intention of Gallo pitching or playing catcher. They just want him and Profar to be healthy and playing again. Mazara got his chance. Theirs will come sooner or later.
T.R. Sullivan has covered the Rangers since 1989, and for MLB.com since 2006. Follow him on Twitter @Sullivan_Ranger and listen to his podcast. This story was not subject to the approval of Major League Baseball or its clubs.