Kids will be stars during Play Ball Weekend
All 30 MLB clubs to offer youth clinics, giveaways, player appearances and more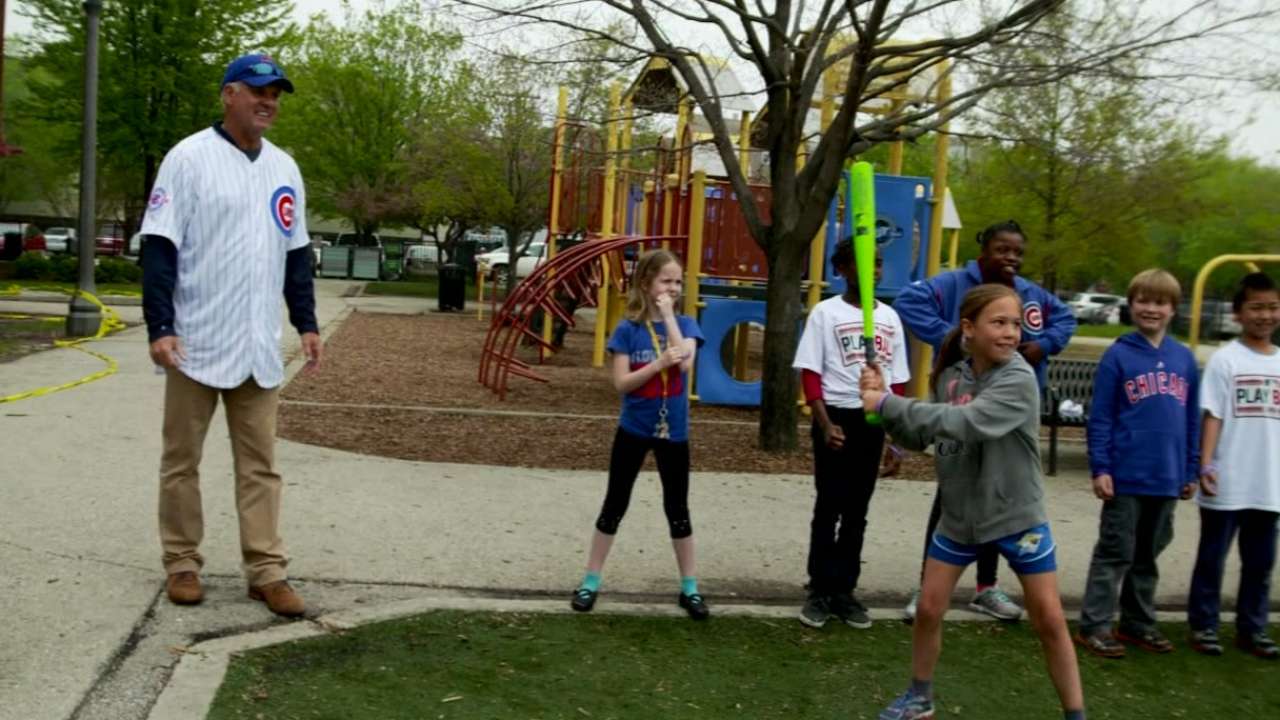 OK, boys and girls, it's your turn.
Mother's Day was last weekend, Father's Day is next month, and now kids are front and center as Major League Baseball introduces its inaugural Play Ball Weekend. Expect youth clinics galore, surprise visits by players, cap exchanges, warning-track parades, kids running the bases, ticket and equipment donations, kids-only press conferences, beach baseball, contests for youth leagues and teams, 320,000 plastic ball and bat sets handed out, mascot helpers, national anthem participants and generally a lot more noise everywhere.
The league-wide effort was announced this week by MLB and all 30 clubs to engage young baseball fans and celebrate the continued support for youth participation in baseball and softball. The initiative will launch Saturday and Sunday in ballparks around the Majors, and you'll see MLB players, coaches and managers wearing specially made Play Ball T-shirts during batting practice and Play Ball patches on uniforms during games.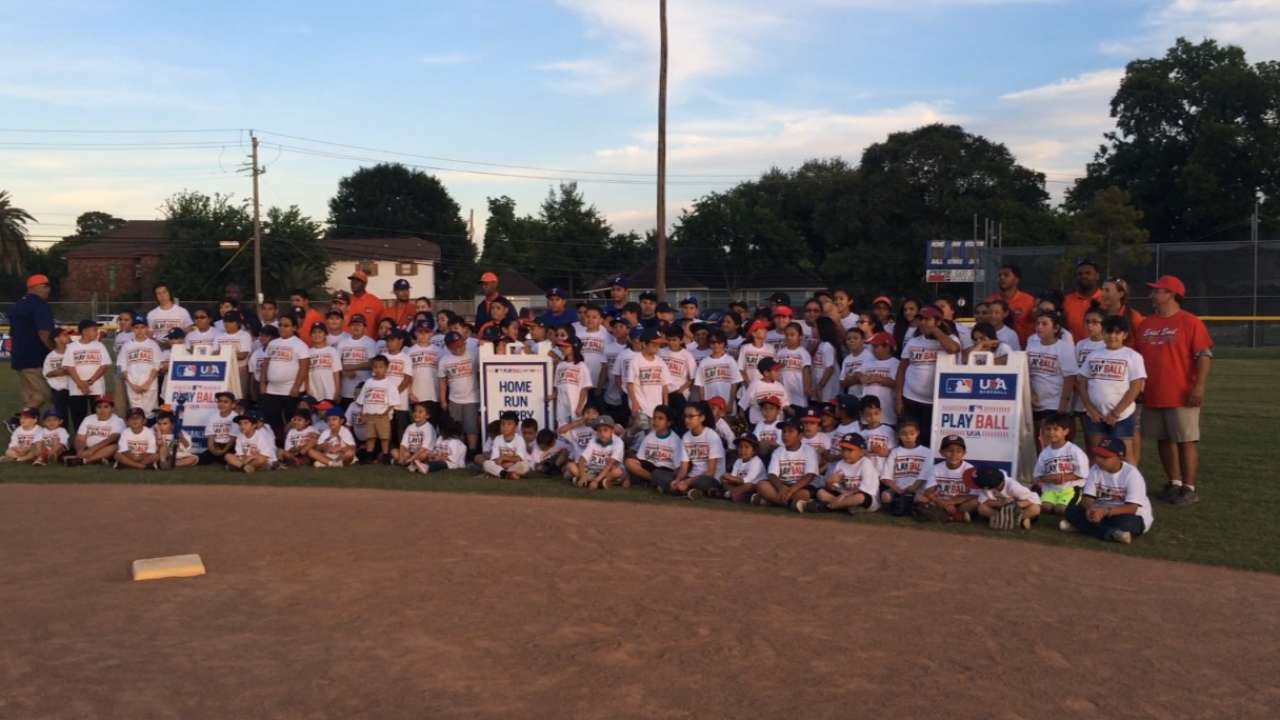 Play Ball Weekend is an extension of the Play Ball initiative, which launched in 2015 as the sport's largest effort to encourage widespread participation in both formal and casual baseball and softball activities. Play Ball Weekend is also a symbolic recognition of what MLB clubs do year-round to support the growth of youth baseball and softball in their respective communities and beyond.
"Play Ball Weekend is a unified demonstration of the National Pastime's commitment to engaging youth in all facets of our game," Commissioner Rob Manfred said. "This special program is an elevated step of the Play Ball initiative, which has been a tremendous vehicle to strengthen the ties with young people all across the United States and Canada. We thank our clubs for the outstanding experiences they will provide throughout Play Ball Weekend."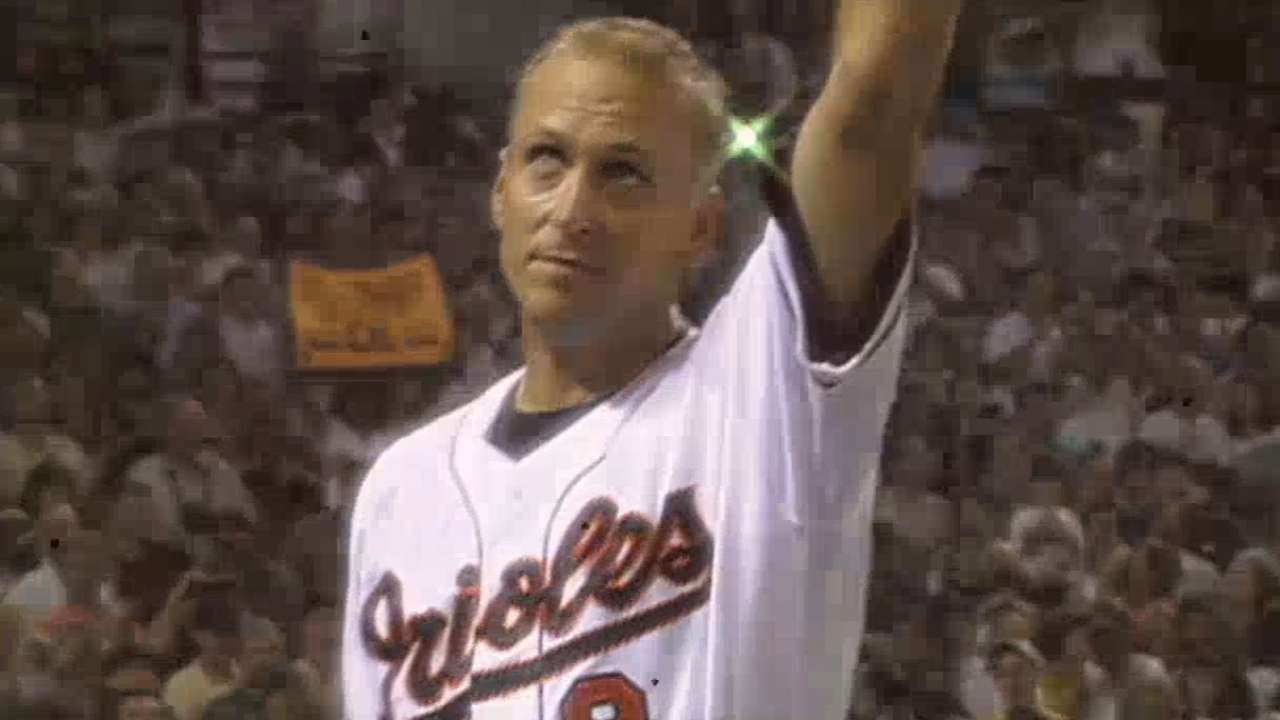 Clubs that are away select another date for their Play Ball Weekend activities. Here are some of the highlights on the schedule:
Blue Jays: They're on the road this weekend, but it only seems appropriate to begin this alphabetical club list with a look at the Play Ball clinic that was just held by the Jays Care Foundation. It featured youngsters from the Blue Jays' Rookie League Select program.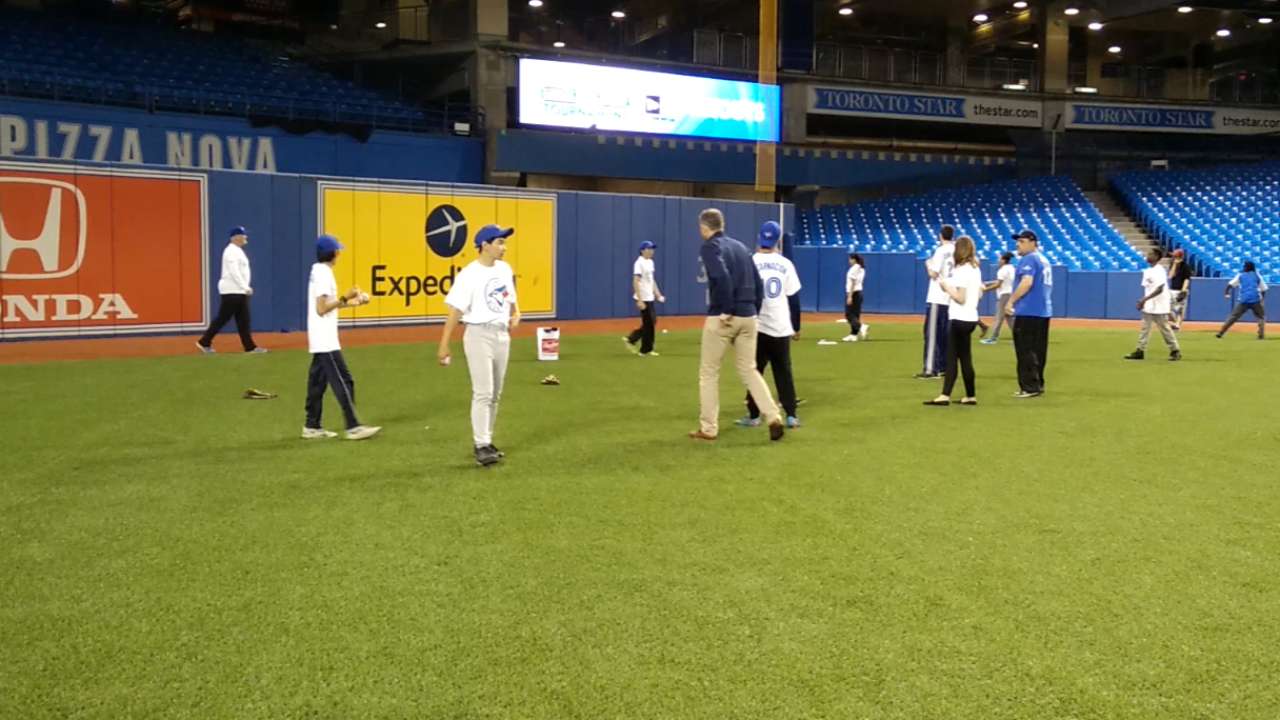 Brewers: A Jonathan Lucroy kids' replica jersey giveaway on Sunday may be the highlight for many. Festivities start on Friday at Brown Street Academy Playground with a 12:30 p.m. CT news conference to announce a major donation of baseball equipment and books to thousands of students at local Milwaukee Public Schools. Players Chris Capuano, Chris Carter, Alex Presley and Will Smith are expected to be on hand to interact with kids and give a mini-clinic. Details
Cardinals: While the Cardinals are away to play the Dodgers this weekend, a Redbird Rookies event will be held on Friday. The Cardinals Care initiative sponsors more than 20 leagues, serving nearly 4,500 youth baseball players in the St. Louis area and parts of rural Missouri and Illinois. Details
Cubs: Local youth baseball and softball players will participate in a pregame cap exchange, rosin bag delivery and "Play ball!" announcement before the Cubs-Pirates game on Sunday, taking the field before meeting Cubs players at each position. The MLB initiative aligns with Cubs Charities' ongoing programming to promote youth baseball and softball. Details
Pretty cool when a Hall of Famer shows up at school encouraging you to #PlayBall! #Ryno #Cubs pic.twitter.com/n4iE4Z2TG1

— #VoteCubs (@Cubs) May 11, 2016
D-backs: It's a long list, and the highlight might be on Saturday, when the D-backs surprise a local Little League team that participates in the D-backs Give Back Jersey Program. More than 50 D-backs -- including Baxter, Rallybacks and front office members -- will take the Fox Sports Arizona's D-backs Express Bus and "crash" a Little League game in Phoenix. Details
Dodgers: Saturday morning is Baseball at the Beach, as Dodger representatives play Whiffle ball with 60 youngsters from the Boys & Girls Clubs. Each participant will receive a Dodger hat, Whiffle ball set and tickets to the May 23 game vs. the Reds. Then the Manhattan Beach Little League will be this week's featured Little League team as part of ESPN Sunday Night Baseball and will be hosted by Adrian Gonzalez. Details
Indians: Michael Brantley, Mike Napoli, Rajai Davis, Cody Allen and Josh Tomlin will participate in a Play Ball Clinic for 50 kids, ages 9-14, starting at 9 a.m. ET on Saturday at Progressive Field. Details
Mariners: All kids 14 and younger will receive a playground bat and ball set on Sunday when the Mariners meet the Angels. Since it is also Little League Day, there will be a pregame parade of 8,500 kids in team uniforms around the warning track. Kids from various local youth programs will participate in that day's ceremonies. Details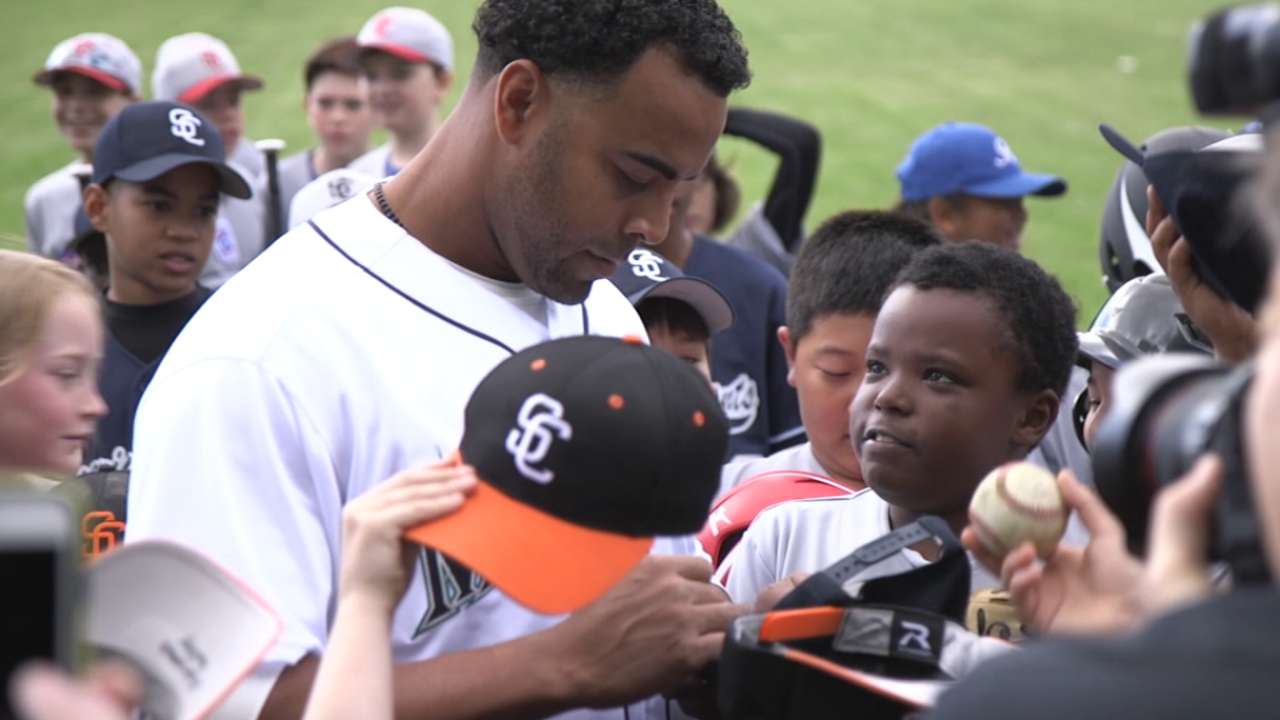 Nationals: First up is an Anthony Rendon event on Friday for scholar athletes from the Nationals Youth Baseball Academy. Saturday's doubleheader features stuff for kids, and then all area teams and leagues will be welcomed on Sunday to the 12th annual Youth Baseball & Softball Day. The many activities scheduled include a youth baseball and softball equipment drive in conjunction with MLB's Baseball Tomorrow Fund
Orioles: In addition to Manny Machado's BaseBOWL shindig, starring teammates and kids on Sunday night, Baltimore events include simultaneous youth clinics featuring current and former Orioles at Ford Meade and at Lake Waterford Park at 11 a.m. ET Saturday morning, and a pregame cap exchange and warning-track parade on Sunday. Details
Phillies: This weekend's activities include multiple events at the Phillies' MLB Urban Youth Academy on Saturday and Sunday, as well as a youth baseball and softball players' parade and a cap exchange with Phillies players at Citizens Bank Park. Details
Pirates: Their Play Ball 2016 event is scheduled for May 21 at PNC Park. Free advance registration for kids 5-12 is required at pirates.com/playball, as the Pirates will host youth from 8 a.m. to 1 p.m. ET that day for fun activities. Details
Rangers: Tony Barnette, Sam Dyson, Ryan Rua and former Rangers will participate in a pair of Play Ball clinics at different sites (registration is closed). It's a good time to mention the Jr. Rangers Club, too. Details
Rays: Logan Forsythe is among the participants on Saturday morning as the Rays host PLAY (Promoting a Lifetime of Activity for Youth), a free fitness seminar for kids 11-16. Local youth players will take the field with the big leaguers just moments before first pitch on Saturday and Sunday to participate in a cap exchange on the field. Details
Red Sox: Their seven-game homestand started on Monday and ends Sunday. For every game, kids take the field with players before each game and are given the opportunity to deliver the lineup card, be a bat kid, guest DJ, help the grounds crew and assist Wally the Green Monster with his mascot duties. Details
Night 1 of #PlayBall Week: SUCCESS! pic.twitter.com/AQdczyci67

— Boston Red Sox (@RedSox) May 10, 2016
Rockies: The first 10,000 guests 14 and under at Sunday's home game against the Mets receive the plastic bat and ball set. Now's a good time to consider signing up kids for the popular Rockies Youth Baseball Camp at Coors Field
Royals: Royals Hall of Famer Dennis Leonard and former Royals outfielder Les Norman will coach preselected kids during a clinic on Friday, and Mike Moustakas hosts foster care children at that night's game. Look for a pregame cap exchange on Saturday, Skippy Fun Run on the bases after Sunday's game, and much more. Details
Tigers: Past or present Major and Minor League players and Ripken Baseball staff will join in as the Tigers, in partnership with Chevy Youth Baseball, host instructional clinics for kids 6-14 on Saturday. They are from 10-12 p.m. and 1:30-3:30 p.m. ET at Comerica Park. Details
Twins: On Saturday morning, four different Play Ball! Minnesota Youth Skills Clinic events are scheduled for kids around the Twin Cities. Kids get a Joe Mauer Wiffle ball bat at that day's Twins game, and players will distribute free gloves to Reviving Baseball in the Inner Cities (RBI) participants at North Commons Park in Minneapolis at 6 p.m. CT on Sunday.
White Sox: They will surprise a local Little League team by bringing popular aspects of the U.S. Cellular Field experience to its game in the suburbs on Saturday. White Sox organist Lori Moreland, public address announcer Gene Honda, Southpaw, Mazda Pride Crew members and retro racers will bring the Sox experience to the Little League field with music and entertainment. Meanwhile, the club's annual Family Field Day benefiting Chicago White Sox Charities is rescheduled for Sunday due to rain earlier in the week.
Yankees: The first 10,000 guests 14 and under at Sunday's home game against the White Sox receive the plastic bat and ball set.
Visit PlayBall.org for more information, follow @PlayBall on Twitter and Instagram, and use #PlayBall on social media.
Mark Newman is enterprise editor of MLB.com. Read and join other baseball fans on his MLB.com community blog. This story was not subject to the approval of Major League Baseball or its clubs.