Red-hot Cano difference-maker for Mariners
Second baseman's strong start setting tone for 1st-place Seattle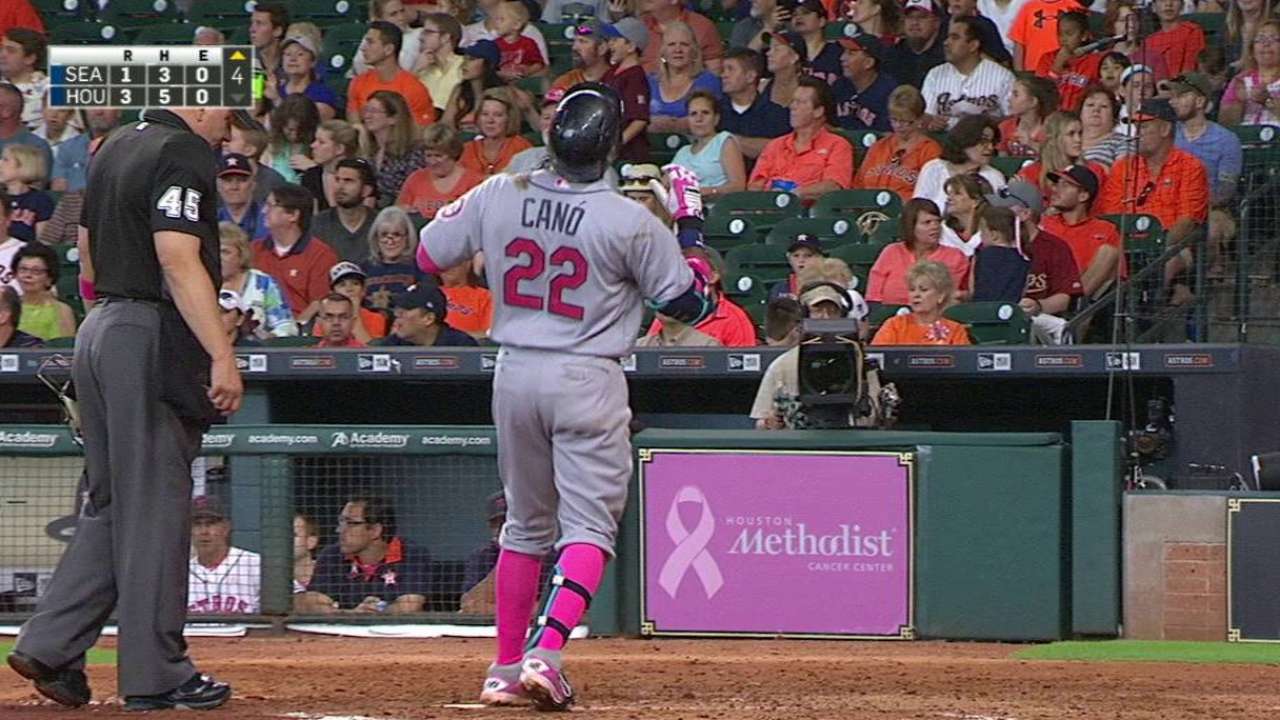 SEATTLE -- A lot of things have gone right in the first six weeks as the Mariners have blossomed into one of the hottest teams in baseball and zipped to the front of the pack in the early American League West race. But leading the way, without question, is a resurgent Robinson Cano.
Through 34 games, Cano has hit .303 with a .954 OPS. Going into the Mariners' off-day on Thursday, he led the American League with 12 homers and topped the Majors with 33 RBIs. Compare that to last year, when his 34-game totals were .268 with a .680 OPS, one home run and 11 RBIs.
• Cast your Esurance All-Star ballot for Cano and other #ASGWorthy players
The Mariners were 15-19 at this point last year. Now they're sitting at 21-13 and have won 19 of their past 26, the best record in the AL over that span.
General manager Jerry Dipoto overturned much of the roster in his first year with the club. Only 12 players on the current 25-man roster were with the organization at the end of last season, and just seven of those opened 2015 on the big league club.
Dipoto brought in a number of experienced Major Leaguers to build around his core nucleus of Cano, Nelson Cruz, Kyle Seager and Felix Hernandez and has gotten strong contributions from most, including closer Steve Cishek, starters Wade Miley and Nathan Karns, catcher Chris Iannetta, outfielders Norichika Aoki and Leonys Martin and Korean first baseman Dae-Ho Lee.
But make no mistake. Cano is driving the bus with his strong start and is allowing others to grow into their roles in a winning environment.
"It's huge," Dipoto said of Cano's impact. "With Cano, with Felix, with Cruz, what you've seen these last two weeks with Kyle Seager, that's what stars do.
"We talked about it through the whole winter," Dipoto said. "With the rest of the group, we were going to raise the level of play around that group and feed them. And right now, they're getting fat. They're doing what they do, stars being stars, and none more so than Robbie. It's electric to watch him play right now, on both sides of the ball."
Cano dealt with a digestive issue early last season that affected his sleep and eating, then played the final six weeks with a strained abdomen that required double hernia surgery in October. While he hit .330 with 17 homers over the final 82 games, the lackluster first half impacted both the team and his final numbers enough that he seemed to have lost his place among the game's elite.
But this year has reminded baseball viewers just how good a player he remains at age 33, when he's on his game.
"That's Cano," said young Mariners right-hander Taijuan Walker. "You can really tell a big difference from last year when he was hurt and everyone was like, 'Oh.' You can see what a healthy Cano can do. It's huge."
Manager Scott Servais, in his first year with the club, said from the start of camp that Cano had a hop in his step and a motivation to bounce back strong. He's been reminded on almost a daily basis of what a difference-maker his second baseman can be.
"He kind of gets in those zones where it doesn't matter what they're throwing or when they're throwing it, he's going to put a good swing on it," Servais said. "At times, he's been very aggressive and jumped on a lot of first pitches. At other times, he's got deeper into counts.
"He's hit lefties, he's hit righties, he's hit about all the pitches in all the different locations. He's just on one of those real hot streaks, and hopefully we can continue to ride it for some time yet."
Greg Johns has covered the Mariners since 1997, and for MLB.com since 2011. Follow him on Twitter @GregJohnsMLB and listen to his podcast. This story was not subject to the approval of Major League Baseball or its clubs.