No hiccups for Hanley in transition to first base
Year after struggling to learn left field, veteran has impressed Farrell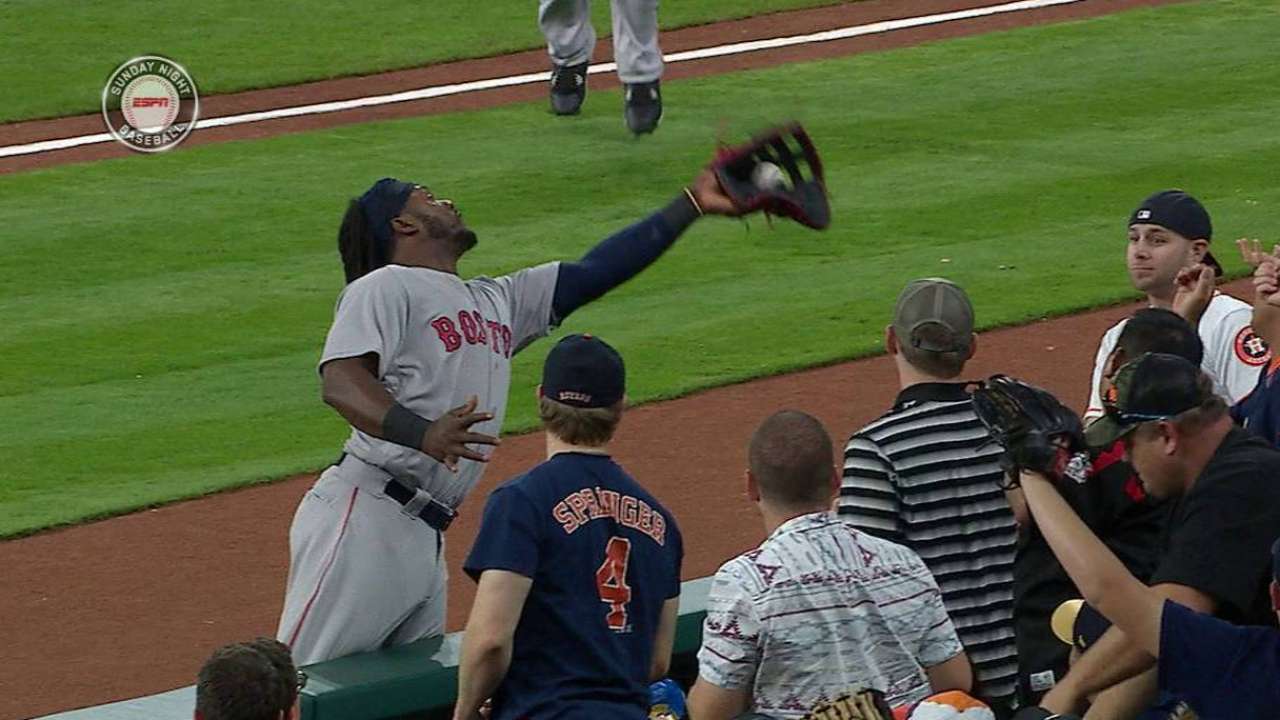 BOSTON -- Of the early-season storylines for the Red Sox, much has been written about Travis Shaw, the emergence of Jackie Bradley Jr., David Ortiz's hot start and Steven Wright's dancing knuckleball. Perhaps not enough has been made of just how smooth a transition Hanley Ramirez has made to first base.
"He's very comfortable," Red Sox manager John Farrell said of Ramirez. "He makes a heck of a play last night to his back hand -- the play that you get a sense that he's most comfortable with, when he's got that long hop down the line. He gives ground and rides it out and makes an effortless and graceful play with that. As far as the responsibilities of the position, which was maybe the focal point in Spring Training, he's handled it seamlessly."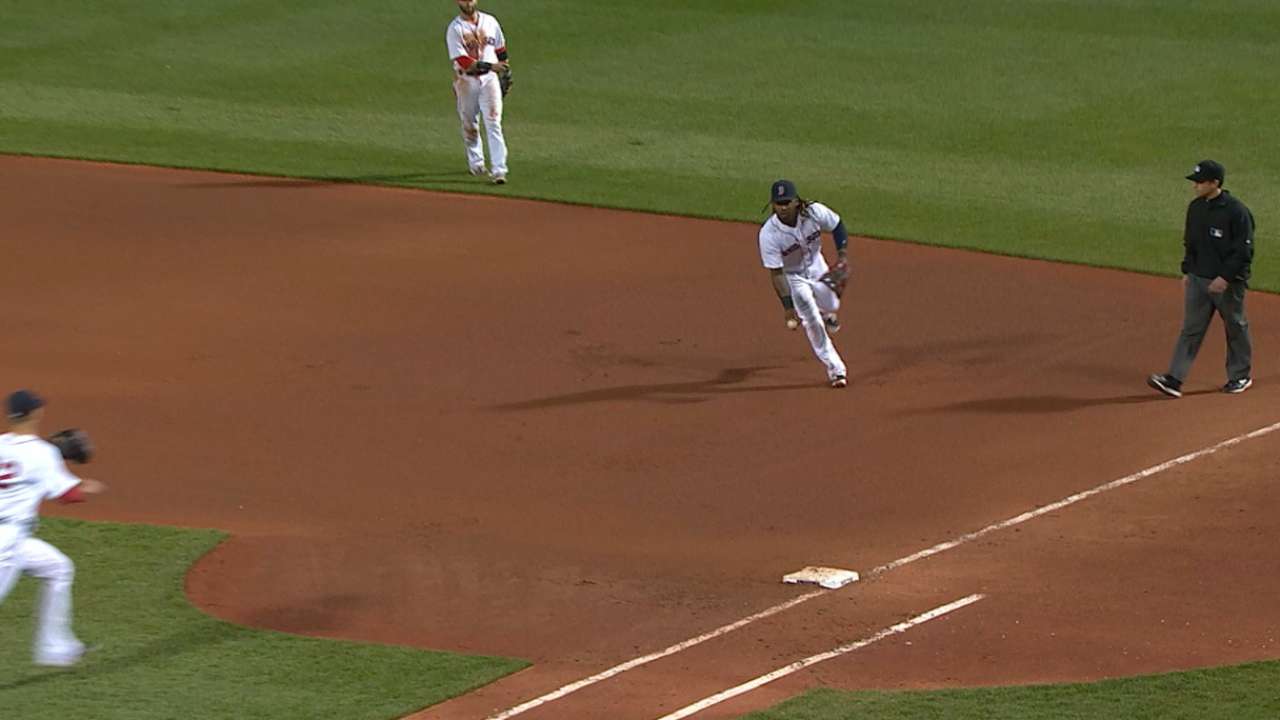 Last year at this time, there was daily scrutiny of Ramirez's rough adjustment to left field. This time, Ramirez is looking like a natural at a new position and having fun there.
• Cast your Esurance All-Star ballot for Hanley and other #ASGWorthy players
Ramirez's joy in playing first base was most evident in the Red Sox's home opener, when he scooped a throw out of the dirt and then tipped his cap to the crowd on the way back to the dugout.
"Last year, it's not hard to say that he might have felt like he was on an island in left field," Farrell said. "Here, he's engaged in every pitch, every play, and he's part of a unit in the infield. He's got responsibilities to those three other guys. He's extremely engaged. Even last night in a lopsided score, on a ground ball on the infield, he's giving everything he's got down the line. He's doing a very good job."
Through the first 34 games, Ramirez made no errors in 220 total chances.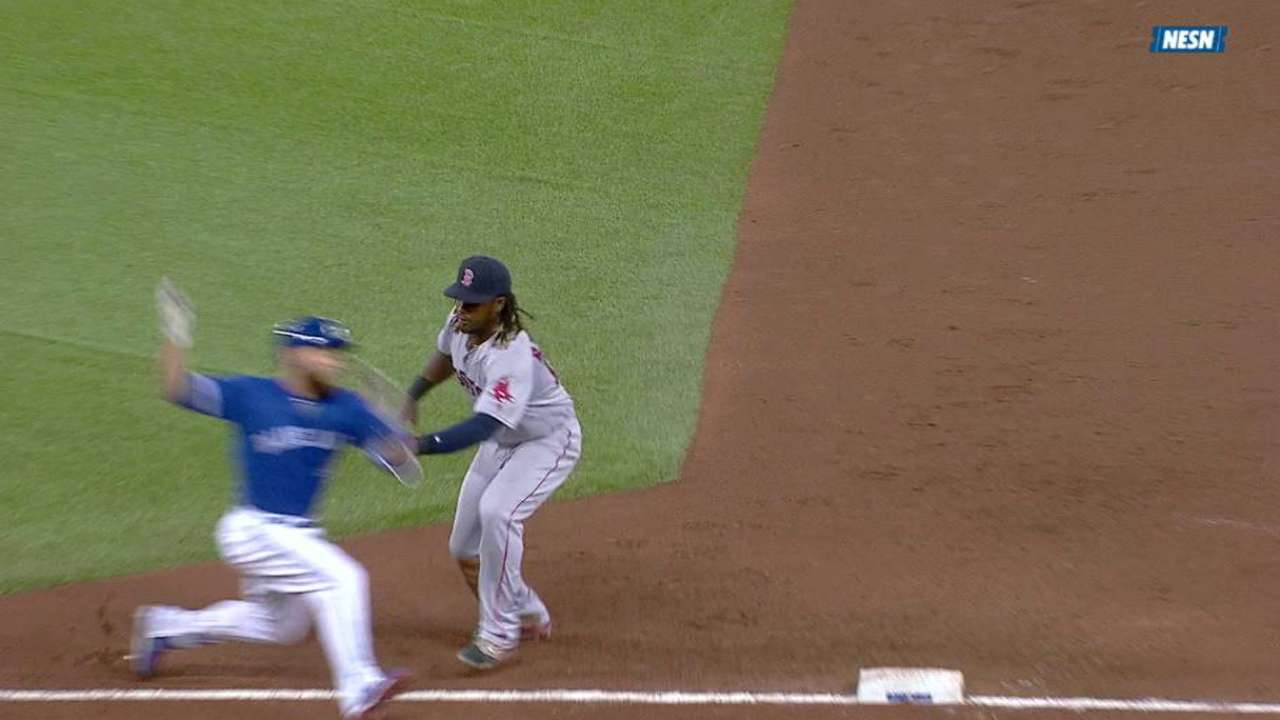 The Red Sox wouldn't have moved Ramirez to first if they didn't think he was capable. Still, his adjustment has gone even better than the club envisioned.
"Probably just more from a timing standpoint, it's happened quicker than we thought," said Farrell. "That was pretty clear in Spring Training, the way he was handling different throws across the diamond, different angles on ground balls. He's handled the cutoff responsibilities very well. We've only started the front end of a double play a couple of times, and he's handled those in good shape as well. All is good in terms of his defense at first."
Ian Browne has covered the Red Sox for MLB.com since 2002. Follow him on Twitter @IanMBrowne and Facebook. This story was not subject to the approval of Major League Baseball or its clubs.