By the numbers: A look at Cleveland's season so far
Salazar's emergence, Santana's leadoff success and more have had impact
CLEVELAND -- The Indians certainly have not had a shortage of adversity this season. But even with all the bumps that the first five weeks have presented, Cleveland has remained in the thick of the contending American League pack, staying afloat while trying to hit its stride.
There have been setbacks within the Tribe's rotation. The injury bug has bitten. The bullpen has had late-inning hiccups. That said, Francisco Lindor continues to blossom into one of baseball's elite shortstops, Danny Salazar has emerged as a top-flight starter, and there have been interesting developments, such as Carlos Santana's production as a unique leadoff man.
Let's take a look at how the Indians' season is developing through some numbers.
.151 -- Salazar's opponents' batting average
That leads all qualified Major League starting pitchers. The next two names on the list are Cubs ace Jake Arrieta (.159) and White Sox lefty Chris Sale (.165). It's been a great development for Salazar on a couple of fronts. First, his emergence has helped make up for the temporary loss of Carlos Carrasco (left hamstring injury). Next, it has helped Salazar sidestep the potential damage of his 13-percent walk rate, which ranks 99th among 102 qualified pitchers.
2.9 -- The collective WAR of the Indians' rotation
Heading into this season, Cleveland's starting staff was viewed as the top group in the AL. To date, the staff's WAR (per Fangraphs.com) ranks fifth in the AL and 12th in the Majors. Cody Anderson's issues at the back end of the rotation and Carrasco's injury (he is likely out until some time in June) have taken a toll on an otherwise solid case. Josh Tomlin (5-0, 3.72 ERA) has been a pleasant surprise so far.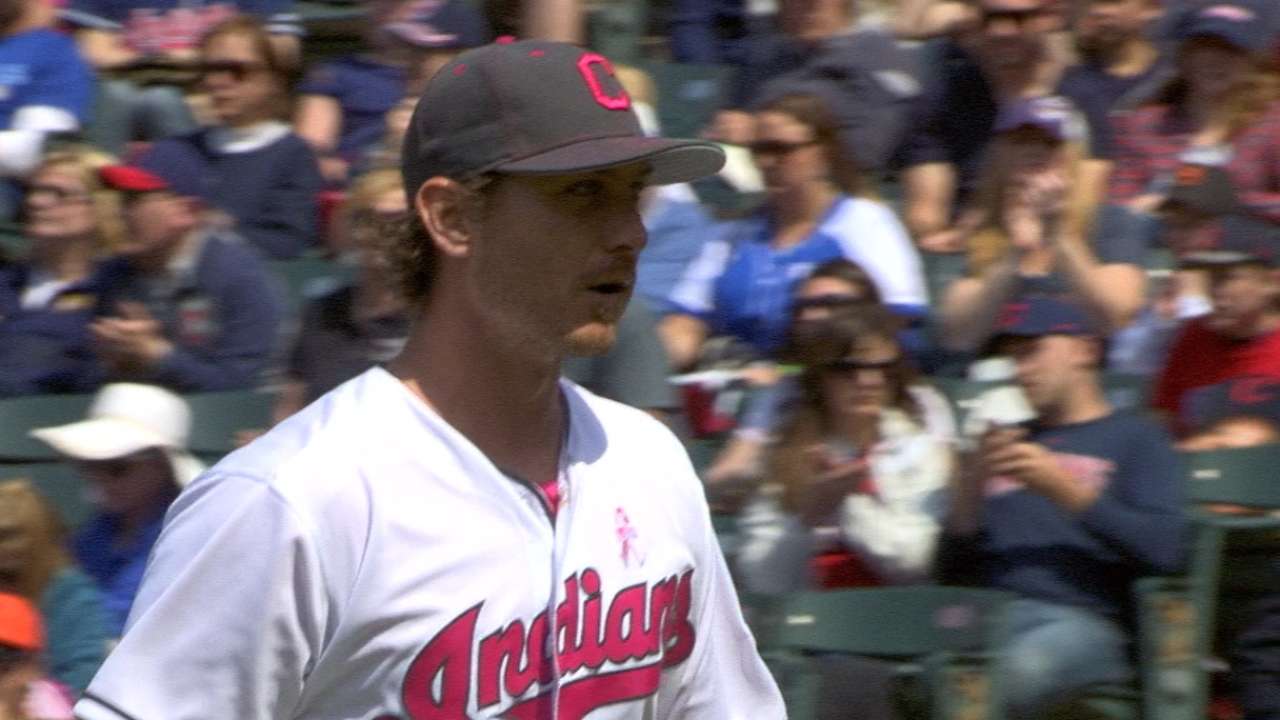 4.73 -- Pitches per plate appearance by Mike Napoli
That rate is tops among qualified Major League hitters. Napoli has shown a knack for wearing out pitchers and delivering timely home runs. His power comes with plenty of strikeouts, though. The first baseman's 35-percent strikeout rate is the third-highest percentage in the Majors.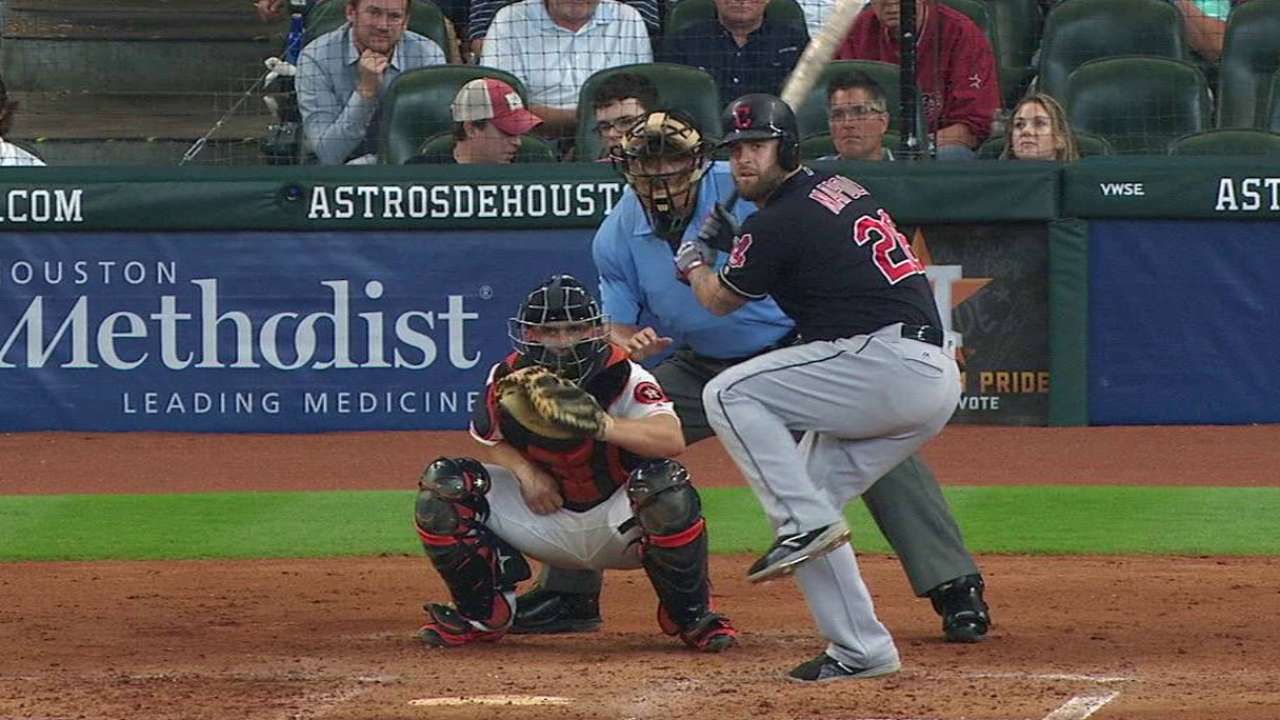 .289/.400/.553 -- Santana's slash line as a leadoff hitter
Indians manager Terry Francona had toyed with the idea of Santana as a No. 1 hitter for years, but he finally tested it out this season. He liked the concept due to Santana's ability to see pitches and get on base. So far, the switch-hitter has performed well at the top, compared to a .192/.302/.384 slash line when hitting in any other lineup spot this season.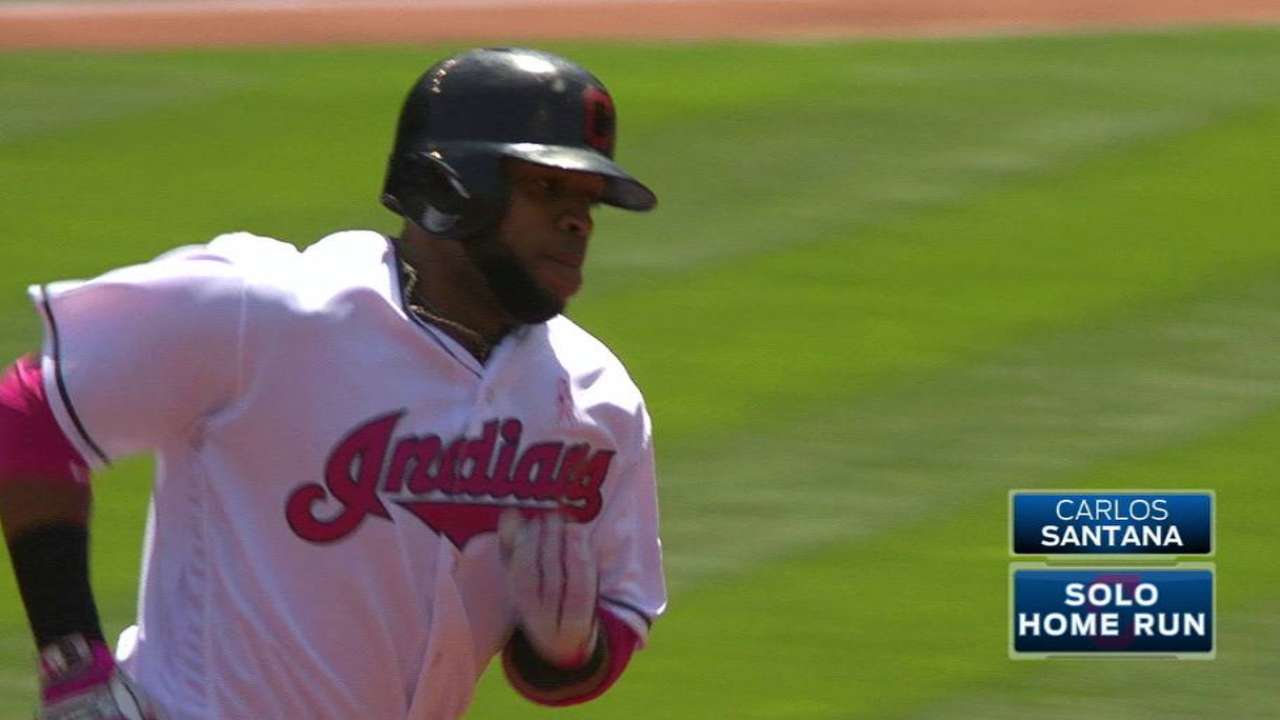 8.8 -- Indians' overall Ultimate Zone Rating
The defense was expected to be solid this year, and that collective UZR ranked fourth in the AL and sixth in the Majors, entering Thursday. Lindor has led the way with his human-highlight-reel act at shortstop. That said, the Indians have minus-10 Defensive Runs Saved as a team. The biggest hole has been in center field, where the Tribe has minus-11 DRS (minus-7 by Tyler Naquin and minus-4 by Rajai Davis).
.382 -- Lindor's slugging percentage
Lindor surprised plenty as a rookie last year, when he posted a .482 slugging percentage in his 99 games for Cleveland. So far this season, his slugging percentage has dropped to a more expected level. Throughout his five Minor League seasons, the switch-hitting shortstop had a .384 slugging percentage. His .353 on-base percentage through Wednesday was identical to the OBP he posted in 2015 as a rookie.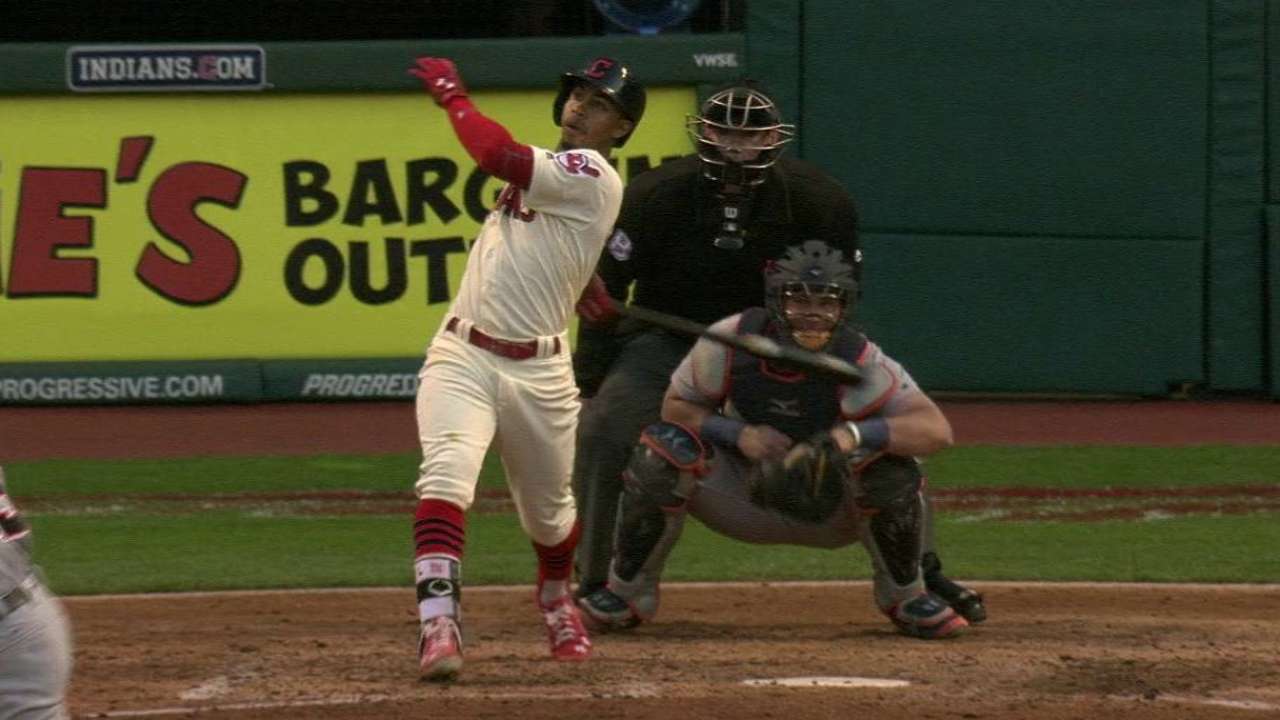 2.83 -- Bullpen ERA, minus Cody Allen and Bryan Shaw
The Tribe weathered some late-inning storms in April, when Allen and Shaw endured a handful of rough outings. The performance of the rest of the relief cast helped make up for that duo's April struggles. So far in May, Allen and Shaw have spun 10 shutout innings combined. Allen has a 2.16 ERA in his past nine games, while Shaw has a 0.77 ERA in his past dozen appearances.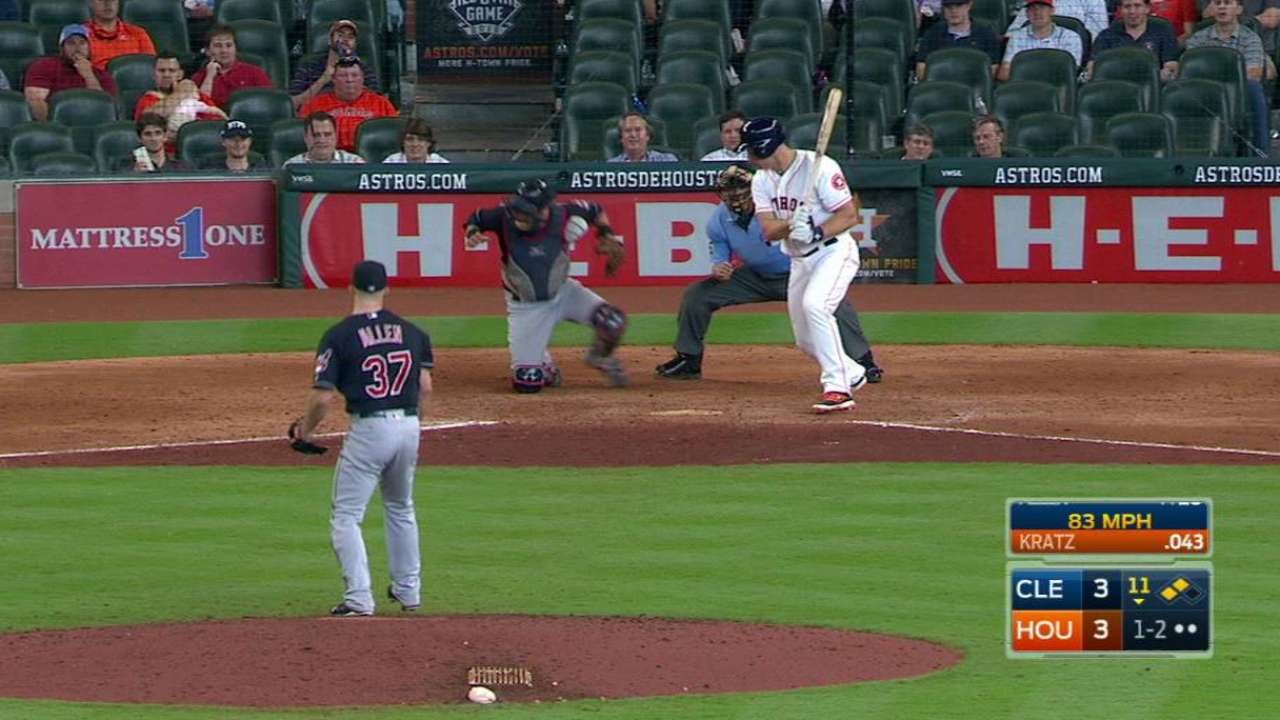 1.03 -- Home runs allowed per nine innings
That overall rate by Cleveland's staff is the 13th lowest in the Majors heading into Thursday's action. It is fair to point out that the rate is skewed by the issues of Anderson, who has given up eight homers in 28 1/3 innings. Remove Anderson's home run troubles, and the Indians' HR/9 rate drops to 0.86, which would be tied for the third-best mark in the AL. So this has been less of an issue than it looks on the surface.
.235 -- Combined average of Marlon Byrd, Juan Uribe, Davis and Napoli
Those four veterans were added to the mix on one-year contracts for this season. While that foursome accounts for 12 of the team's 27 home runs (a total that ranked 14th in the AL, entering Thursday), the group has had issues with getting on base consistently and striking out. As a group, those four have a 28.2 percent strikeout rate.
Jordan Bastian has covered the Indians for MLB.com since 2011, and previously covered the Blue Jays from 2006-10. Read his blog, Major League Bastian, follow him on Twitter @MLBastian and listen to his podcast. This story was not subject to the approval of Major League Baseball or its clubs.