Inbox: How have Cubs fared with bases loaded?
Beat reporter Carrie Muskat answers fans' questions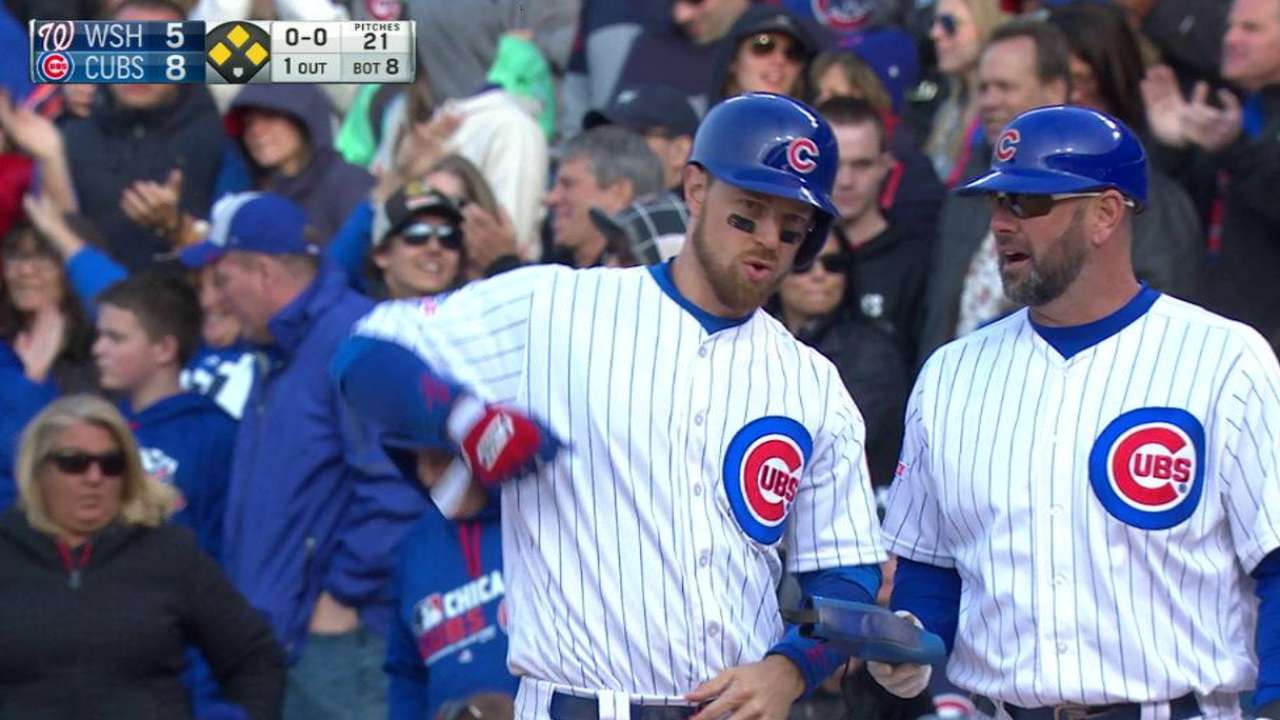 The Cubs now have 50 RBIs with the bases loaded. How does that compare to last year (or even the past few years)? We all know the Cubbies have been horrible with RISP, much less with the bases loaded.
-- Aaron K., Chicago
Here are the Cubs' batting averages with the bases loaded and total RBIs in those situations:
2016: .400 (20-for-50) with 50 RBIs
2015: .284 (40-for-141) with 111 RBIs
2014: .200 (17-for-85) with 66 RBIs
2013: .231 (21-for-91) with 65 RBIs
2012: .241 (21-for-87) with 67 RBIs
2011: .296 (37-for-125) with 90 RBIs
2010: .292 (33-for-113) with 100 RBIs
The Cubs' individual stats with the bases loaded are:
Matt Szczur (3-for-4, nine RBIs)
Ben Zobrist (4-for-6, eight RBIs)
Addison Russell (3-for-6, six RBIs)
Jason Heyward (2-for-5, five RBIs)
Kris Bryant (1-for-4, six RBIs)
Dexter Fowler (1-for-4, four RBIs)
Anthony Rizzo (1-for-3, one RBI)
• Submit a question to the Cubs Inbox
What effect do you think Stephen Strasburg's extension with the Nationals will have on the negotiations the Cubs are having with Jake Arrieta?
-- Sean M., Indianapolis
Strasburg, 27, was given a seven-year, $175 million extension on Tuesday, and the biggest impact it has on Arrieta is that it reinforces the high price of pitching. Arrieta, 30, will be a free agent after the 2017 season, and he expects to be compensated. He said Wednesday he'd like to stay in Chicago, but he clearly stated that he is not going to give the Cubs a hometown discount. As of now, Arrieta is under control with the Cubs for this season and next.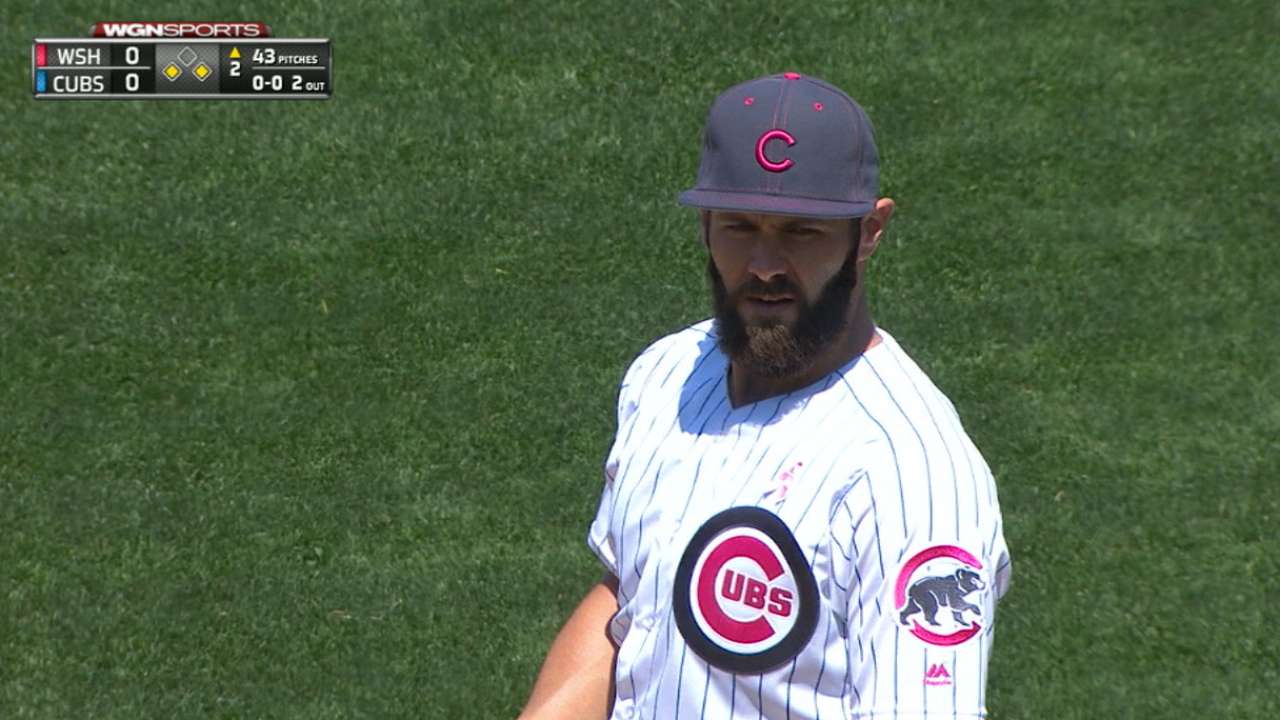 Any chance that Bryant is a permanent fixture in left field with the way Javier Baez is playing?
-- James M., Jacksonville, Fla.
I wouldn't say permanent. Bryant will see more playing time in left field than anyone expected at the start of the season, mainly because of Kyle Schwarber's season-ending left knee injury. Manager Joe Maddon wants to get Baez in the lineup for defense and wants Tommy La Stella in for offense in certain matchups.
Some fans have asked about Jorge Soler's status because he's not playing every day. Soler is still in the development phase of his career, and the Cubs are in win mode. The goal is to find matchups in which Soler can be in a position to succeed.
Do you have any updates on Schwarber's knee? Will we see him around the ballpark?
-- Jerry U., Belvidere, Ill.
Schwarber is at Wrigley Field for his rehab, but his progress will be slow, which is why you won't get daily updates. Chicago's coaching staff is keeping him mentally in the game by having him chart the pitchers, which will give him a better understanding of situations and help his development as a catcher. Schwarber is still wearing a massive brace on his left leg, which he can only take off to do his exercises and shower.
I was watching a Spring Training game and noticed the discussion of Arrieta's workout and the new equipment the Cubs brought into the facility. How do players establish workout routines? Are any of the other guys adopting Arrieta's training program after his success last year?
-- Chris M., Rutherford, N.J.
During the season, players follow Cubs strength and conditioning coach Tim Buss' program. In the offseason, Buss travels to meet with the players and their personal trainers to go over their workout plans and make sure they're following his instructions. Yes, more players have added Pilates to their workout routine, and Arrieta does deserve credit for that. It's easier to do that now since the new clubhouse has a Pilates room with space for the reformer. Last year, the device was crammed in a corner of the interview room, which was shared by the groundskeepers for weather updates.
What's the status of Matt Murton? Why hasn't he been brought up?
-- Jim and Crissy B., Sault Ste. Marie, Mich.
Murton, who is back in the U.S. after playing in Japan, is on the disabled list at Triple-A Iowa with a strained oblique. There's no timetable for his return.
Carrie Muskat has covered the Cubs since 1987, and for MLB.com since 2001. She writes a blog, Muskat Ramblings. You can follow her on Twitter @CarrieMuskat and listen to her podcast. This story was not subject to the approval of Major League Baseball or its clubs.