Marlins have wave of pitching options on horizon
Cosart (doing work in Minors), Dunn (on the mend), prospects give Miami depth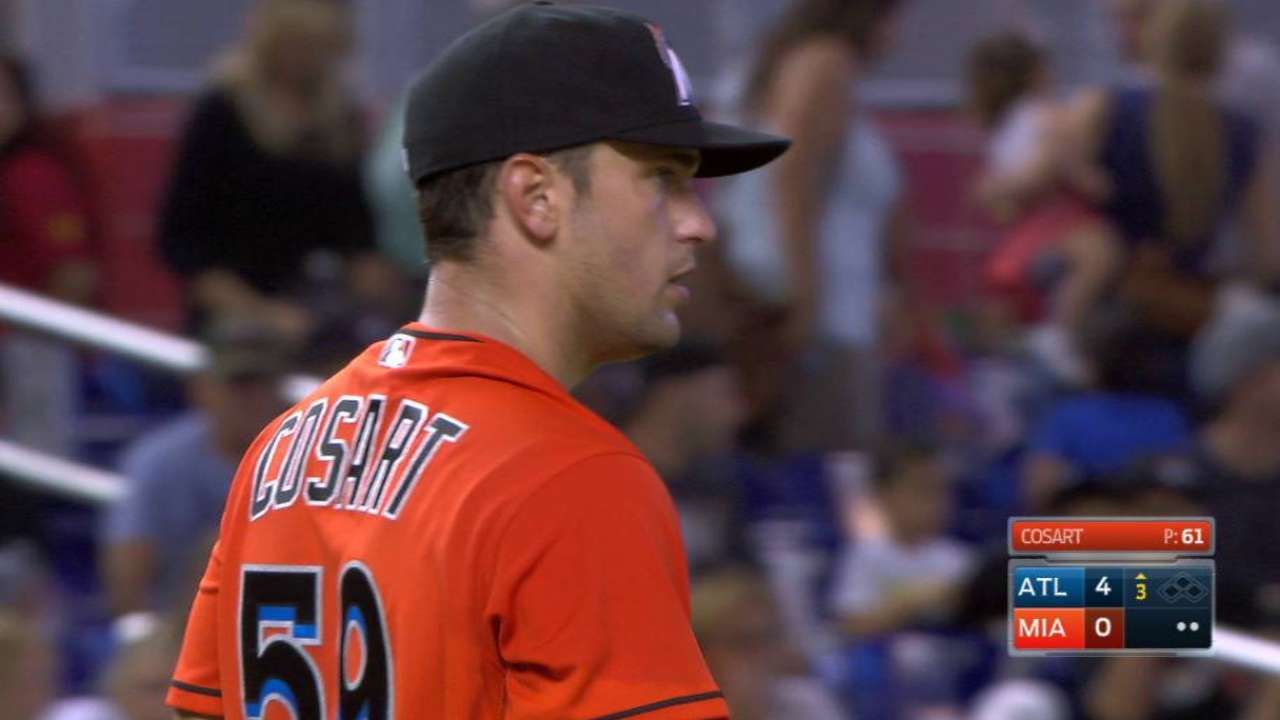 MIAMI -- The list is 18 and counting. It's the number of pitchers the Marlins have used thus far, and more reinforcements are waiting in the wings, if needed.
Miami plans to add another starter for one of Saturday's doubleheader games at Washington, and by the end of the month, lefty reliever Mike Dunn (left forearm strain) should be ready to come off the disabled list.
As the need for more depth continues, the Marlins feel they have the next wave of relievers, as well as a starter or two.
No official announcement has been made for one of the two doubleheader games at Nationals Park. Justin Nicolino, already part of the rotation, will go in one game. A strong candidate for the other game is Triple-A New Orleans right-hander Kendry Flores, the franchise's fifth-ranked prospect by MLBPipeline.com.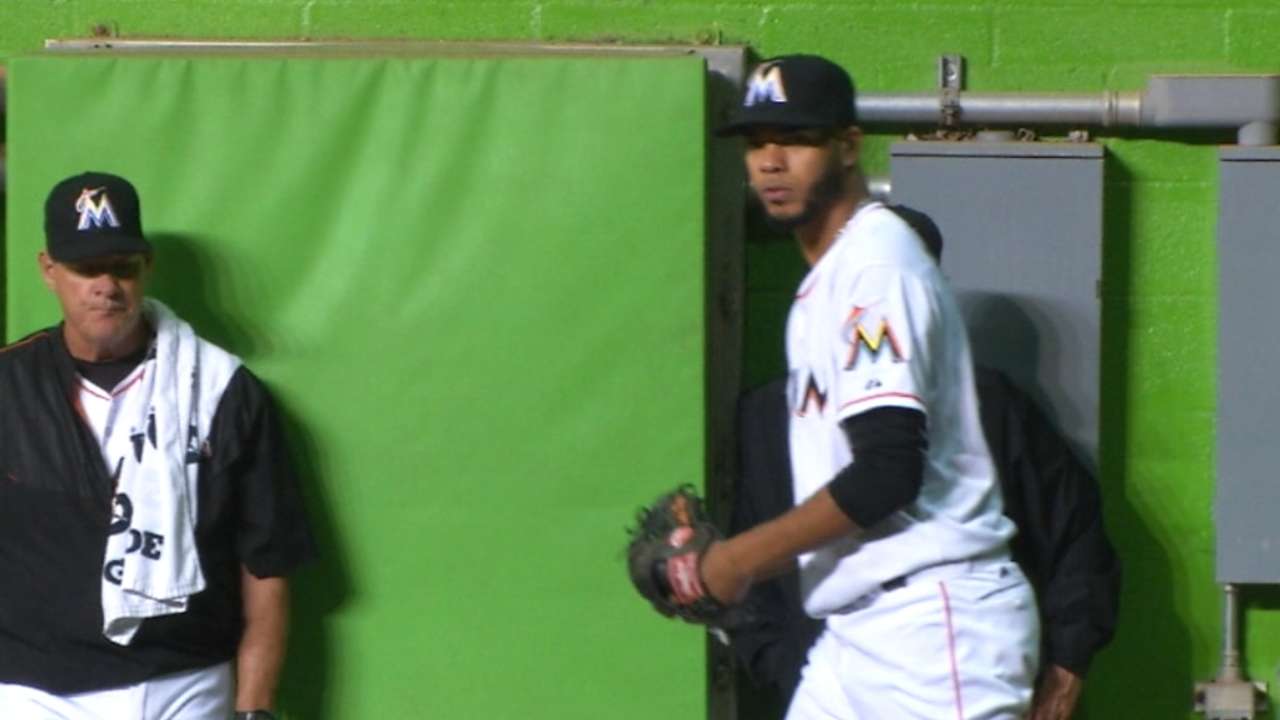 Miami plans on taking advantage of MLB's doubleheader rule that allows the addition of a 26th man, meaning the club doesn't have to make a corresponding move if it recalls Flores or any other Minor League pitcher. That spot starter is expected to make just one appearance and head back to the Minors.
Jarred Cosart opened the season in the Marlins' rotation, but he struggled with command and his mechanics, and he was optioned to New Orleans on April 26. In three starts there, Cosart is 1-1 with a 3.14 ERA in 14 1/3 innings, with 10 strikeouts and seven walks.
Before rejoining the big league rotation, Miami wants to see consistency from Cosart.
"We're looking for a little better pitch efficiency," president of baseball operations Michael Hill said. "We saw a lot of high pitch counts, and a lot of pitches, and not getting deep into games."
To get back to the big leagues, the Marlins are hopeful Cosart improves his fastball command and shows he can go deeper into games. He's fine-tuning his delivery and keeping his hands higher.
"Mechanically, we think he's in a good place," Hill said. "It's more of the other parts of the game to be a consistent Major League pitcher. He knows what he needs to work on, and we're confident he will straighten it out, because we think he will be a big part of our long-term success."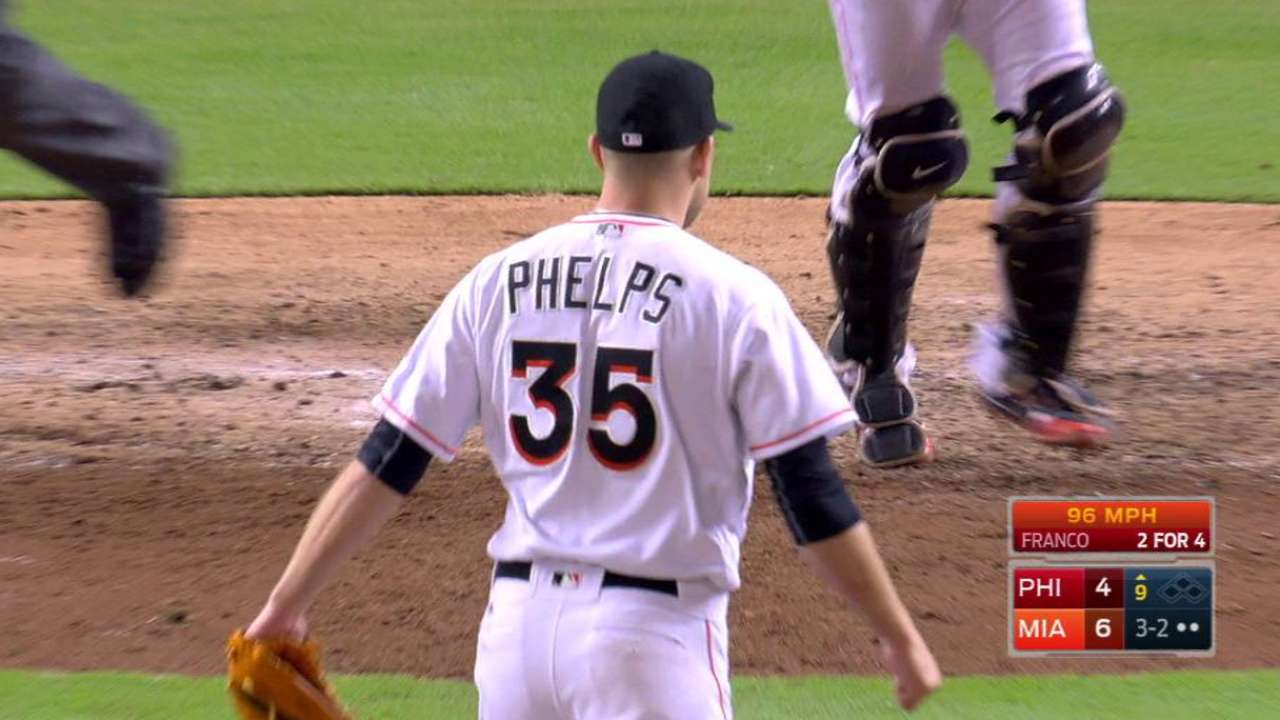 The more pressing need is bullpen depth, because Miami's starters have struggled to work at least seven innings. Since the Marlins have been winning, they've repeatedly used their primary late-inning relievers, Kyle Barraclough and David Phelps, and closer A.J. Ramos.
"There are two ways to look at it," Hill said. "Obviously, when A.J. and Phelpsy are pitching, that means we're in games, and we have an opportunity to win them.
"Ideally, you'd hope you could score more runs, so you don't have to use those guys every night. I think that's just a byproduct of the game. We always continue to look at ways to deepen our options, and that's what we'll continue to do to try to keep those guys as fresh as possible."
Miami has added a veteran depth to the organization, signing Joe Beimel, 39, to a Minor League deal. The lefty will start off at extended spring camp as he builds up.
A year ago, the Marlins used 29 pitchers and 13 starters, which matched a franchise record.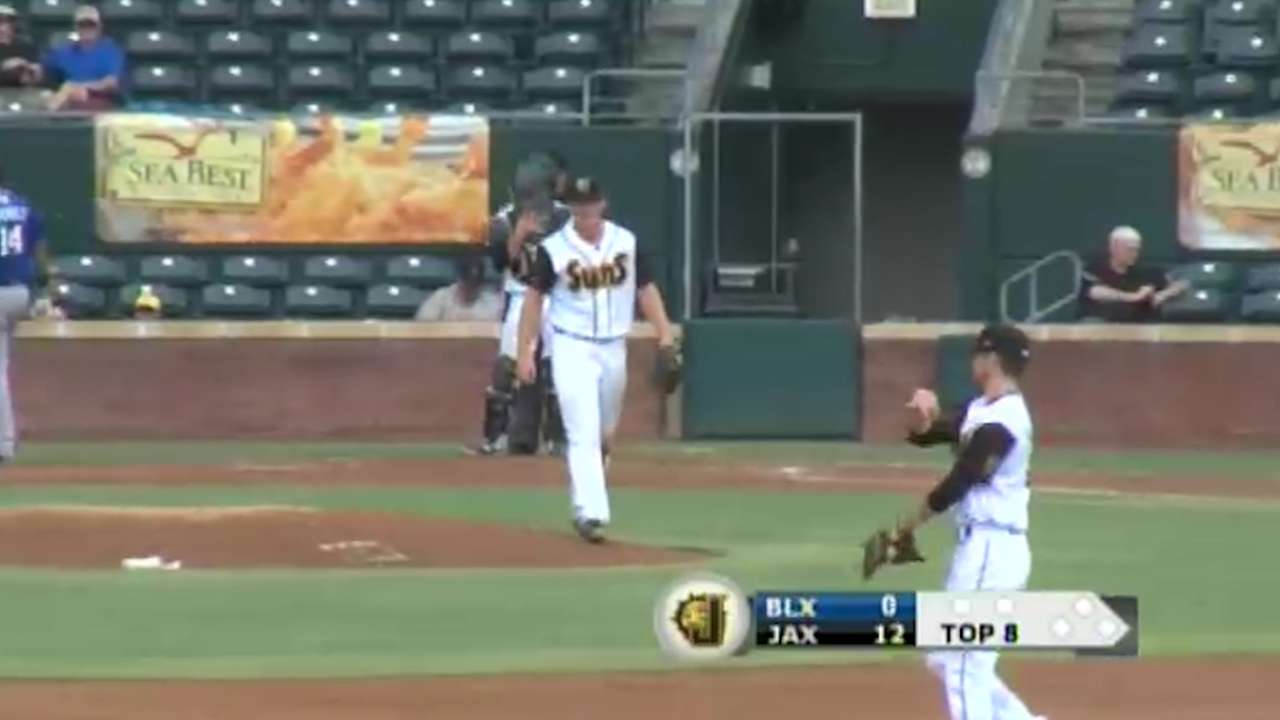 Triple-A right-hander Brian Ellington, a hard thrower with MLB experience, is Miami's 26th-rated prospect. He could be an option at some point.
"We're still working on the consistency aspect and getting quality strikes from [Ellington]," Hill said. "Once we're able to get that consistency, that's when you'll see him as a consideration to come up and stick for the long term."
Double-A Jacksonville's Austin Brice, the 23rd-ranked prospect, is making strides, and he could find himself at Triple-A and perhaps the big leagues in the upcoming months. He showed promise in the Arizona Fall League and in big league Spring Training.
In seven starts this year, the right-handed Brice is 1-2 with a 2.37 ERA.
"I think you compare Brice a lot to Ellington from the year before," Hill said. "He's a talented player who goes to the Fall League, experiences some success, and uses that as a springboard to have a good year. That happened with Ellington [in 2014], and we're seeing that with Brice. He went to the Fall League, and it carried over to a very good first Major League Spring Training."
Joe Frisaro has covered the Marlins for MLB.com since 2002. He writes a blog, called The Fish Pond. Follow him on Twitter @JoeFrisaro and listen to his podcast. This story was not subject to the approval of Major League Baseball or its clubs.