MLB.com Columnist
Jim Callis
Inbox: 3 thoughts on Scherzer; how 2016 Draft class rates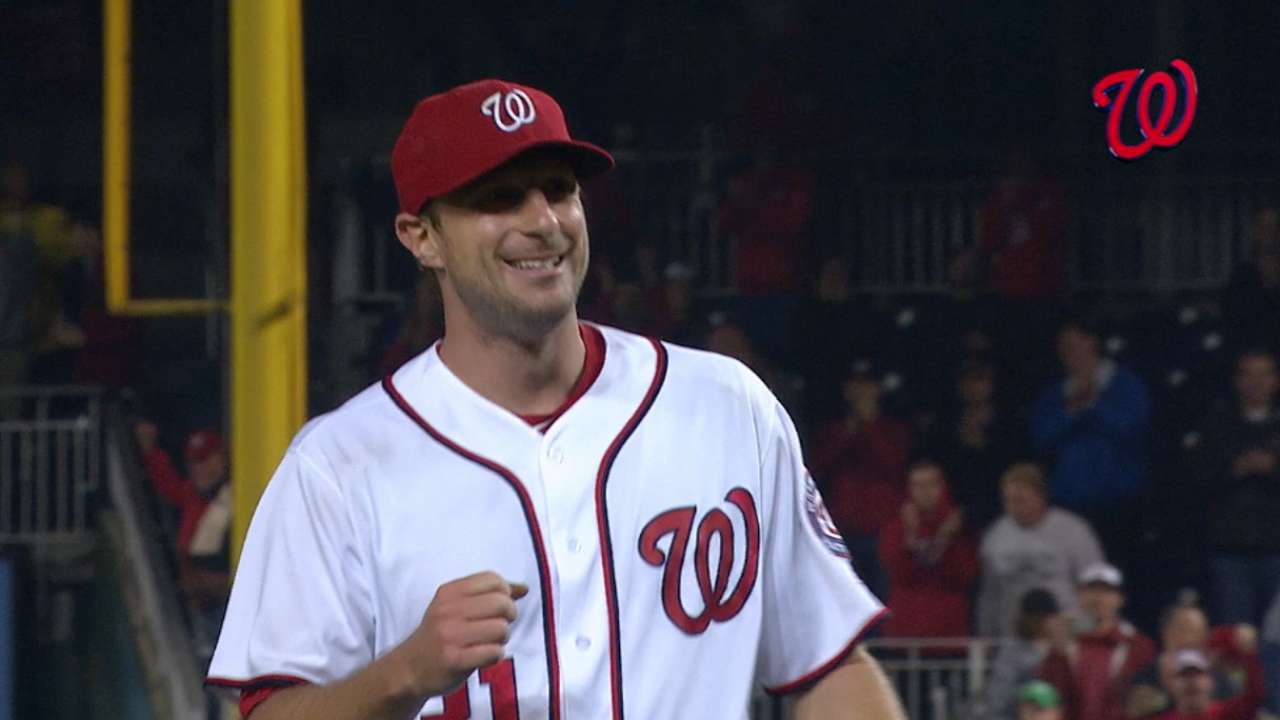 Max Scherzer tied a Major League record Wednesday, recording just the fifth nine-inning, 20-strikeout game ever to join Roger Clemens (twice), Kerry Wood and Randy Johnson in a very exclusive club. Three things immediately came to mind:
1. When Scherzer was an amateur, no one loved him more than then-Diamondbacks scouting director and current Nationals GM Mike Rizzo. He took Scherzer with the No. 11 overall pick in 2006 and likely would have popped him with the No. 1 overall selection if he had it. Scherzer held out until the following May, pitching in the independent American Association before signing a big league contract with a $3 million bonus and $4.3 million in total guarantees.
2. After his first pro season, Scherzer headed to the Arizona Fall League, where he hit 98 mph with his fastball. But he threw with the most pronounced head whack I've ever seen, and scouts were so concerned with the effort in his delivery that the consensus was that Arizona should expedite him to the big leagues as a reliever and get what it could out of him before his arm blew out. Instead, Scherzer has been as durable as any starter in the Majors during his eight full seasons.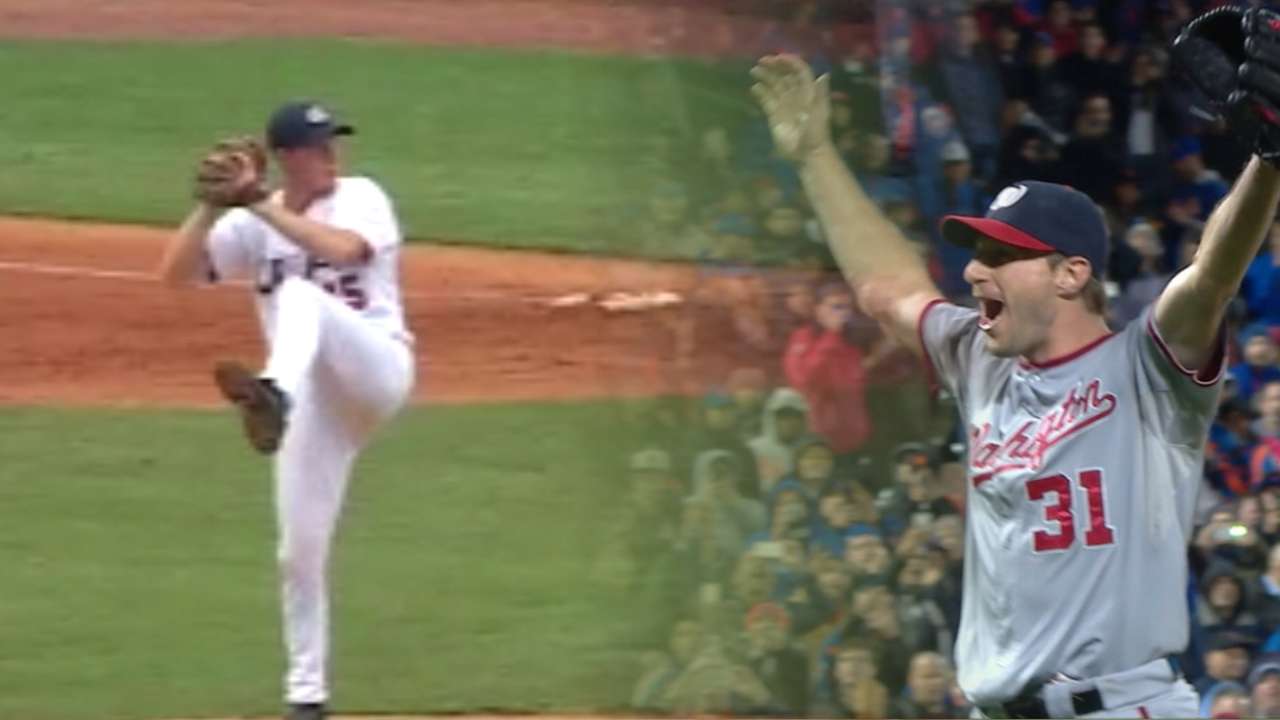 3. By the measure of Bill James' Game Score, which measures dominance and efficiency, Scherzer's 20-strikeout gem was only his fifth-best performance ever! He gave up six hits and a pair of runs on solo homers for a Game Score of 87. That rates behind Scherzer's 17-strikeout no-hitter against the Brewers (104), his 16-whiff one-hitter against Milwaukee (100) and his near-perfect game against the Pirates (97) from last year and a 14-K outing against Pittsburgh (88) in 2014. He didn't allow a run in any of those contests.
Click here to submit an Inbox question
On the 20-80 scouting scale, how would you grade this year's Draft crop as a whole? If you combined the past two crops into one Draft, how many of top 10 picks would come from each year?
-- J.P. S., Springfield, Ill.
The 2016 Draft pool merits a fringe-average 45 on the 20-80 scale. The depth is more impressive than the top-end talent, but it's worth remembering that quality players emerge from the later rounds of every Draft, and this overall crop is typical of those from the rest of the decade, with the exception of the loaded 2011 group. Gerrit Cole, Trevor Bauer, Dylan Bundy, Anthony Rendon, Archie Bradley, Francisco Lindor, George Springer and Jose Fernandez were among the first 14 picks of that '11 class.
Scouts also regarded last year's Draft as lacking at the top, though 2015 still was notably better than '16. The two best prospects on MLBPipeline.com's Top 100 Draft list are high school pitchers Jason Groome and Riley Pint, and there wasn't a comparable prep arm last year.
However, the current crop doesn't have a high school position player as good as Brendan Rodgers was a year ago, or a college position player in the class of Dansby Swanson, Alex Bregman or Andrew Benintendi, or a college pitcher superior to Carson Fulmer, Dillon Tate or Tyler Jay. All seven of those guys went in the top 10 selections in 2015, and they would do so again this June.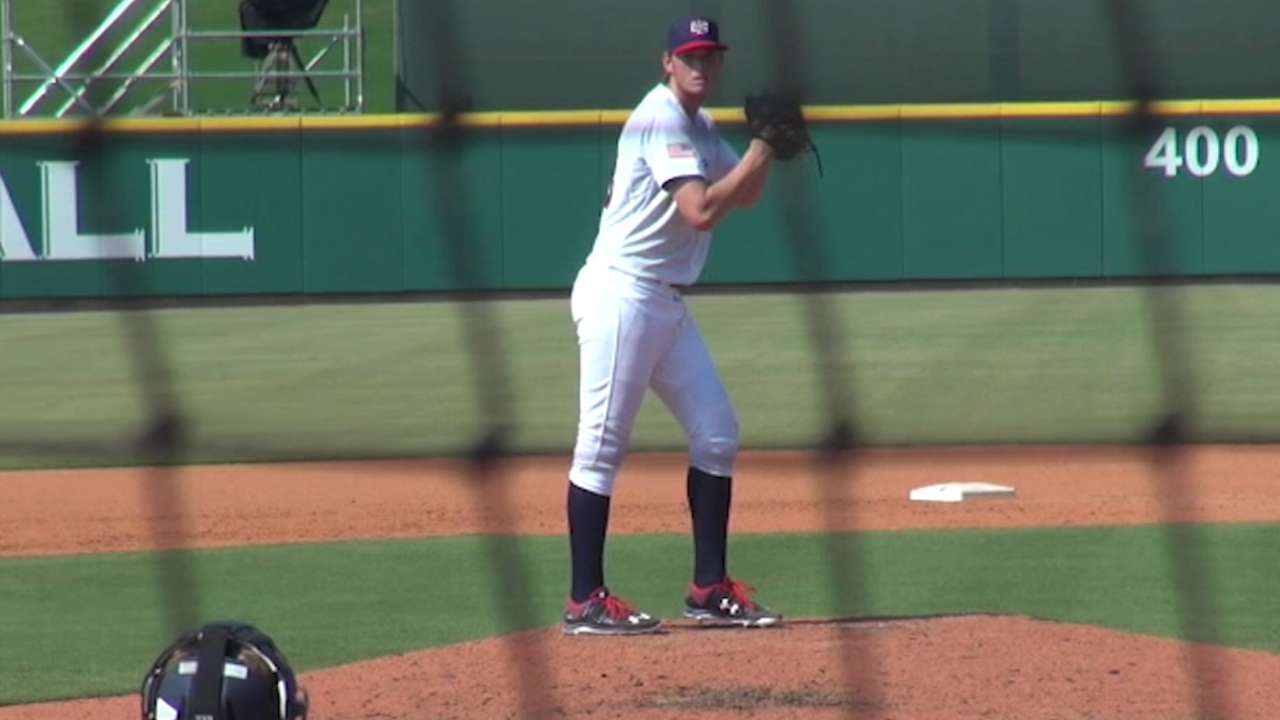 @jimcallisMLB @MLBPipeline Alec Hansen. How much did he help his draft stock with weekend performance?

— Aaron Surratt (@shahekee) May 9, 2016
A potential No. 1 overall pick coming into 2016, Hansen got banished to the bottom of Oklahoma's bullpen in late March after his control and command completely fell apart. He still showed a mid-90s fastball and a power slider, not to mention a hard curveball and interesting changeup, but he couldn't locate them at all.
On Sunday, Hansen got his first start since recording just two outs against Texas Tech on March 24. He took a no-hitter into the sixth inning against Kansas State, allowing two hits and a walk while striking out nine in six scoreless frames in his first win of the spring. Hansen attacked the Wildcats with a 94-95 mph fastball that reached 98, and he also had a mid-80s slider with late action and a solid changeup.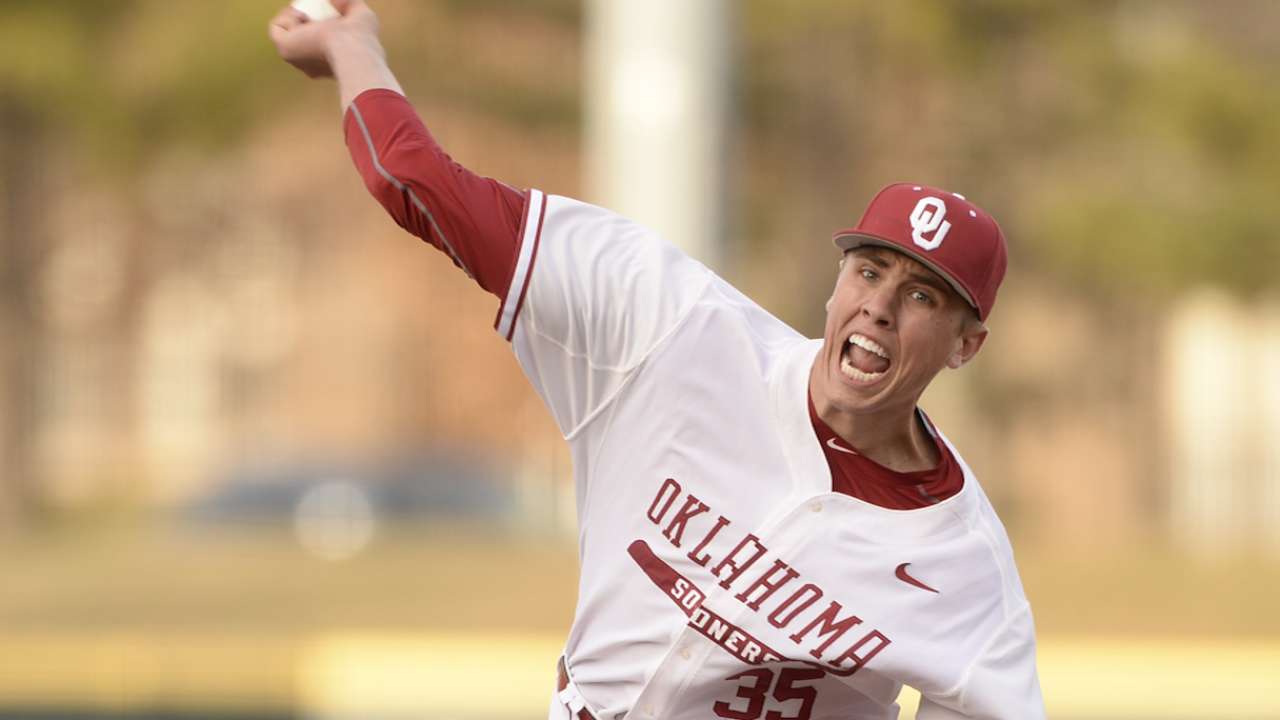 Hansen looked like he was turning a corner when he had a similar outing at UCLA in his third start of the year, but he couldn't repeat it and has a 1-4 record with a 5.06 ERA and a 55/29 K/BB ratio in 37 1/3 innings. If he can build on his current momentum in the four remaining weeks before the Draft, he could get back into the first round, but he's going to have to show he can harness his stuff more than once per month. Besides Hansen's control and command, there are major concerns about his delivery and his long-term health, though few pitchers in this Draft can approach his pure stuff.
@jimcallisMLB @MLBPipeline Is Amed Rosario or Dom Smith the #1 Mets prospect now? Top 50 guys given their starts and graduations?

— Stephen Guilbert (@StephenJosiah13) May 11, 2016
We won't revamp MLBPipeline's Mets Top 30 until July, but I currently hold current No. 2 prospect Rosario in slightly highly regard then current No. 1 Smith. I like Smith's swing and approach, and I believe he'll develop at least average power even if he hasn't shown it much in game action yet. But I'd rather have Rosario, a shortstop with offensive upside, plus speed and quality defense.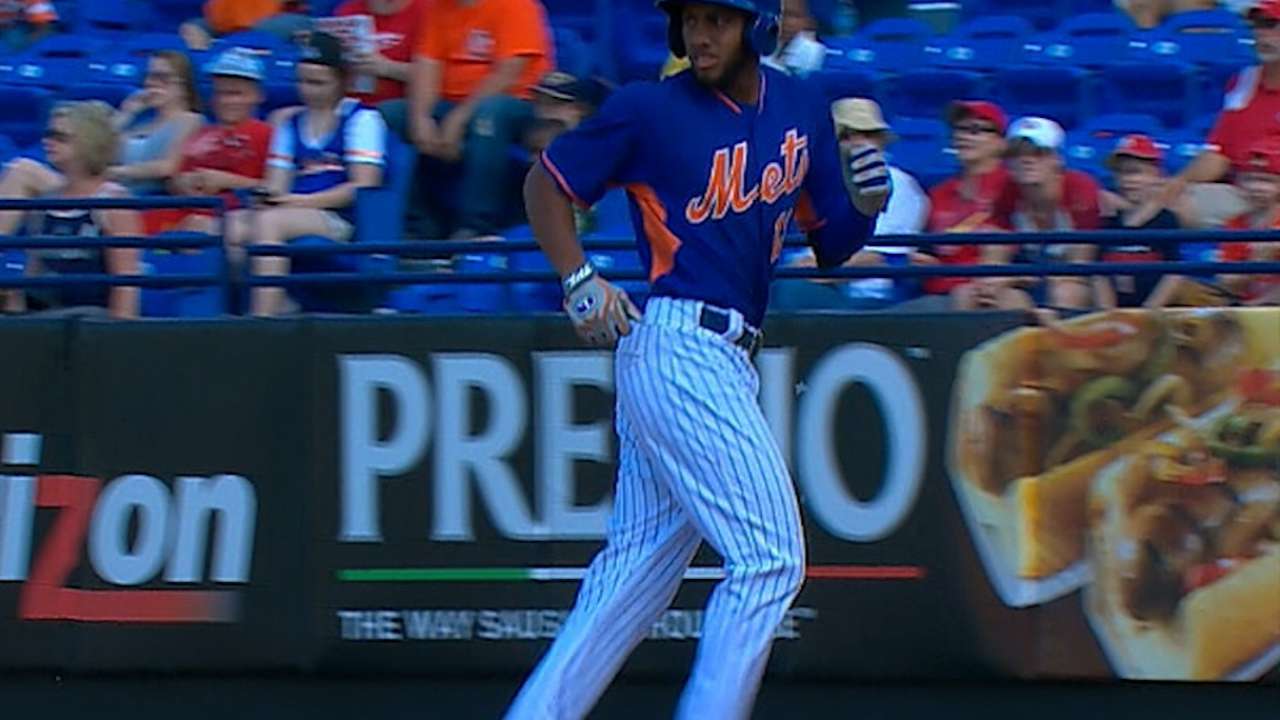 Graduations have pushed Smith up to No. 47 on our current Top 100 Prospects list, but he's going to have to boost his production in Double-A (.289/.326/.446, three homers in 30 games) to keep his spot in the Top 50. Rosario, who's at No. 75 right now, will make the jump if he continues his impressive early-season play in high Class A (.328/.376/.531, three homers, seven steals in 31 games).
Jim Callis is a reporter for MLB.com. Follow @jimcallisMLB on Twitter. This story was not subject to the approval of Major League Baseball or its clubs. This story was not subject to the approval of Major League Baseball or its clubs.