Inbox: Is Bucs' bullpen at expense of bench?
Beat reporter Adam Berry answers questions from Pirates fans
I just don't get why teams have so many relievers these days. The Pirates sent Francisco Liriano up to bat Sunday, and he could have got himself hurt. Why don't they have more bench bats?
-- Scott S., Charleston, W. Va.
The at-bat in question took place after the Pirates gained a 10-5 lead over the Cardinals. Manager Clint Hurdle had one bench player left at his disposal, catcher Francisco Cervelli, but he said he's "never been a big fan of emptying your bench with a five-run lead" for the sake of scoring one more run. So he sent up Liriano in place of reliever Tony Watson, and Liriano grounded out on the second pitch.
• Submit a question to the Pirates Inbox
It was one of a few instances over the past month where it's been glaringly apparent the Bucs' bench is a man short. They've carried eight relievers and four reserve hitters since April 13, when right-hander A.J. Schugel took Michael Morse's roster spot.
The imbalance isn't just about the rotation's struggle to eat innings in April; some of their typically reliable relievers didn't look right, either.
For the most part, it's worked out due to the versatility of their two primary reserves. Sean Rodriguez can play anywhere, and Matt Joyce can handle either corner-outfield spot. Both the righty Rodriguez and lefty-swinging Joyce have hit well, too, so there haven't been many times Hurdle would prefer a different player (Cole Figueroa? Jason Rogers?) in their place.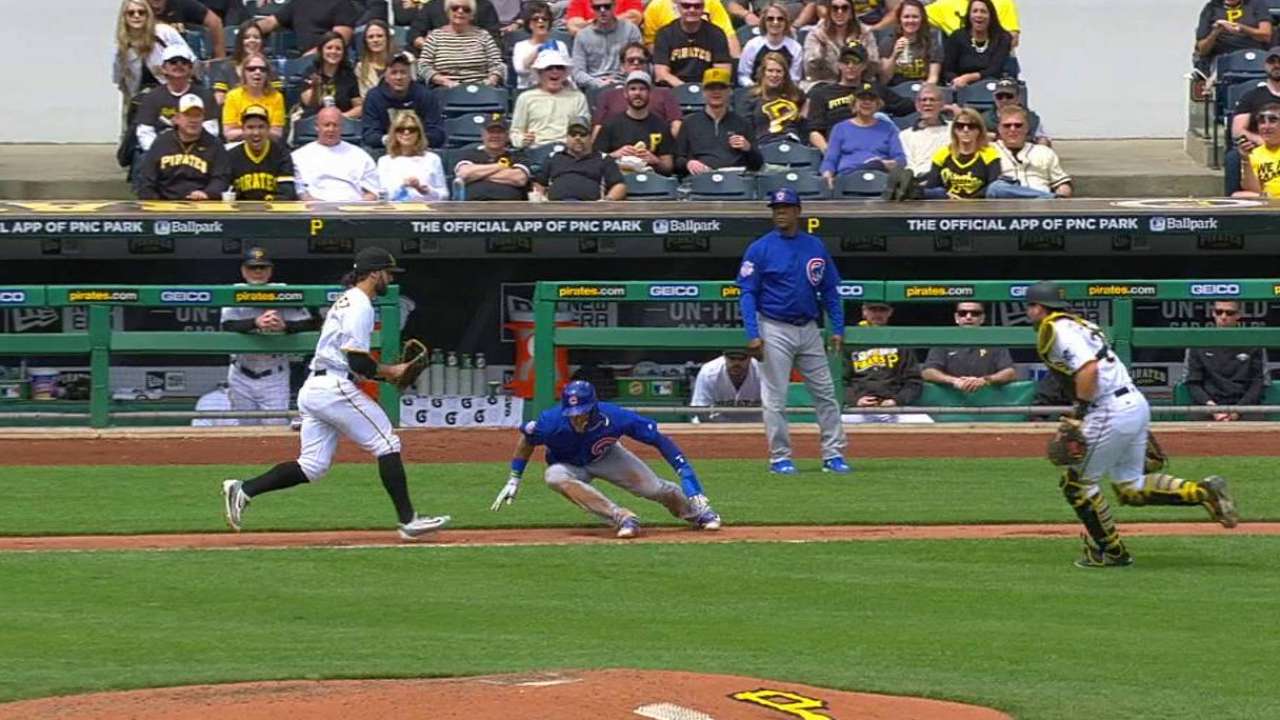 That said, you can expect the Pirates to rebalance their roster at some point, perhaps this weekend or next week. This is already the longest Hurdle has gone with an eight-man bullpen -- and he managed at Coors Field, a pitcher's (and occasionally manager's) nightmare.
"It's the way the circumstances have dictated," Hurdle said. "I think it's longer than we'd care to do it. You've got to do what's best for your club at the time."
Where are all these prospects we keep hearing about? Our rotation could use the help. It's time to call them up.
--Sam L., Pittsburgh
I assume this is a cry for Tyler Glasnow and/or Jameson Taillon, the Pirates' top pitching prospects, and I assume these pleas will stop only when they're both in the Majors or the Bucs go a full month without allowing a run.
Both are posting absurd Triple-A numbers right now. Glasnow, Pittsburgh's No. 1 prospect: six starts, 2-1, 1.64 ERA, 33 innings, 21 hits, 13 walks, 48 strikeouts. (He also inspired one of my favorite tweets of the season, from a fan calling for "Glasnow, not Glas-later." Clever.) Taillon, the Bucs' No. 4 prospect: six starts, 2-1, 1.69 ERA, 37 1/3 innings, 25 hits, four walks, 32 strikeouts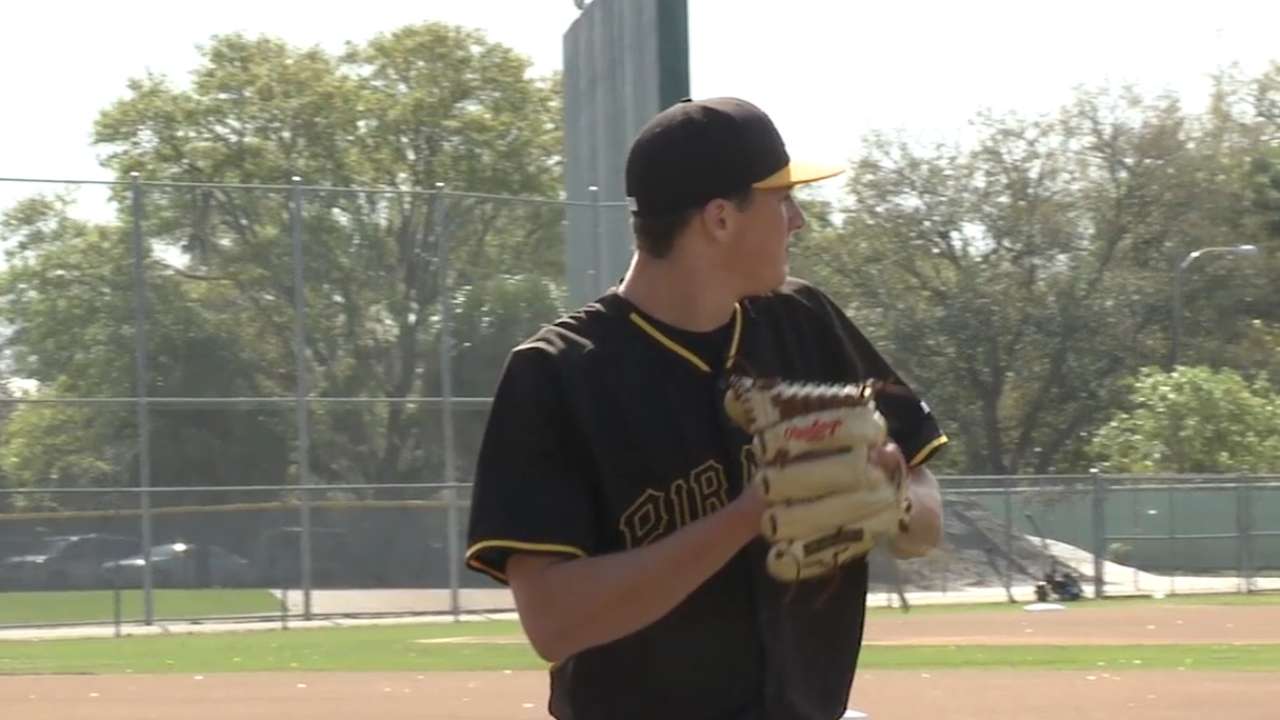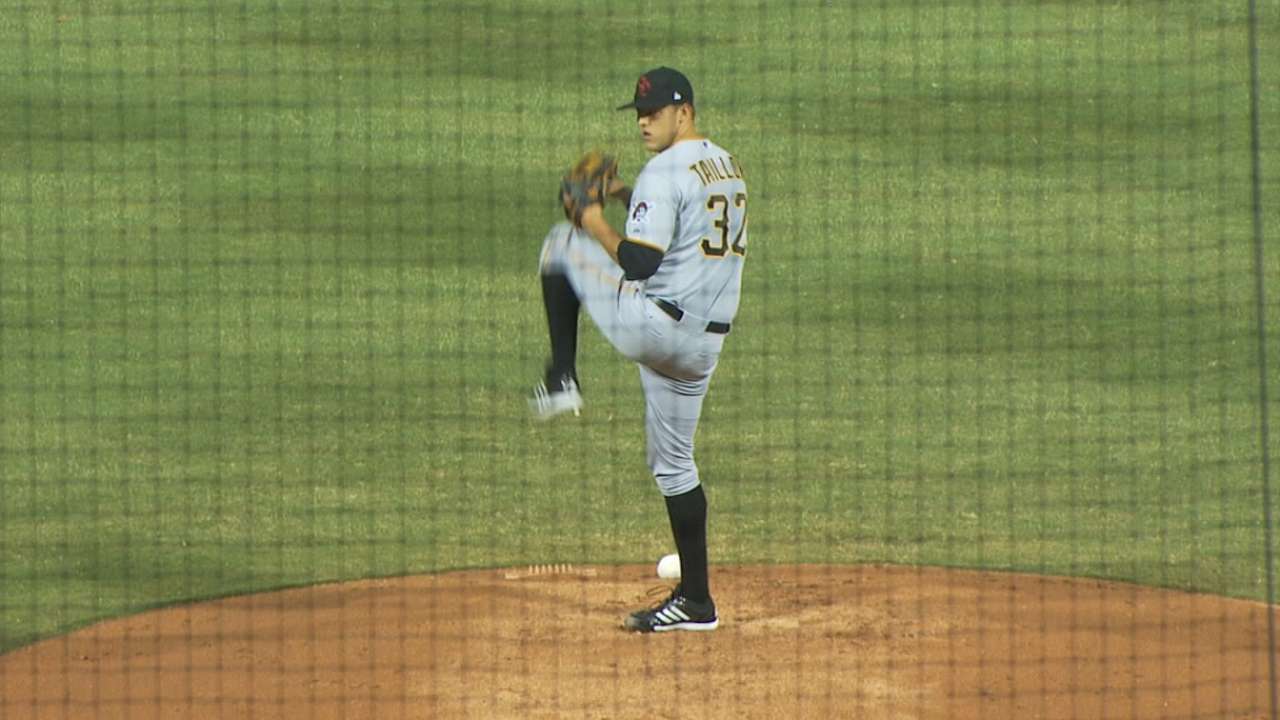 It's entirely likely both will arrive in Pittsburgh this summer, but it probably won't be until after the annual Super Two deadline passes. It's also too soon to make any snap judgments about their current starters. Gerrit Cole and Liriano certainly will improve, and perhaps the back-end starters will as well.
In any event, the Pirates believe both prospects have work to do in the Minors: Glasnow's command and changeup, Taillon's experience against upper-level competition after two years of injury rehabilitation.
Adam Berry has covered the Pirates for MLB.com since 2015. Follow him on Twitter at @adamdberry. This story was not subject to the approval of Major League Baseball or its clubs.