Changes aside, Sale remains just as committed
Departures of Flowers, LaRoche, Danks leave lefty as White Sox longest-tenured player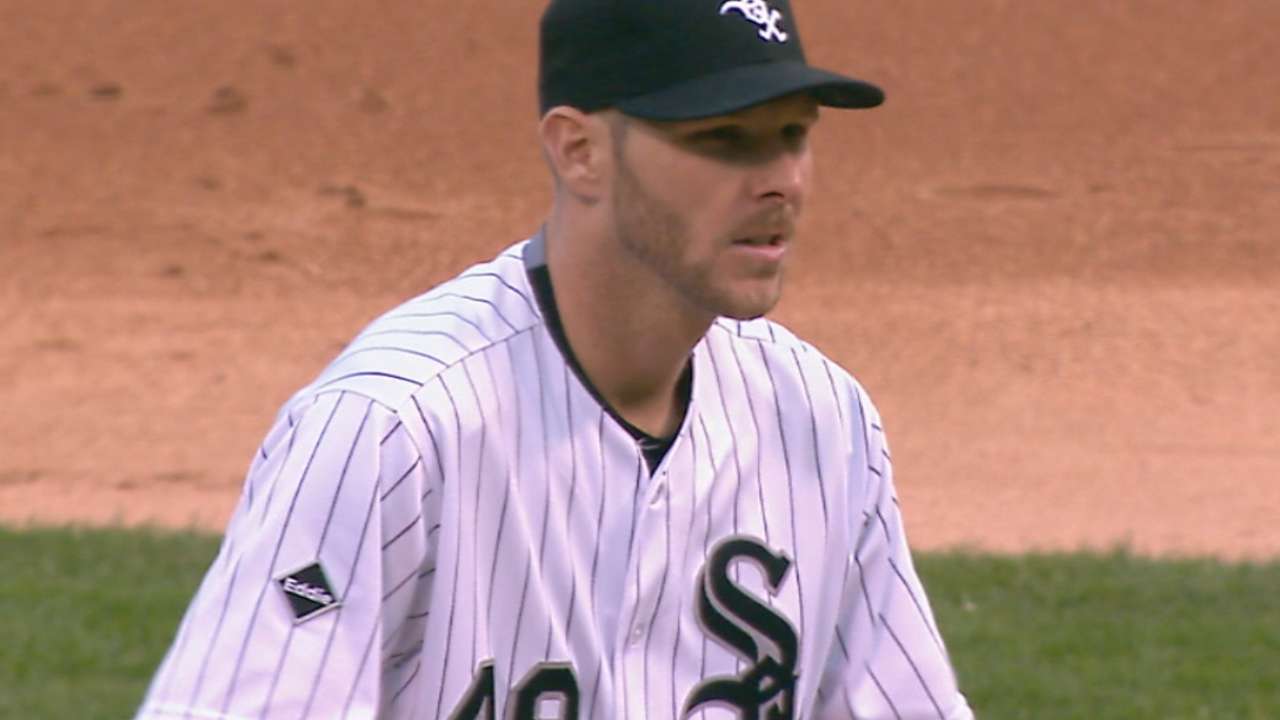 CHICAGO -- The 2016 season already has been an interesting one for Chris Sale.
Tyler Flowers, Adam LaRoche and John Danks, all members of Sale's inner circle, have departed the White Sox in various fashions. Yet Sale, who will take the mound for the first-place White Sox in Friday's series opener at Yankee Stadium, is off to the best start of his four-time All-Star career, with seven victories in seven starts and a 1.79 ERA over 50 1/3 innings.
"Yeah, I'm just hoping my truck breaks down next," a smiling Sale told MLB.com. "All kidding aside, it's part of it. It's the way the game goes.
"Look how much turnover has been here since I've been here, since even 2005. Shoot, I'm the last guy from when I got here in 2010. So you know that it's going to happen. You never expect it to. You see it around you, but when it hits that close to home, it just kind of stinks."
In the case of LaRoche's Spring Training retirement, Sale spoke up on behalf of LaRoche and his teammates. And yet once Sale felt his voice was heard, the issue was in the past by his Cactus League start the following day.
Sale handled the recent release of Danks -- who was a friend, mentor and the only other player left from the 2010 roster -- with the finesse and diplomacy of a leader that he has become for the surprising first-place Sox.
"When you do stuff like that, you feel kind of alienated," Sale said. "When you have the support of your team and friends, current and past teammates, it makes you feel like what you are doing is right, and it gives you momentum to keep doing what you've got to do.
"This is a crazy society we live in. People pick and choose what they read and what they believe. A lot of that got kind of mixed up in translation. People are going to have their opinions, and if people don't like me because of it, I completely understand.
"I'm not telling you not to not like me. But when I believe in something and I think it's true, I have the same passion I do when I am on the mound. That's just not going to change."
That passion is why the White Sox wholeheartedly support Sale's occasional fiery comments as much as they appreciate his shutout innings or his single-season franchise strikeout record.
"We certainly don't want Chris to change who he is in any way, on or off the field," White Sox general manager Rick Hahn said. "The fact is we've had him now for what … going back to 2010, which is seven years. We know each other well. He knows he can approach us and express his opinions open and honestly, and we know how he views things.
"Being strong-willed and determined is part of what makes him great. We know the No. 1 thing Chris Sale wants is to win a World Series championship with our uniform on, so our interests are completely aligned in that regard."
Scott Merkin has covered the White Sox for MLB.com since 2003. Read his blog, Merk's Works, follow him on Twitter @scottmerkin, on Facebook and listen to his podcast. This story was not subject to the approval of Major League Baseball or its clubs.