MLB.com Columnist
Roger Schlueter
Stats of the Day: To the Max with strikeouts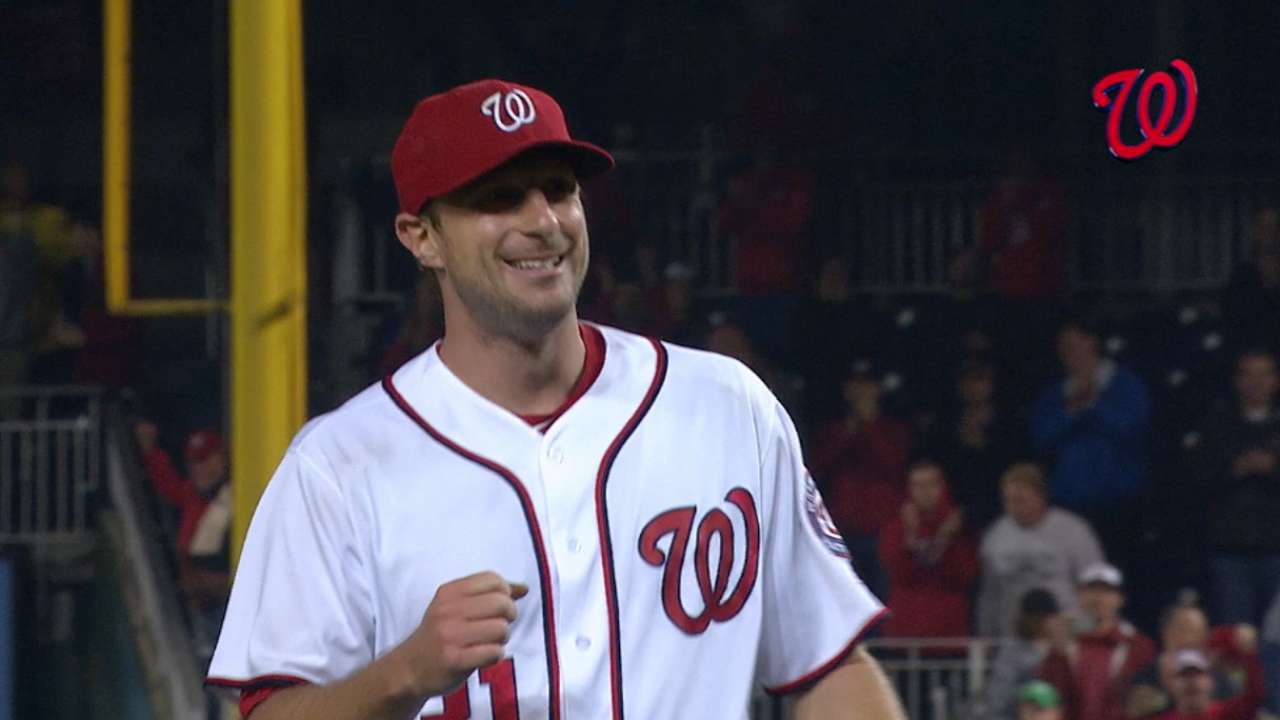 Here are five interesting items from around the big leagues on Wednesday …
• Throwing 119 pitches (96 for strikes) against his former team, the Tigers, Nationals right-hander Max Scherzer tied the Major League record for strikeouts in nine innings. Scherzer's 20 K's came while he amassed 27 called strikes and 31 swings and misses. He did not issue a single walk. Roger Clemens was the first to fan 20 in nine innings; he did it twice (first against the Mariners in 1986, then vs. the Tigers in 1996). Kerry Wood followed in 1998, and Randy Johnson made the trio a quartet in 2001. All five pitchers to fan 20 in nine innings had zero walks. Among pitchers with at least 1,500 innings through their first nine seasons, Scherzer's career K percentage (26.6) is the third highest. Pedro Martinez fanned 28.9 percent of the batters he faced, and Clayton Kershaw (who is in his ninth season in 2016) has punched out 27.5 percent.
Thanks man! I loved watching ur game as a kid dreaming of doing the same. It's crazy to me we now share that feat https://t.co/hZoSgzU1el

— Max Scherzer (@Max_Scherzer) May 12, 2016
• Chris Davis doubled twice and homered once, while Mark Trumbo homered twice, propelling the Orioles to a 9-2 win over the Twins. Since 2012, Davis' seven games with three or more extra-base hits are tied for the second most in the big leagues, behind Miguel Cabrera's 11 and matched with tallies claimed by David Ortiz and Paul Goldschmidt. Trumbo leads the Majors with three multihomer games and stands as the second O's player -- after Brady Anderson in 1996 -- to have three through 32 games.
• The Red Sox piled up 17 hits and 13 runs in their win over the Athletics: a dominating offensive show that closed out a three-game sweep. In the series, Boston opened with 14 runs on 15 hits; in the middle game, the Sox had 13 runs and 16 hits. In the Fenway Park era, Boston had never before posted three straight games in which at least 15 hits and 13 or more runs were tallied.
The Patriots -- I mean, the Red Sox -- score 14-13-13 in this three-game sweep of the A's. They need to stop missing the extra point.

— Ian Browne (@IanMBrowne) May 12, 2016
• Mets starter Noah Syndergaard allowed two homers, but he also hit two roundtrippers. That balanced equation translated into a win as New York downed Los Angeles, 4-3. Syndergaard became the second Mets pitcher to homer twice, joining Walt Terrell, who connected for two in a 4-1 win over the Cubs on Aug. 6, 1983. Syndergaard is also the first visiting pitcher to homer twice at Dodger Stadium.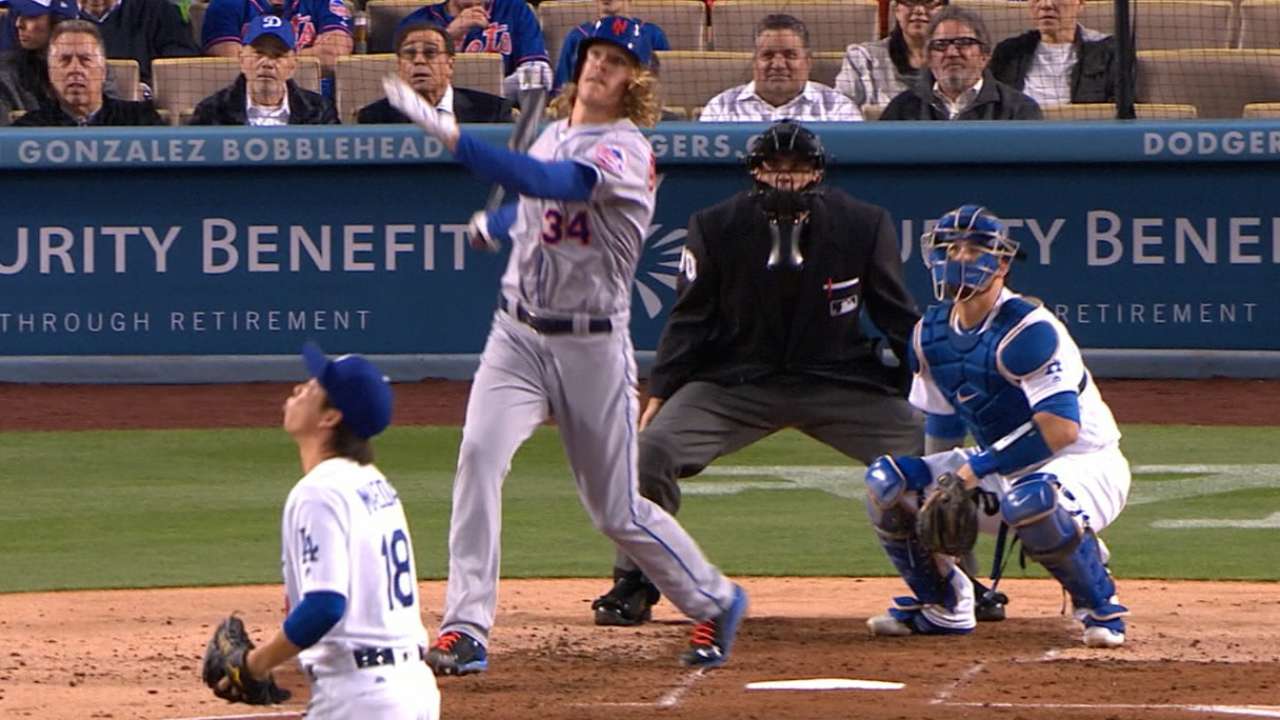 • With Syndergaard going yard twice less than a week after his teammate Bartolo Colon hit his first career homer, this Mets team has tied its single-season high mark for roundtrippers by pitchers. The 1972, '83, '89, '96 and '97 squads each had three.
And in case you missed it, here is Bartolo Colon's work of art, his Mona Lisa: pic.twitter.com/VEMzOsZaIE

— Anthony DiComo (@AnthonyDiComo) May 8, 2016
Roger Schlueter is a statistical researcher and writes for MLB.com. This story was not subject to the approval of Major League Baseball or its clubs.