MLB.com Columnist
Lindsay Berra
Bernie puts guitar skills on display at music gala
Former Yankees great set to graduate from Manhattan School of Music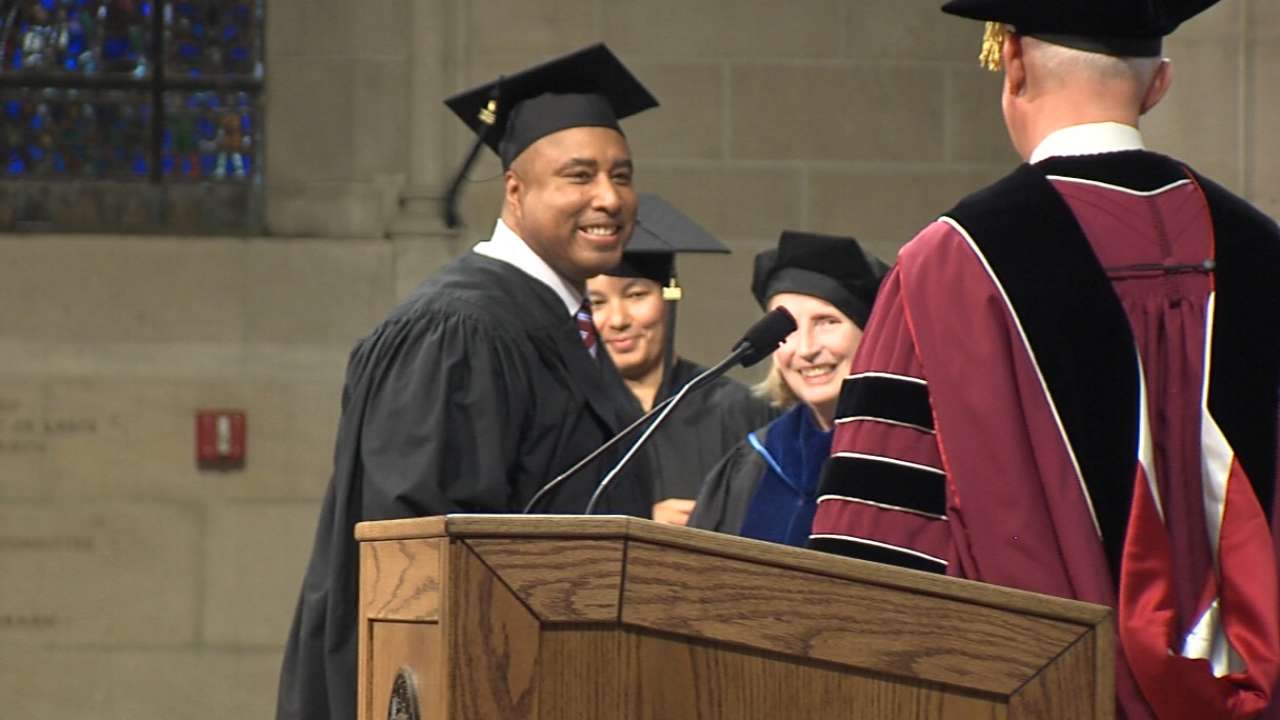 NEW YORK -- Frank Sinatra, Bob Dylan and the Rolling Stones have all performed at New York City's legendary Rainbow Room on the 65th floor of 30 Rockefeller Plaza. On Wednesday night, former Yankees center fielder Bernie Williams joined that esteemed group as he performed Art Blakey's "Moanin'" with five other musicians from the Manhattan School of Music at the school's annual gala.
Williams, who was a four-time World Series champion and a five-time All-Star during his 16-year career with the Yanks, will graduate from MSM with a Bachelors of Music in jazz guitar on Friday afternoon, when he will walk with his classmates in a cap and gown ceremony at Riverside Church on Manhattan's Upper West Side.
Williams, though, was hardly the most famous person at the Rainbow Room. Attendees of the MSM Gala included music legend Tony Bennett, Yankees All-Star outfielder Roy White and former National Security Advisor and Secretary of State Henry Kissinger, whose wife, Nancy, attended MSM.
Though Williams' last season with the Yanks was 2006, he did not officially retire from baseball until April 24, 2015.
"After this thing about being a professional baseball player with the Yankees, I decided to be a rock star," Williams said that day.
Though at that time, Williams was already well on his path to that goal.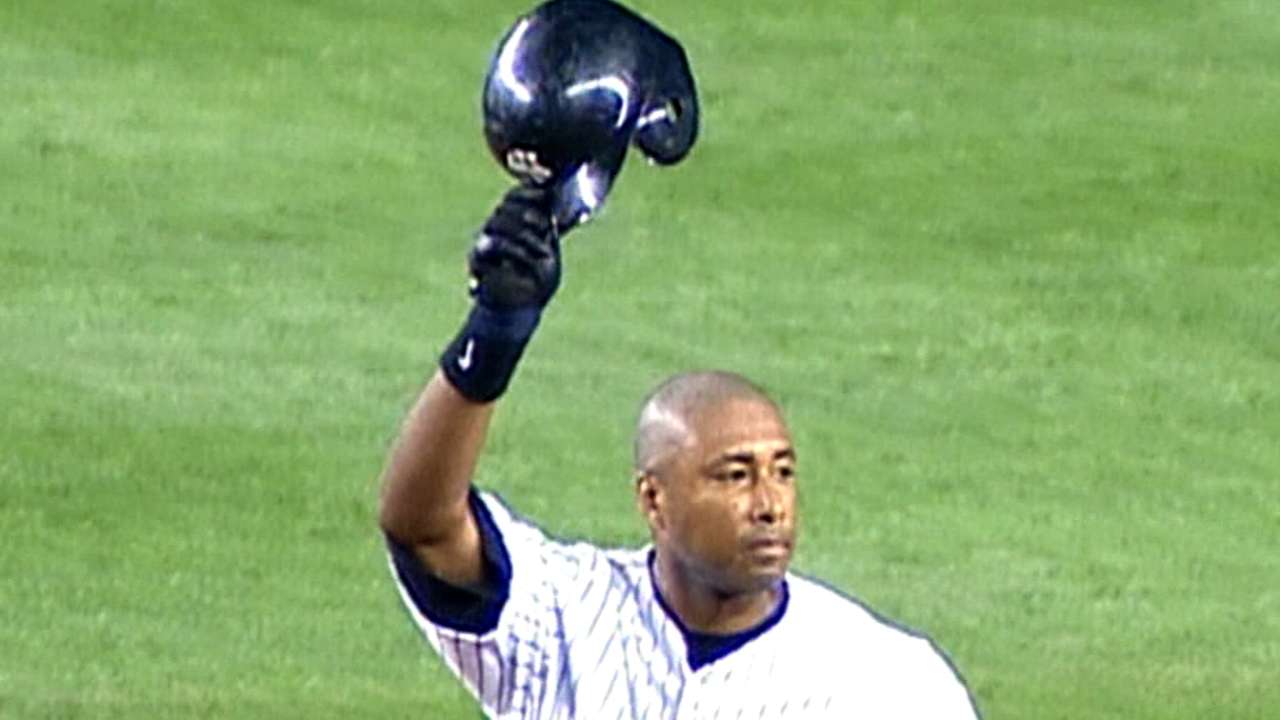 During Williams' time with the Yankees, music was never far away, and his guitar was always within reach in the Yanks' clubhouse and on team flights. He also made time to record professionally while still playing baseball. Williams released his first album, "The Journey Within," in 2003. It reached No. 3 on Billboard's contemporary jazz chart. His second album, "Moving Forward," was released in 2009 and featured guest appearances by Bruce Springsteen, Jon Secada and Dave Koz. The album debuted as Billboard's No. 2 contemporary jazz album and was nominated for a Latin Grammy.
Williams entered MSM as a sophomore in 2013, having accrued some credits while studying to be a doctor as a young man in Puerto Rico.
"Bernie wanted to be just a student, not the famous ballplayer, so we let that happen," said MSM president James Gandre. "Finally, last fall, we talked, and I asked him to be part of our gala. And he said he would be honored, so this is in some ways his first real, getting-out-there moment, just two days away from graduation."
Since childhood, Williams has always found a way to balance music and athletics. As an 8-year-old in Puerto Rico, he was as fond of his baseball bat as he was of the flamenco guitar his merchant-marine father, Bernabé Williams Figueroa Sr., brought home from Spain. Williams became one of Puerto Rico's best young athletes, posting record times in the 400 meters and becoming one of the island's most promising baseball prospects. He also attended the special performance arts school Escuela Libre de Musica at the age of 13.
"There is a great correlation between the work ethic you need to have playing music and playing baseball," Williams said. "The more prepared you are, the better you're going to be. If you know how to read and write music, you know how to communicate with fellow musicians anywhere in the world. It's the universal language."
Williams explored the spiritual connection between baseball and music in his book "Rhythms of the Game," which was released in 2011. In the book, Williams said, "When you're 7 years old and realize the musical instrument you're holding in your hands empowers you to do whatever you want I life, it's a breakthrough moment. My parents never had to tell me to practice -- nor did they every have to tell me to put my baseball uniform on, either."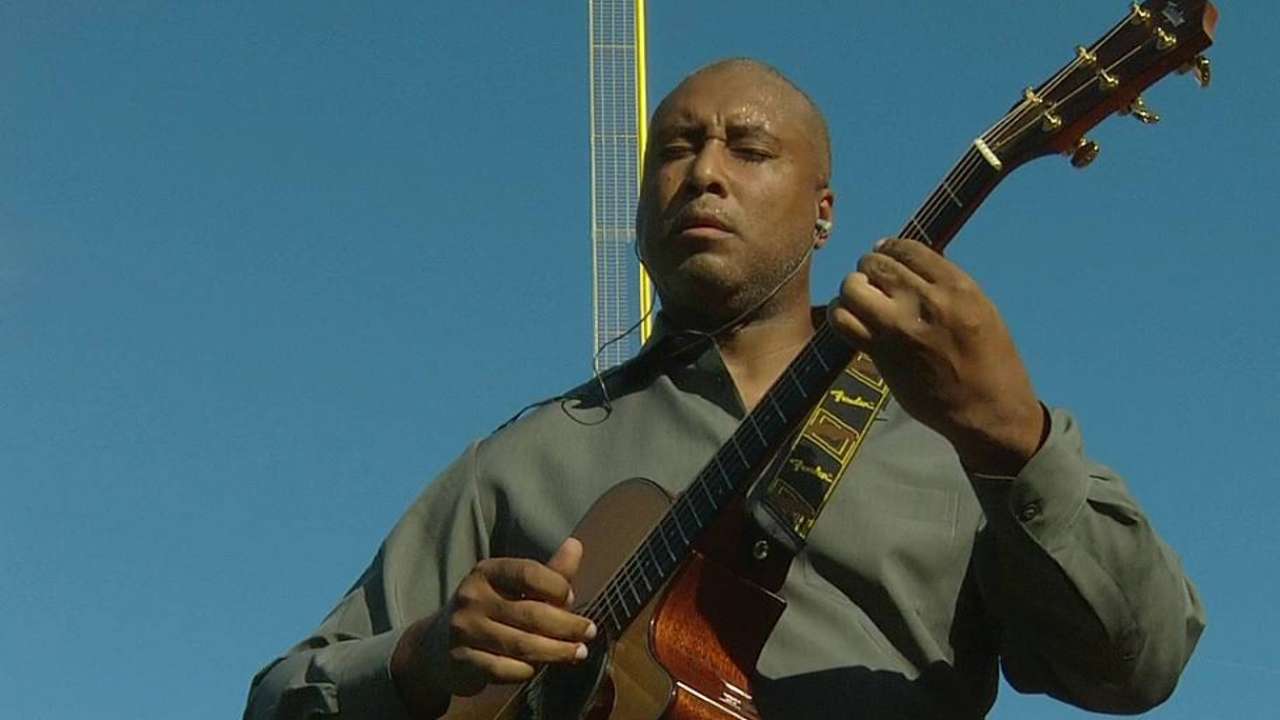 As a 40-something whose parents were no longer telling him what to do, Williams struggled initially with the structure, coupled with early mornings and late nights, required to pursue a college degree. But he was quickly inspired by the younger college students at MSM.
"The kids make me feel young," Williams said. "The most important part for them was not that I was this baseball player who came from the Yankees. For them, the most important part was, 'Can he play?' In a way, I had to earn respect from my peers, even though they're only 18 or 20 years old. I thought I knew how to play guitar, and these guys were running laps around me. It was a great experience for me to realize how little I knew and how much I still needed to learn."
Williams' fellow students were also inspired by his presence at the school.
"I grew up as a Yankees fan, so it's always a trip getting on the elevator and having Bernie Williams right there," said bass player Adrian Moring, who will graduate with Williams on Friday. "It's definitely been a privilege to be around him, because he's such a good guy and unbelievably humble for his position. He came to school with an open heart and open arms, and decided to get right into it with everyone else."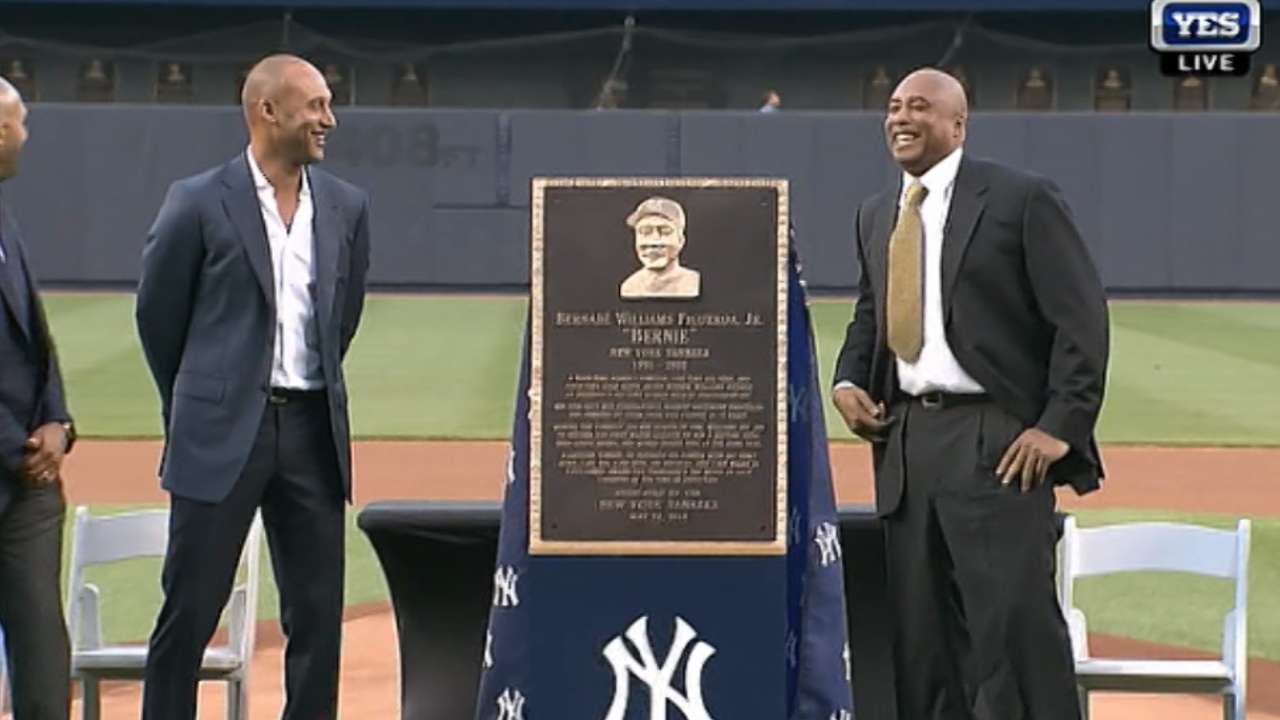 When Williams decided he wanted a college degree and would continue his music education, MSM, which is one of the world's leading music conservatories and is close to Williams' home in Westchester County, was the obvious choice. There, Williams was just one of 950 students pursuing his musical passions as Act 2 of an already well-lived life.
"Baseball and music are different experiences, but it's the sum of the parts that makes my life that much richer," Williams said. "The fact that I was in baseball for 16 years with the Yankees seems like a lifetime, and doing this seems like I'm starting another lifetime of things that I'm passionate about and like to do. But with music, there is no way to tell in numbers how good you are. You have to play for the pride. It's a matter of getting out there and commit yourself to the art and to developing your own voice as an artist. You are rewarded and you reward other people as well."
Lindsay Berra is a reporter for MLB.com. This story was not subject to the approval of Major League Baseball or its clubs.