Pujols frustrated with hits hard to find
Advanced stats suggest Angels slugger has been unlucky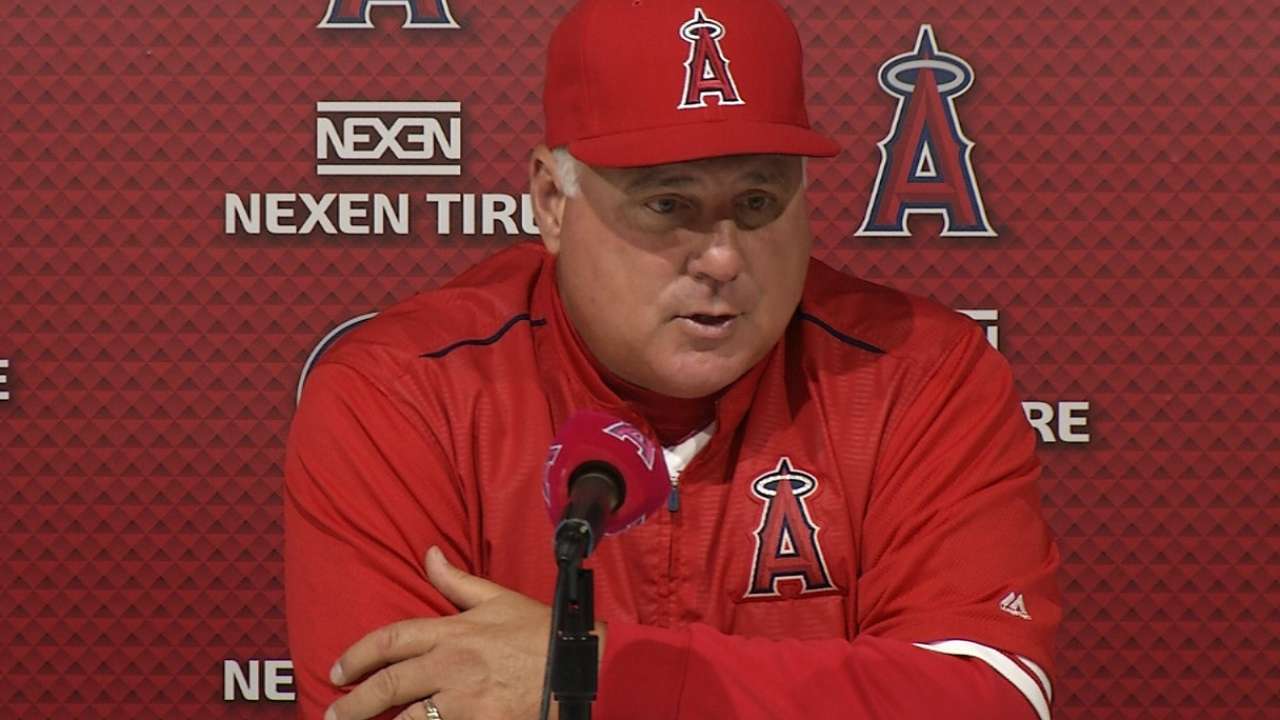 ANAHEIM -- Albert Pujols' batting average has never been this low, this late.
After his current team dropped its second consecutive game to his former team on Wednesday, Pujols was batting .185, a product of 23 hits in 124 at-bats through 33 games.
"What can I do?" Pujols said, moments after the Angels' 5-2 loss to the Cardinals dropped them seven games below .500 for the first time in 20 months. "I wish I could place it, like this …"
Pujols cupped his right hand and acted as if he were sprinkling baseballs all over a field, symbolizing his frustration that the hits are not falling.
"That's the way it goes," Pujols said. "I'm better than that. I've been in this game for 17 years, so I know. You have a lot of at-bats left."
Pujols went 1-for-4 on Wednesday in the Angels' fifth consecutive defeat. He swung through a Jaime Garcia fastball in the second, reached on an error in the fourth, lined a single to left in the seventh and grounded out in the ninth.
Angels manager Mike Scioscia was asked if he would consider batting C.J. Cron behind Mike Trout instead of Pujols, considering Cron has 16 hits in his last 36 at-bats.
"No," Scioscia said, then added about Pujols: "You guys are misreading this if you don't think he's hitting the ball much better than his numbers show."
Pujols' batting average on balls in play is an unfathomably low .165, the worst in the Major Leagues and well below even the .217 mark he finished with last year, which was also the lowest among qualified hitters.
His average batted-ball velocity is 91.5 mph, tied for 74th with the likes of Jose Bautista, Yasiel Puig and Mitch Moreland. But it jumped to 99.5 mph last week, 10 ticks above the league average. Entering Wednesday, Pujols had hit the ball hard 36.8 percent of the time, on pace for his best rate since 2010, according to Baseball Info Solutions.
But the results aren't there.
Pujols' batting average is tied for the ninth-lowest among qualified hitters. His on-base percentage, .261, is higher than only 16 players. And his slugging percentage, .347, sits 60 points below the Major League average.
Cardinals manager Mike Matheny, a former teammate, said Pujols "looks healthy and strong. He's taking good swings."
Maybe it's bad luck, as the peripherals might suggest. Maybe he'll get really hot really soon, like he did after struggling through the first six weeks of 2012 and the first four weeks of 2015.
But he's still waiting.
"I feel good," Pujols said. "I feel good with where I am. Last night, I hit the ball hard three times. Today, I squeezed a base hit in the hole. But besides that, I feel like I'm swinging the bat well. It's just one of those things, dude. When the team and everybody gets in a funk, you can't put things together. It's just crazy."
Alden Gonzalez has covered the Angels for MLB.com since 2012. Follow him on Twitter @Alden_Gonzalez and Facebook , and listen to his podcast. This story was not subject to the approval of Major League Baseball or its clubs.