Scherzer OK missing out on the 21st K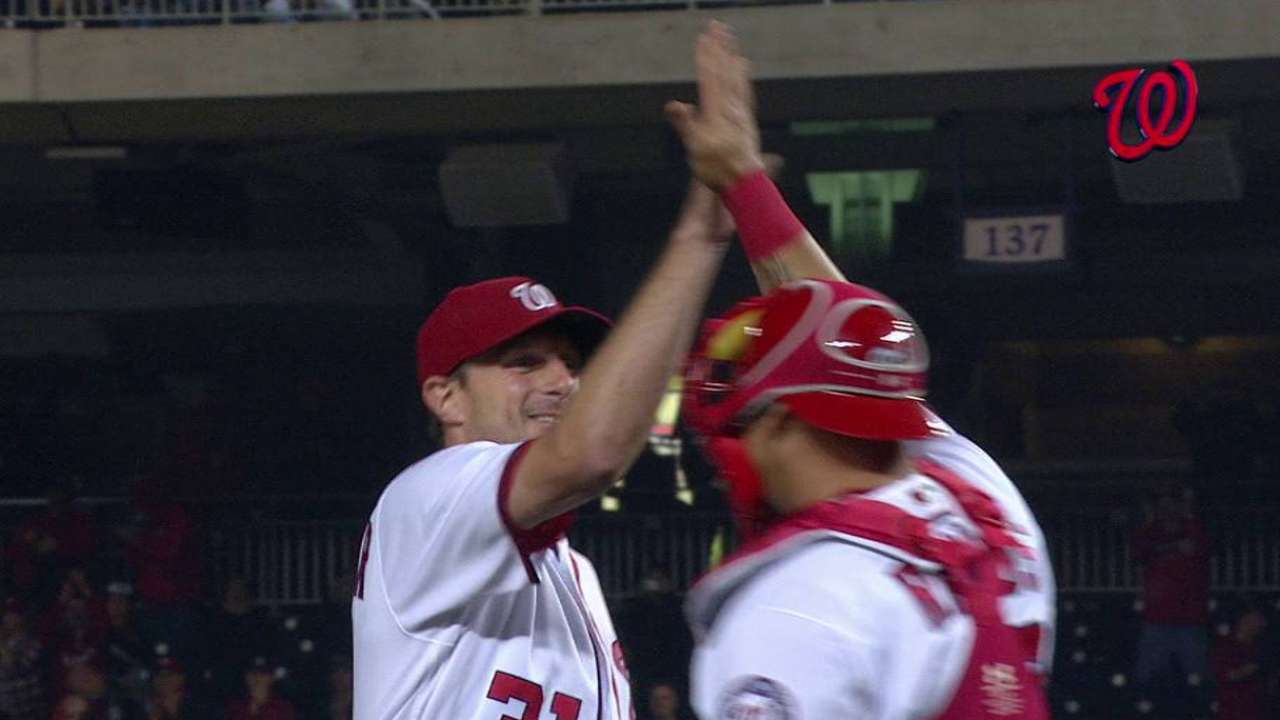 WASHINGTON -- For a moment, after he got ahead on a fastball to James McCann with two outs in the ninth inning, Max Scherzer allowed himself to think about a feat no other pitcher had accomplished -- 21 strikeouts in nine innings.
He was able to throw McCann a slider and considered all the ways he could attack McCann if he had him down 0-2. But it was not to be. McCann rolled the slider to third baseman Anthony Rendon, who threw to Daniel Murphy at second for the final out. Still the Nationals' pitcher finished with another performance for the ages, with 20 strikeouts in a complete game in Wednesday's 3-2 victory over the Tigers.
The crowd, which had been standing for nearly the entire ninth inning, let out a bit of a sigh once Rendon made the play, realizing Scherzer would not break the record. But if people were rooting for Rendon to boot the ball, Scherzer was not one of them.
Roaring 20! Max ties mark
•
K's to the Max: Scherzer ties mark with 20
•
DYK: Facts, stats from Scherzer's 20-K gem
•
New-look lineup backs Max's historic start
•
Scherzer OK missing out on the 21st K
•
Nationals awed by Scherzer, but not surprised
•
Scherzer saved season's best pitches for Miggy
•
Current, former players rave about Scherzer
•
Ramos, Scherzer racking up historic moments
•
Bauman: Scherzer shines under bright spotlight
•
Cut4: Scherzer's nastiest third strikes
•
Ausmus has had a front-row seat for K history
•
Tigers tip their caps to Scherzer
•
Full game coverage
Sights & sounds
Scherzer ties record with 20th strikeout
Scherzer's historic 20 K's
Scherzer on tying record
Baker on Scherzer's 20 K's
Photo gallery
"I'm trying to win," Scherzer said. "I don't need a record. I'd rather win and then get a record or tie a record."
The significance of Scherzer's accomplishment was not lost on Murphy. He had realized the strikeout totals around the eighth inning and wanted to do all he could to ensure Scherzer was able to finish.
"I know the skipper had a decision to make in there," Murphy said. "I'm sure Max probably made it easy for him. For us, we wanted to get more runs to ensure that he could finish what he started. I recognized coming off the field in the eighth, personally."
Still, Scherzer joined Kerry Wood, Roger Clemens (twice) and Randy Johnson as the only pitchers in history to have struck out 20 batters in a nine-inning outing. No pitcher has ever reached 21 in nine; Scherzer is only the second even to have a chance.
Wood and Johnson each struck out the final batter they faced for their 20th. Clemens did the same in 1996, but he'd also had a chance in 1986 against the Mariners at Fenway Park. In that game, his final batter, Ken Phelps, grounded out to short.
"We were just joking, he gets to one strike on the last guy and then he gets a ground ball, maybe he just boots it on purpose or takes his time, throws and the guy's safe," right-hander Joe Ross said, laughing.
Jamal Collier covers the Nationals for MLB.com. Follow him on Twitter at @jamalcollier. This story was not subject to the approval of Major League Baseball or its clubs.