MLB.com Columnist
Mike Bauman
Scherzer shines under bright spotlight
Facing former team, Nats righty shakes off emotion en route to 20-K night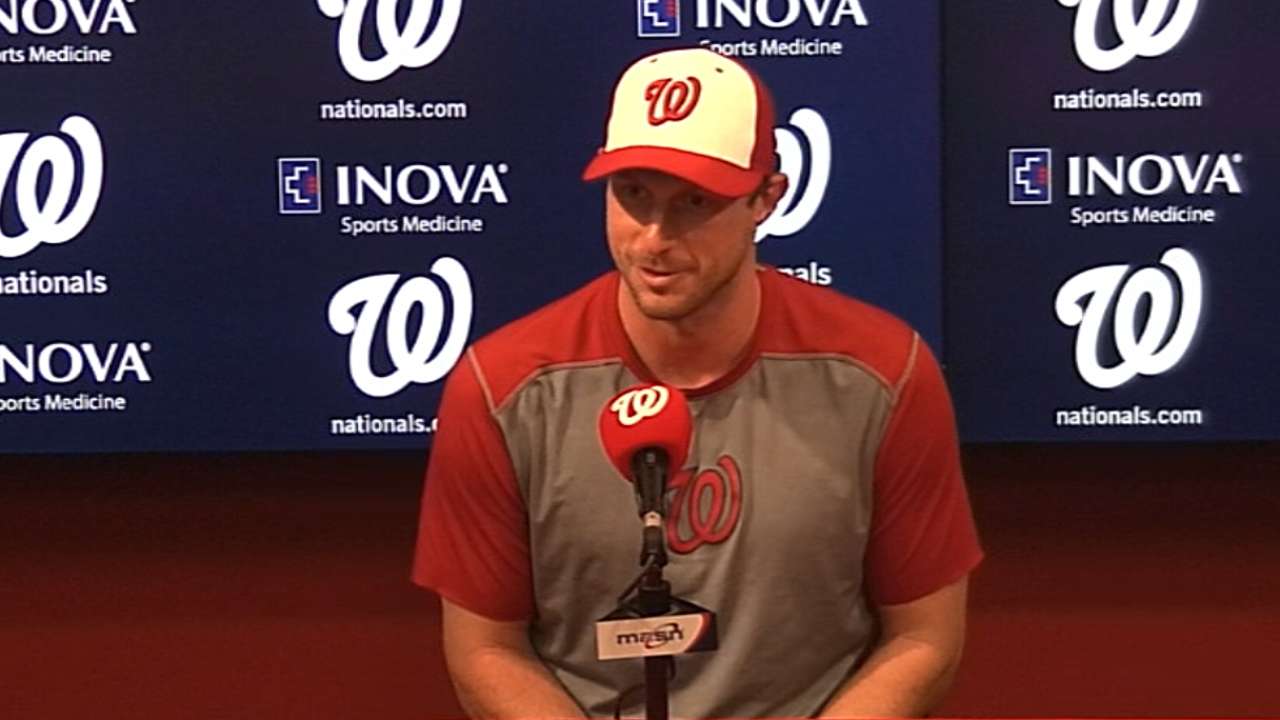 WASHINGTON -- This was a big occasion. Max Scherzer rose to it. And then he rose above it.
It becomes harder and harder to outperform the hype in a multimedia world. But Scherzer did it Wednesday night at Nationals Park. He became just the fourth pitcher in Major League history to strike out 20 batters in a game.
Scherzer was aided, he acknowledged, by the circumstances for this one game, his Nationals against his former team, the Tigers. There was symmetry to the whole event. This was the battle of the free-agent pitchers who had changed places; Scherzer from Detroit to Washington, Jordan Zimmermann from Washington to Detroit.
Roaring 20! Max ties mark
•
K's to the Max: Scherzer ties mark with 20
•
DYK: Facts, stats from Scherzer's 20-K gem
•
New-look lineup backs Max's historic start
•
Scherzer OK missing out on the 21st K
•
Nationals awed by Scherzer, but not surprised
•
Scherzer saved season's best pitches for Miggy
•
Current, former players rave about Scherzer
•
Ramos, Scherzer racking up historic moments
•
Bauman: Scherzer shines under bright spotlight
•
Cut4: Scherzer's nastiest third strikes
•
Ausmus has had a front-row seat for K history
•
Tigers tip their caps to Scherzer
•
Full game coverage
Sights & sounds
Scherzer ties record with 20th strikeout
Scherzer's historic 20 K's
Scherzer on tying record
Baker on Scherzer's 20 K's
Photo gallery
There was drama, too, along with all the strikeouts. The Nats won, 3-2. Credit Zimmermann for grinding through seven innings to keep this game close. Even the most dominant performance requires strong supporting actors.
"Facing a former team, and I know all those guys -- we've been catching up over the past couple of days -- tonight was an emotional game," Scherzer said. "Facing a former team and all those guys, I have so much respect for how they play the game and how they compete, I really think the world of how they go out and play the game.
"So to have a game like this against that caliber of hitters, that really puts a feather in my cap."
Scherzer had obviously been disappointed with his last start, a completely uncharacteristic outing in which he gave up seven earned runs in five innings against the Cubs.
"I almost needed the Tigers to come in to get me amped up to get going," he said. "To be going on full cylinders and put something extra on the line. Tonight, at the end of the night, was a special night. I mean, the strikeouts are sexy. To be able to punch out 20, it's sexy."
This was a night to stand in awe of a pitching performance. Maybe Detroit's roster is aging in places, but these people can hit. One through five Wednesday night; Ian Kinsler, J.D. Martinez, Miguel Cabrera, Victor Martinez and Justin Upton; there is nothing but trouble for a pitcher in that bunch.
But Scherzer had a moving fastball, a sharp slider and not just power, but command. He threw 119 pitches, 96 for strikes. Twenty strikeouts, but no walks.
"He's got a swing-and-miss fastball," Tigers manager Brad Ausmus said. "You don't see that very much. Even guys who throw 95 miles an hour, they don't necessarily have a swing-and-miss fastball. Fastball is not a pitch that you get swings and misses on, but he has one."
"Man, he was fun to watch tonight," said Daniel Murphy, the former Mets second baseman in his first season with the Nationals. "That's a tough lineup to navigate through. But when you see guys swinging through the fastball, I've seen that firsthand [as a hitter] and it's not pleasant."
"That was the best performance I've seen in person," said Nats manager Dusty Baker, who has 49 years of a baseball career with which to make that judgment.
"Max dug deep, big-time," Baker said. "He was awesome. His fastball was electric. You could tell that he was psyched before the game to pitch against his former teammates and to pitch against Zimmermann."
The drama of this event went the distance. Scherzer had 18 strikeouts entering the ninth with a 3-1 lead. The one run had been surprising, with Jose Iglesias hitting his first homer of the season in the third inning. Here, J.D. Martinez led off the ninth with a home run that made this a one-run game.
Scherzer bounced back with a display of power pitching that resulted in Cabrera striking out on a 97-mph fastball.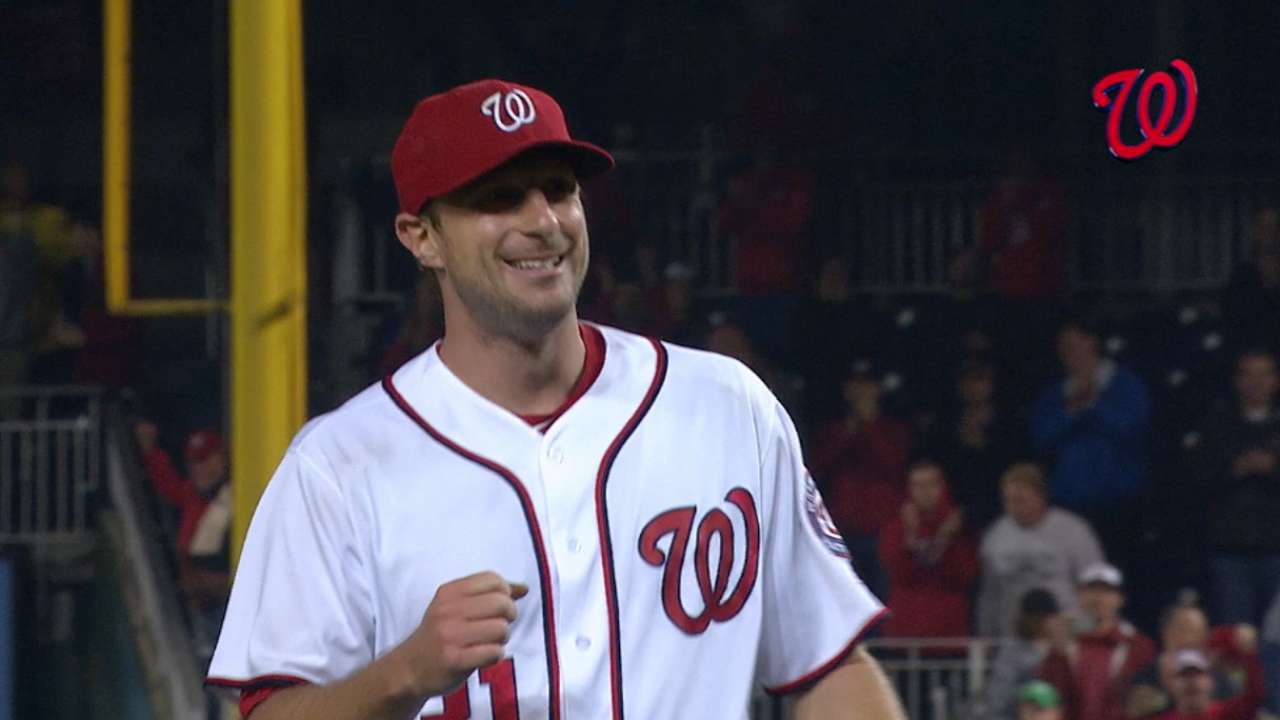 "There in the ninth, that's the equivalent of staring down the barrel of a gun, to be able to face Miguel Cabrera and throw him fastballs, you have to have ultimate belief in yourself," Scherzer said. "Fortunately enough, I was able to deliver one of my best fastballs of the night to get another strikeout against him."
After that, Victor Martinez singled. He had three hits on the night, half of Detroit's total. Then Upton struck out for No. 20. James McCann was up with another record beckoning. A ground ball led to a forceout at second. But this was no real disappointment for Scherzer.
"The more important thing was to be able to win the ballgame," he said. "You take the win. You take the 20 strikeouts. I'm trying to win, rather than getting a record. I wanted to beat that team. They battle you all night."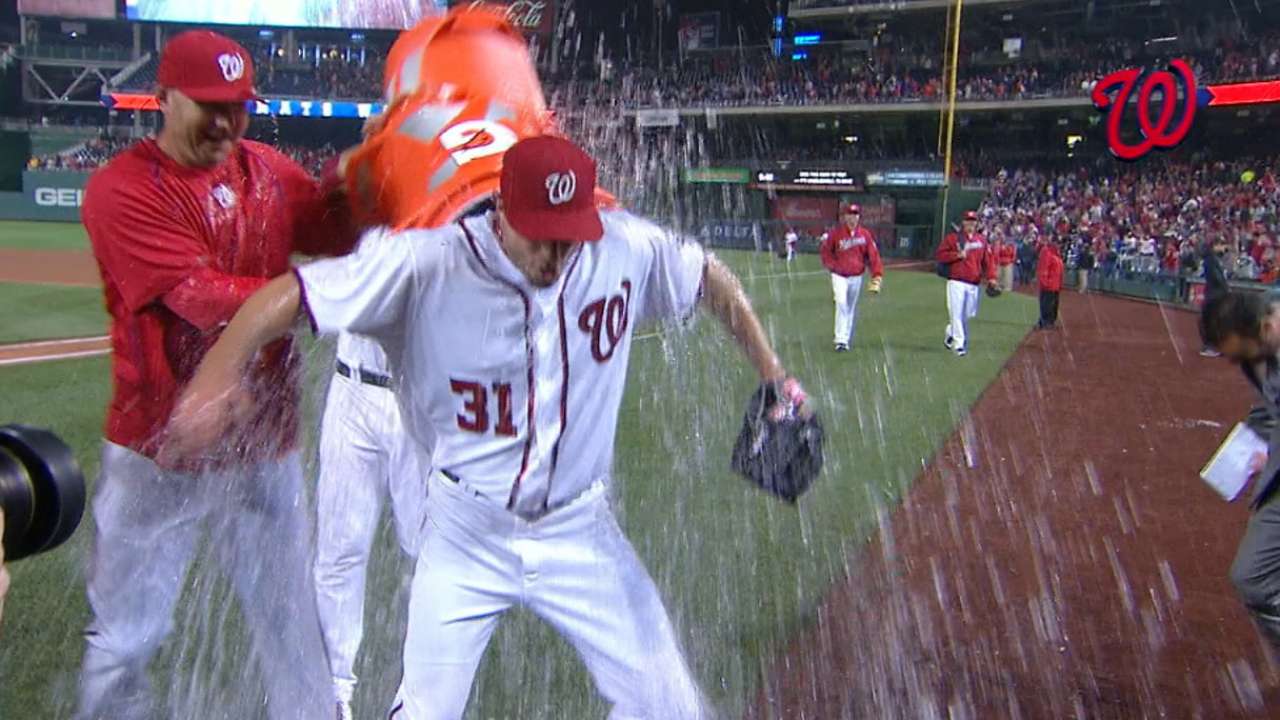 Now, Scherzer's name can be mentioned in the same 20-strikeout breath with Randy Johnson, Roger Clemens and Kerry Wood.
Scherzer pondered that thought and smiled.
"That's some serious company," he said. "It's an amazing accomplishment. Especially getting the win tonight, I think this is the only time I'll talk about giving up two home runs and have this big of a smile on my face."
Scherzer can smile as much as he wants. As large as the expectations were for this game, he and his 20 strikeouts were even larger.
Mike Bauman is a columnist for MLB.com. This story was not subject to the approval of Major League Baseball or its clubs.