Jay, Gatewood among top prospect performers Wednesday
Twins' No. 3 prospects tosses his best Minor League start, Brewers' No. 23 records second multi-homer game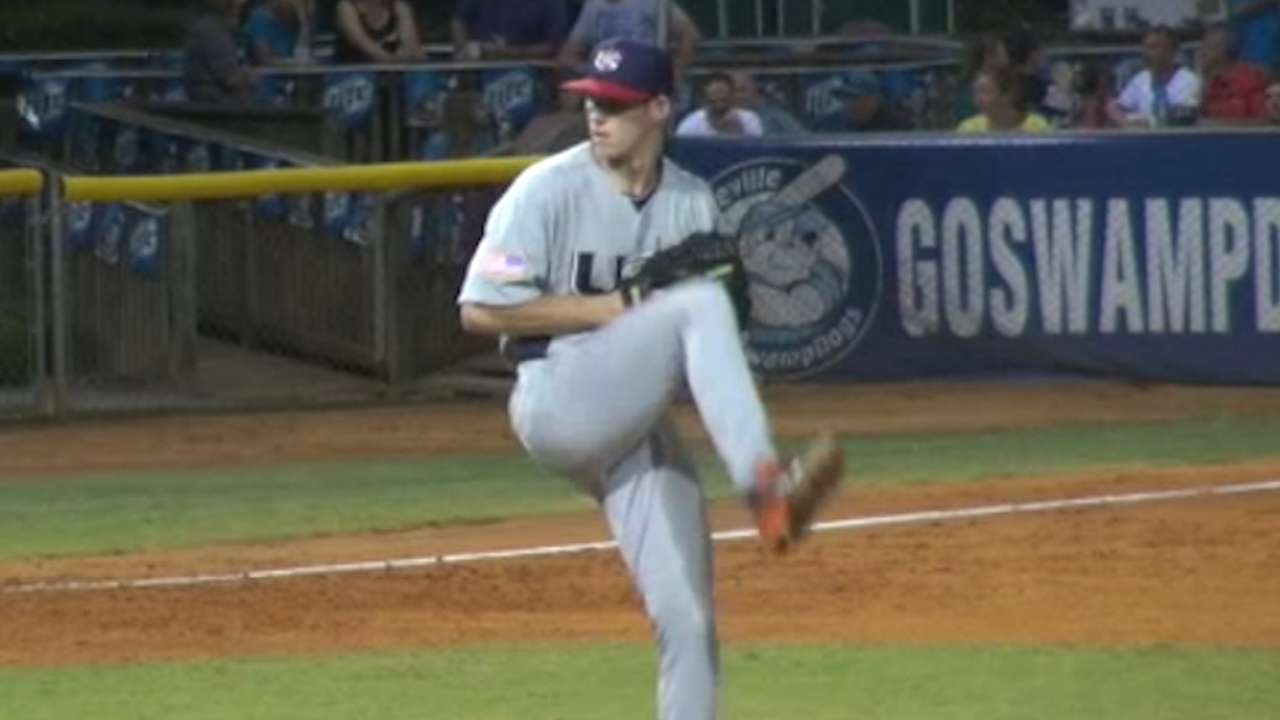 Bouncing back from a rough outing is something every pitcher has to do, but Tyler Jay may not have been used to waiting around for his chance at redemption.
Jay served as a reliever during his collegiate career at Illinois and in his first professional season and often had the chance to get back on the mound as soon as the next day.
However, the Twins moved their No. 3 prospect into the rotation this year and since Jay got hit hard on April 28 -- six runs on 10 hits in 4 1/3 innings -- he has turned in his two best starts in the Minors.
As it turns out, the wait was not a problem.
"I felt awesome," Jay told MiLB.com. "I've had a few things like that in college, when you're 'going;' you just know you're not afraid to throw anything. You just throw everything with confidence and conviction and just let the ball do the rest."
The left-hander gave up just three hits and a walk in seven scoreless innings Wednesday in Class A Advanced Fort Myers' 5-2 win against Bradenton, which followed his start on May 4 when he tossed 6 1/3 frames of scoreless ball.
"It's been awhile since I've felt that as a starter," baseball's No. 56 overall prospect told MiLB.com. "When you're 'going,' you're 'going.' There's really not a lot that's going to slow you down."
Jay is 3-2 with a 3.03 ERA through six starts this season. The seven frames were the most Jay has thrown in the Minors and the 93 pitches tied his career high. However, the 60 strikes he threw were the most he's thrown in a single start.
The rest of the best prospect performances from Wednesday
• Clint Frazier continues to rack up the hits as the No. 24 prospect in all of baseball extended his hitting streak to five games with a 2-for-4 performance Wednesday afternoon in Double-A Akron's 9-8 win in 10 innings. Frazier, the Indians' No. 2 prospect, tripled and drove in three runs -- his second three-RBI game this season.
• Tim Anderson went 3-for-5 with a double in Triple-A Charlotte's 7-4 win, the most recent multi-hit game for the No. 43 prospect in the game. Anderson has recorded at least two hits in three of his last four games and has raised his average from .222 to a season-high .256 during that span. Anderson is the No. 2 prospect in the White Sox system.
• Javier Guerra, the No. 54 overall prospect and the No. 2 prospect in the Padres system, is starting to find his swing for Class A Advanced Elsinore. Guerra went 3-for-4 with his fourth homer and three RBIs in the Storm's win, marking the second time in the last three games that he's notched a trio of hits. Guerra has seven hits in his last 13 at-bats and has raised his batting average from .216 to .252.
• Another day, another strong start from Josh Hader. The right-hander, who is the No. 57 prospect in all of baseball and the Brewers' No. 4 prospect, is showing why he's so highly regarded. The left-hander gave up one earned run in six innings in Double-A Biloxi's 6-1 win and has allowed one earned run or less in all seven of his starts this season. He leads the Southern League with 46 strikeouts.
• Setting a new season-high for strikeouts is impressive and doing it against the loaded Salem Red Sox lineup stands out even more, which is exactly what Indians' No. 5 prospect Justus Sheffield did. The left-hander, who is baseball's No. 100 overall prospect, struck out seven and gave up one earned run in six innings for Class A Advanced Lynchburg against a lineup that features the top three prospects in Boston's system. Sheffield may have been so comfortable on the mound because he was pitching with a two-run lead. Bobby Bradley, the Indians' No. 3 prospect, hit a two-run homer in the top of the first to give the Hillcats an early cushion. Baseball's No. 89 overall prospect leads the Carolina League in homers with eight and RBIs with 35.
• Brewers' No. 23 prospect Jake Gatewood has certainly flexed his muscle lately. The 20-year old shortstop hit a pair of homers Saturday and then hit two more Wednesday in a win in the opener of a twin bill for Class A Wisconsin. The games were the first two multi-homer games of his professional career. Gatewood set a career high for homers with 10 in 2015, but already has five this year after his 3-for-3 performance in the first game of a doubleheader.
• It looks like Adalberto Mejia is starting to find a rhythm. The Giants' No. 10 prospect gave up four runs and was unable to get out of the first inning on April 26, but has thrown 13 2/3 innings of one-run ball in two starts since for Double-A Richmond, including Wednesday night's strong effort. The southpaw held the Harrisburg Senators scoreless for 7 2/3 innings while striking out three, but the Senators ultimately prevailed, 2-1, in 11 innings.
• Nick Pivetta, the No. 19 prospect in the Phillies' system, was impressive Wednesday. The 23-year-old right-hander pitched six innings, allowing just one earned run and striking out seven in Double-A Reading's 9-6 win against Binghamton.
• Wynton Bernard came up a double shy of the cycle, but the Tigers' No. 22 prospect still had a tremendous night for Triple-A Toledo in its 7-5 win against Louisville. Bernard drove in three runs and finished 3-for-4 with his first triple and homer of the season.
William Boor is a reporter for MLB.com. Follow him on Twitter at @wboor. This story was not subject to the approval of Major League Baseball or its clubs.