Perez rises to occasion on hectic day
Righty arrives just hours before start after Chacin traded, spins 2-hit, 8-inning gem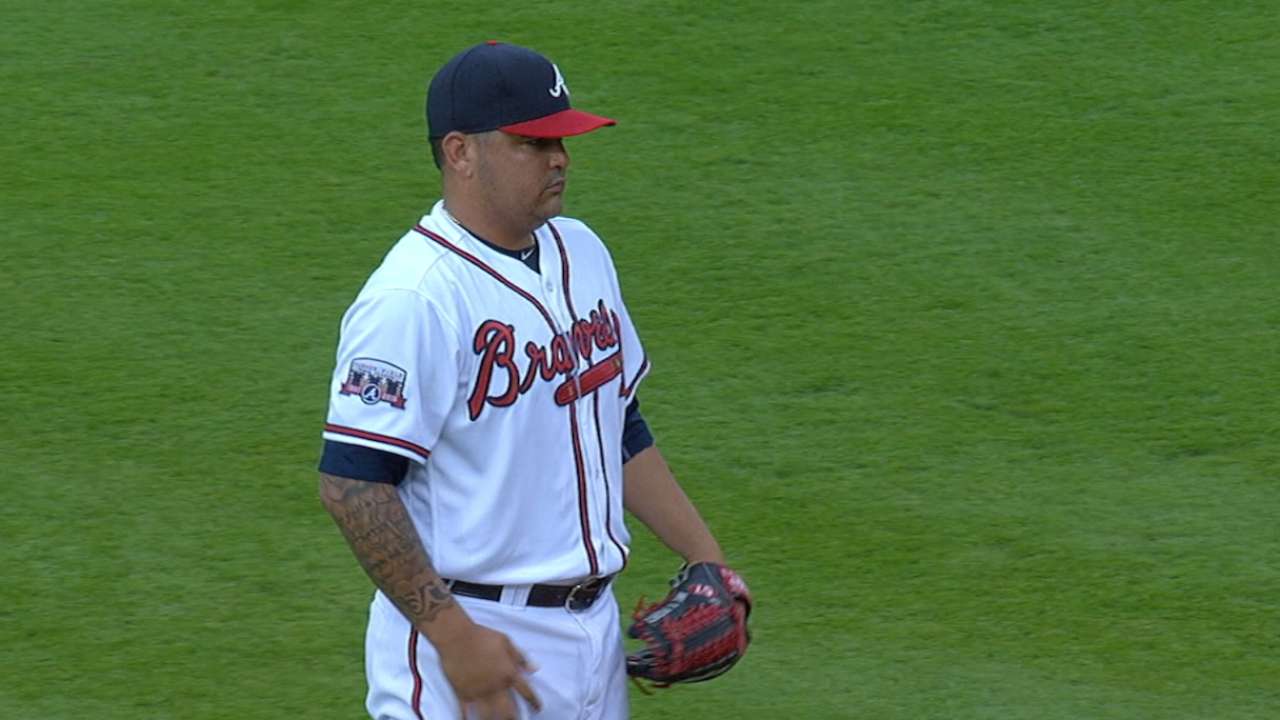 ATLANTA -- If Williams Perez is among the many pitchers who are creatures of habit, he might want to convince himself and the Braves that it was not the hectic travel and sporadic preparations that led him to an efficient eight-inning gem during Wednesday night's 5-1 win over the Phillies.
"That's pretty incredible," Braves first baseman Freddie Freeman said. "They seem to do that throughout history, when you just don't know what's going to happen and you get called and you come to the big leagues, and next thing you know, you throw eight innings of one-run ball."
After Triple-A Gwinnett's game Tuesday night in Rochester, N.Y., Perez learned that he needed to fly to Atlanta to make the start Jhoulys Chacin had been scheduled to make before he was traded to the Angels on Wednesday afternoon.
Perez arrived at Turner Field around 3 p.m. ET, and a little more than six hours later, he was celebrating that he'd limited the Phillies to two hits and faced just one more than the minimum during his 85-pitch, eight-inning performance.
"I was a little tired, but I didn't want that to affect me," Perez said through an interpreter. "I wanted to keep a positive mentality and outlook going into it. I was able to execute, and I was pleased with that."
So will it be best to have Perez fly in to wherever the Braves are playing when he makes any more starts over the remainder of this season?
"If that's what it takes, put it on my tab," Braves manager Fredi Gonzalez said. "I'll get the Delta points. We'll fly to Tallahassee or somewhere like that and then bring him back."
While the travel element might have added to the splendor of this story, Perez's performance was more of an indication of how much he has benefited from the mechanical changes he made since being sent to Gwinnett. Before that, he had not lasted five innings in any of the first three starts he made for Atlanta this year.
Perez tossed a one-hit shutout for Gwinnett last week and built off the resulting confidence. He retired 10 straight batters after his bid for perfection was erased by Ryan Howard's opposite-field homer to begin the fifth inning and then ended his night by negating Freddy Galvis' eighth-inning single with Darin Ruf's double-play groundout.
"I spoke to the coaches, and they gave me a clear message of the things they wanted me to work on while I was down in Triple-A," Perez said. "So I had something to focus on."
Perez certainly strengthened his bid to remain in the rotation as he encountered just one three-ball count and needed three or fewer pitches to retire 12 of the 25 batters he faced. In other words, he didn't look anything like he had when he exited both of his first two starts this season in the fifth inning having thrown at least 73 pitches.
"I know [pitching coach Roger McDowell] will reinforce that because he's got good enough stuff, and by the way, there were some pitches that registered 93 or 94 [mph]," Gonzalez said. "He's got that in his pocket. I hope this is one of those starts that helps him turn the corner. He's a special guy."
Mark Bowman has covered the Braves for MLB.com since 2001. This story was not subject to the approval of Major League Baseball or its clubs.