MLB.com Columnist
Mike Petriello
Scherzer saved season's best pitches for Miggy
98.1 mph strikeout was Nats righty's hardest pitch of 2016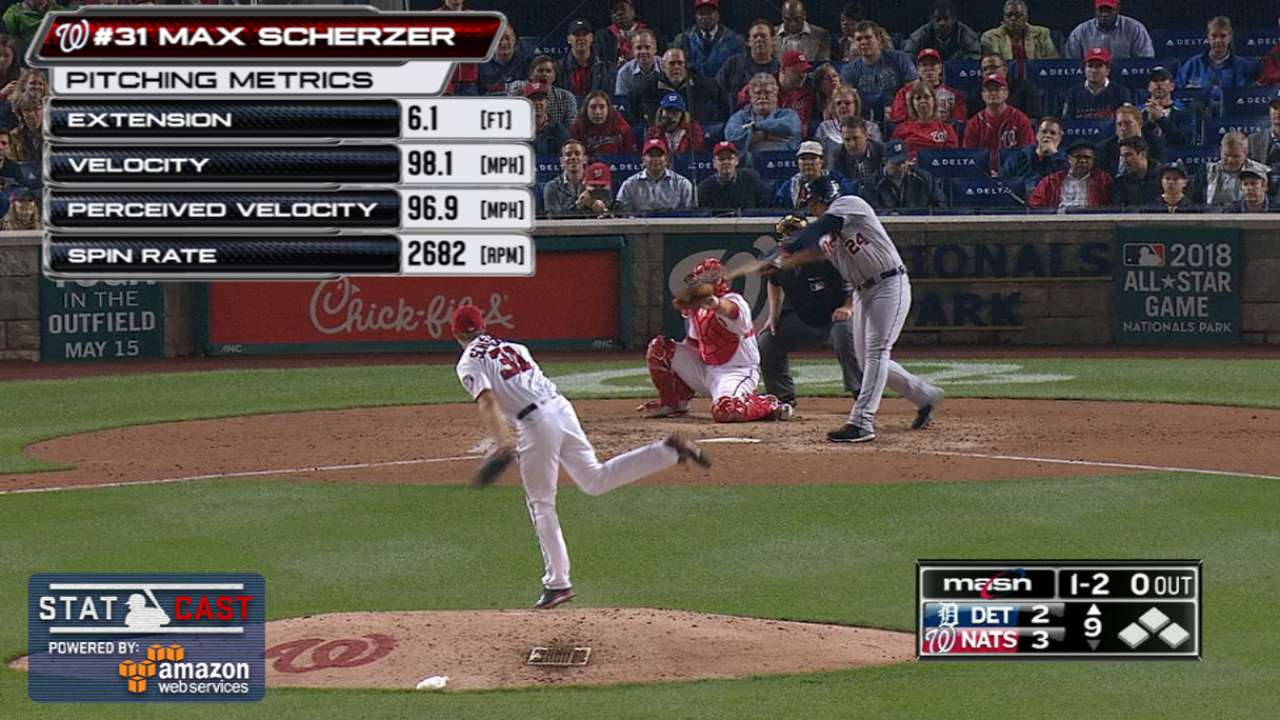 Max Scherzer saved the best for, well, the best. Even the great Miguel Cabrera wasn't immune to Scherzer's magic during a 3-2 Washington win Wednesday night, contributing three of the record-tying 20 strikeouts that Scherzer would pile up.
Yet despite the myriad ways in which Scherzer was tearing through Detroit's lineup, no one had to deal with quite what Cabrera did. In the ninth inning, with Scherzer sitting on 18 strikeouts with none out and with a 1-2 count on the Tigers legend, he reached back for a four-seam fastball that was measured at 98.1 mph, according to Statcast™. Despite the late inning, it was the fastest pitch of the game, setting up Scherzer to go for the record.
But merely saying that "Scherzer's fastest pitch of the game came in the ninth" sells him short. It was also his fastest pitch of the season -- before Wednesday night, Scherzer hadn't touched 98 mph since doing so eight times in a game against Cincinnati last September. Though he's got a well-deserved reputation as a flamethrower, Scherzer has touched 98 mph just 78 times in his career, over nearly 25,000 pitches.
Roaring 20! Max ties mark
•
K's to the Max: Scherzer ties mark with 20
•
DYK: Facts, stats from Scherzer's 20-K gem
•
New-look lineup backs Max's historic start
•
Scherzer OK missing out on the 21st K
•
Nationals awed by Scherzer, but not surprised
•
Scherzer saved season's best pitches for Miggy
•
Current, former players rave about Scherzer
•
Ramos, Scherzer racking up historic moments
•
Bauman: Scherzer shines under bright spotlight
•
Cut4: Scherzer's nastiest third strikes
•
Ausmus has had a front-row seat for K history
•
Tigers tip their caps to Scherzer
•
Full game coverage
Sights & sounds
Scherzer ties record with 20th strikeout
Scherzer's historic 20 K's
Scherzer on tying record
Baker on Scherzer's 20 K's
Photo gallery
So the story of an elite pitcher dipping into the tank to find something extra to blow away an elite hitter -- and his former teammate, no less -- late in a historic game is a fun one on its own. Except, look what happens when we share the updated list of Scherzer's five hardest-thrown fastballs of the season:
Scherzer's hardest fastballs in 2016
1. May 11 -- 98.1 mph -- Cabrera (9th inning)
2. May 11 -- 98.0 mph -- Cabrera (1st inning)
3. April 4 -- 97.6 mph -- Freddie Freeman
4. April 11 -- 97. 5 mph -- Adonis Garcia
5. April 4 -- 97.4 mph -- Nick Markakis
Yes, that's correct. Yes, Scherzer did it to Cabrera twice. Scherzer's ninth-inning strikeout of Cabrera was simultaneously his hardest-thrown pitch of the season and only his hardest-thrown pitch since about two hours earlier, when he'd picked up his second strikeout of the game by touching 98 against none other than Cabrera.
As if that's not enough to worry about, each of the pitches had extremely high spin rate, hitting 2,629 rpm in the first and 2,682 rpm in the ninth. (Scherzer's average fastball spin for the night was 2,590 rpm, and his season average headed into the game was 2,551 rpm.) We know that high fastball spin correlates very well with swinging strikes, as we investigated with Scherzer last year, and as an authority no less than Roger Clemens himself described seeing on Wednesday night:
Clemens to https://t.co/mDPUQDOoCt on Scherzer: "I'm sure his ball was moving and exploding in the upper part of the strike zone."

— Brian McTaggart (@brianmctaggart) May 12, 2016
Without question. That's what high-velocity, high-spin fastballs do. That's what they did to the entire Tigers lineup, endlessly. And that's especially what they did to Cabrera, the legend easily on his way to Cooperstown, who had to deal with the best Scherzer could offer on a night where his best was better than usual. That's unfortunate for Cabrera, really. It says a lot about Scherzer, who knew when he had to come in with everything he had. That's how records get set.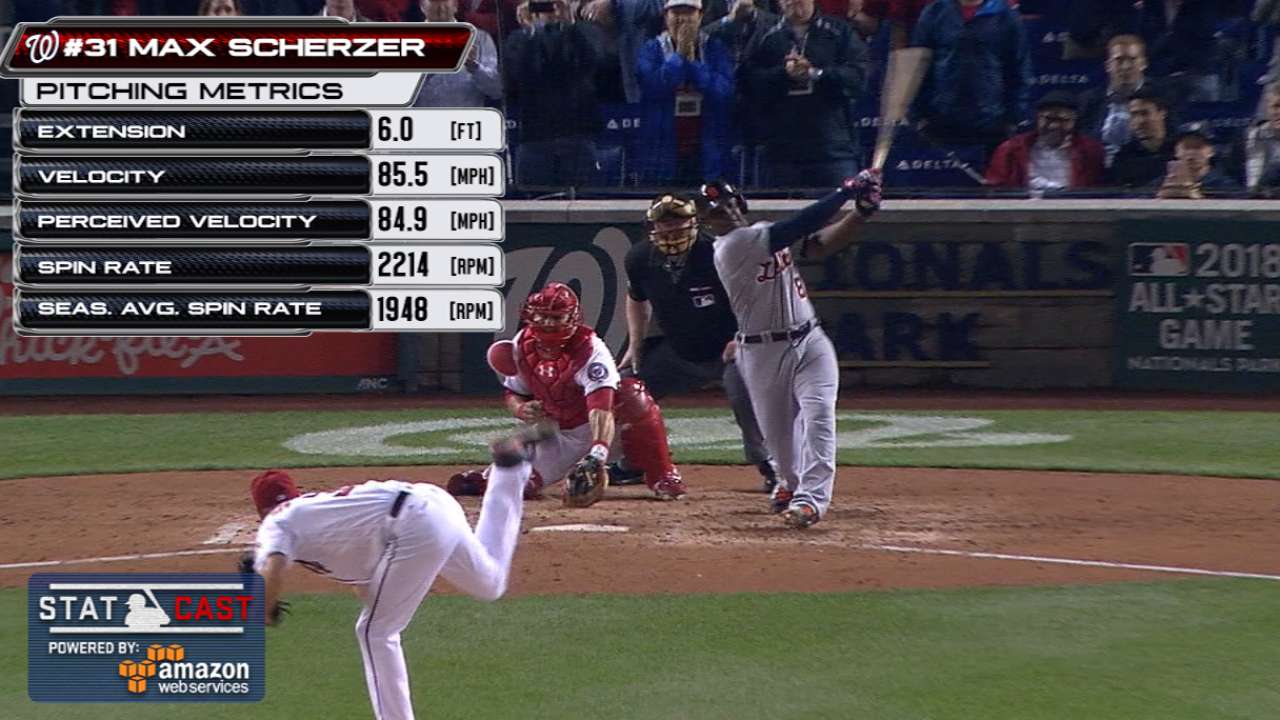 Mike Petriello is an analyst for MLB.com and the host of the Statcast podcast. He has previously written for ESPN Insider and FanGraphs. This story was not subject to the approval of Major League Baseball or its clubs.