McGee developing 'confidence' against NL West
Closer has added a curveball and converted nine of 11 save opportunities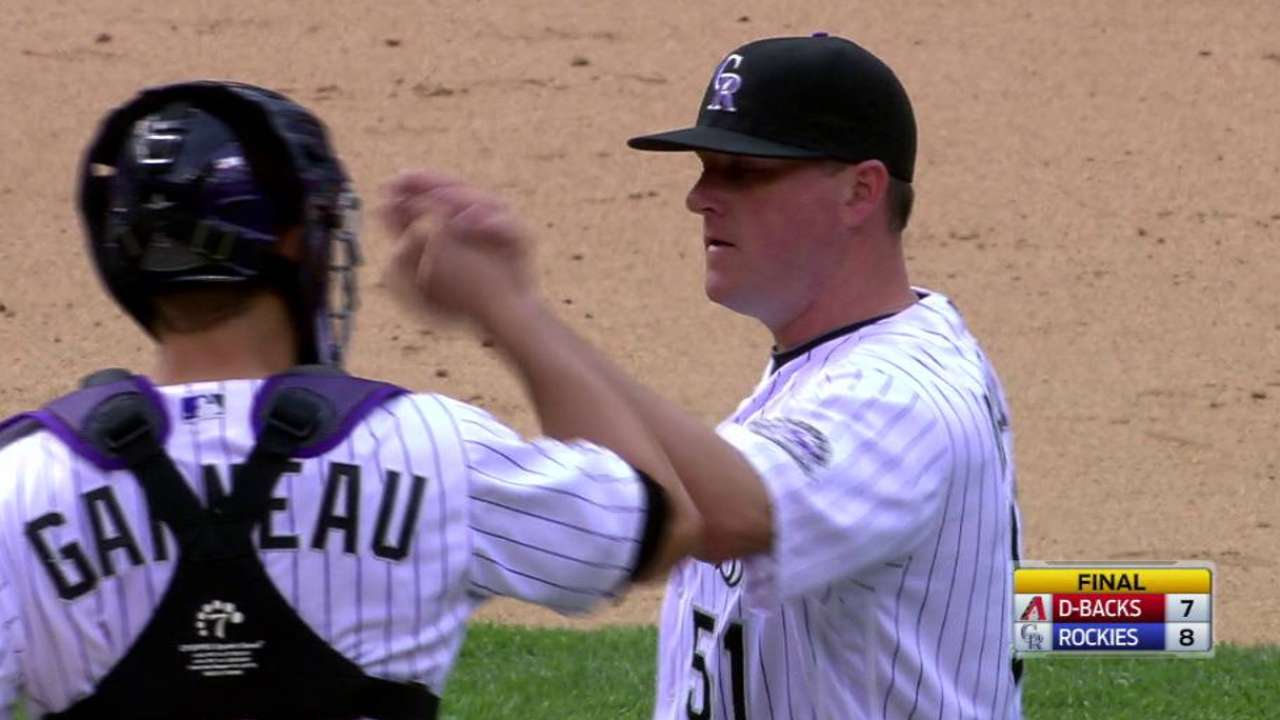 DENVER -- For the past couple of weeks, Rockies closer Jake McGee has demonstrated that if confidence comes before positive results, a player can handle the capricious nature of a job that can go wrong even when a player does things right.
McGee, who protected a one-run, ninth-inning lead -- and faced D-backs slugger Paul Goldschmidt to end it -- on Wednesday afternoon in an 8-7 victory over the D-backs at Coors Field, had struggled during the season's early weeks.
A five-run ninth-inning meltdown to blow a save on April 24 against the Dodgers was a lowlight. While other performances were better, the pinpoint fastball location that was his calling card the previous six seasons with the Rays hadn't made the trip west. Part of it was simply learning new hitters. Training in Florida and playing in the East meant he saw few of the hitters that he'd face regularly with the Rockies.
Also, after throwing fastballs 94-96 percent of the time with the Rays, McGee learned a curveball at the Rockies' behest. Bullpen coach Darren Holmes had succeeded with one as a player with the Rockies. Learning how and when to use it, and fighting mechanical issues that took away fastball command, took time.
"I started to get on a roll in my game in San Diego, when I was rushing too much and my velocity was dipping," McGee said. "Since then I've located much better, and my velocity has been up."
But figuring things out doesn't guarantee success. Saturday at San Francisco, Brandon Crawford laced a curveball for a triple and scored to tie a game that eventually became a 2-1 loss. It increased the freak-out level for others, but not for the one who is important.
"The one [against the Dodgers] that shouldn't happen was a three-run lead," McGee said. "But the one in San Francisco, that's going to happen here and there. You have to minimize those. But the three-run, two-run leads, you have to get those done every time."
After McGee blew Saturday's save, Rockies manager Walt Weiss gave the ninth inning to McGee on Sunday. He forced a double play to end a 2-0 victory. Wednesday, he improved to 9-of-11 in saves this season, and 1-for-2 when entering with a one-run lead.
And he left little doubt.
Like old American League times, he left Jean Segura looking at a first-pitch strike at the top of the zone. Like new times, he fanned him with a 2-2 curve. Welington Castillo lined out before McGee faced Goldschmidt, a right-handed hitter who has reached in 44 straight against the Rockies and often hurts them.
McGee said he sees Goldschmidt the way he saw Josh Donaldson, Edwin Encarnacion, Jose Bautista and Miguel Cabrera -- as someone who will punish mistakes in the strike zone. Knowing he could go left-on-left with Jake Lamb, he started with a fastball low, then enticed Goldschmidt to pop to left on a fastball on his hands.
Not only does he feel sharp, but his knowledge of hitters in the NL West is growing, having spent Spring Training and the early schedule repeatedly facing division hitters.
"I almost need to experience them and face them," McGee said. "Like the Giants, I faced those three hitters, then I faced them the next day, and I knew what to do the next time.
"I have a confidence."
Thomas Harding has covered the Rockies since 2000, and for MLB.com since 2002. Follow him on Twitter @harding_at_mlb, listen to podcasts and like his Facebook page. This story was not subject to the approval of Major League Baseball or its clubs.