D-backs hope road success yields home wins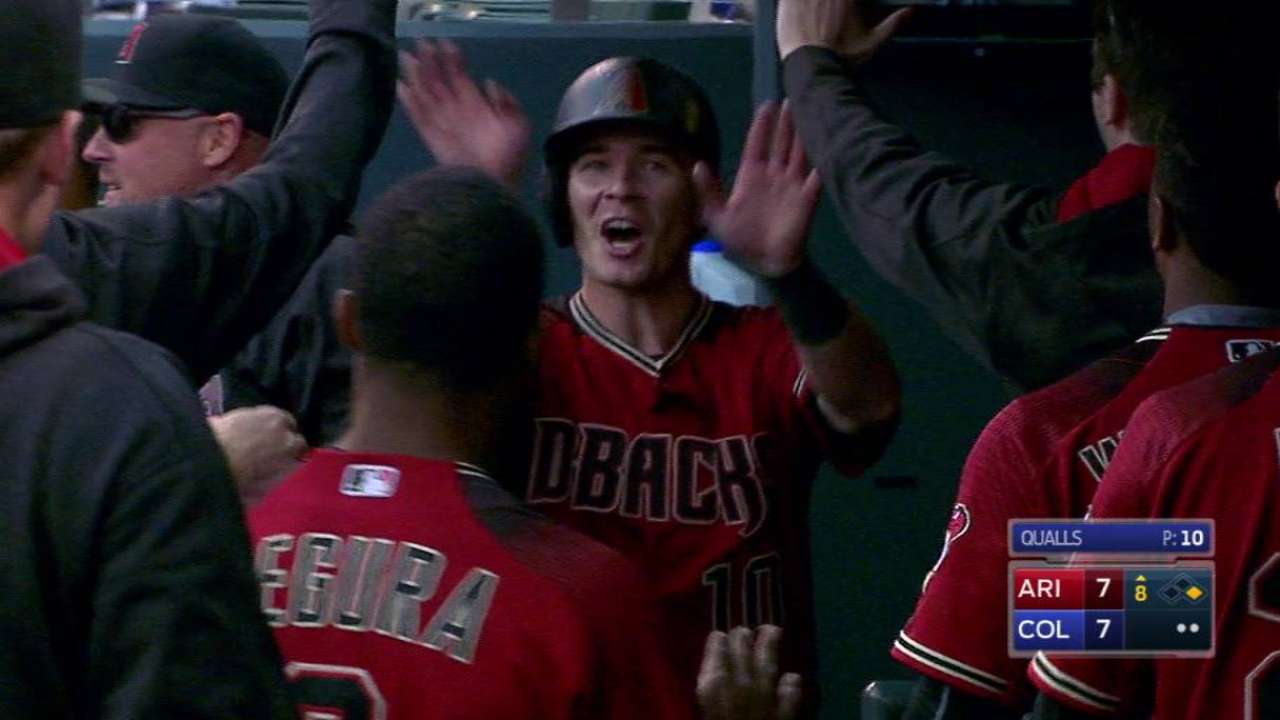 DENVER -- The D-backs' 8-7 loss to the Rockies on Wednesday afternoon at Coors Field was much like their just-completed nine-game road trip -- it started out rough, but finished on a good note.
The D-backs carried a three-game losing streak into the opening series of the trip in Miami, and after three days there, that streak sat at six games heading into a three-game set with the Braves.
"We lost six in a row, so we were going into Atlanta just to find a way just to kind of right the ship and start playing a little bit better," D-backs first baseman Paul Goldschmidt said. "Not that we played bad, but you lose six in a row, you're trying to find a way to get some wins."
The Braves, who entered Wednesday with the worst record in baseball, were the perfect elixir for the D-backs, who were able to sweep them.
The momentum gained there carried over into the first two games of the series with the Rockies, as the D-backs extended their winning streak to five games.
"The guys, we fight," D-backs manager Chip Hale said. "That just who they are. It's in their DNA. You see it all the time. These guys, even after losing the six in a row, came back to win five in a row. That was real important."
On Wednesday, the D-backs fell into a 7-1 hole after six innings before rallying to tie the game in the top of the eighth inning. Chris Owings plated the game-tying run.
"We had a lot of good at-bats," Hale said. "We figured it out, got it going and scored some runs. Just early on, and even mid-game, we just gave them too many runs. Our defense, again, just wasn't up to par, but I give our guys credit for not giving up and battling."
The D-backs now return home for seven games, including a four-game series with the Giants and a three-game set with the Yankees.
Usually, returning home means good things for a team, but Chase Field has not provided much of a home-field advantage, with the D-backs just 5-12 there compared to 12-7 on the road.
"Now it's time to go home and defend our home field, and that's another chapter that we have to open up," Hale said.
The D-backs are at a loss to explain why they've played better on the road than at home this year, but after their recent win streak, they enter the upcoming homestand with more confidence.
"Pitchers are starting to throw better. We're starting to hit better with men in scoring position," catcher Welington Castillo said. "I think everything is starting to go the way we want it to be."
Steve Gilbert has covered the D-backs for MLB.com since 2001. Follow him on Twitter @SteveGilbertMLB. This story was not subject to the approval of Major League Baseball or its clubs.