MLB.com Columnist
Richard Justice
There's no quit in these Rangers
Ability to come from behind propelling Texas in recent run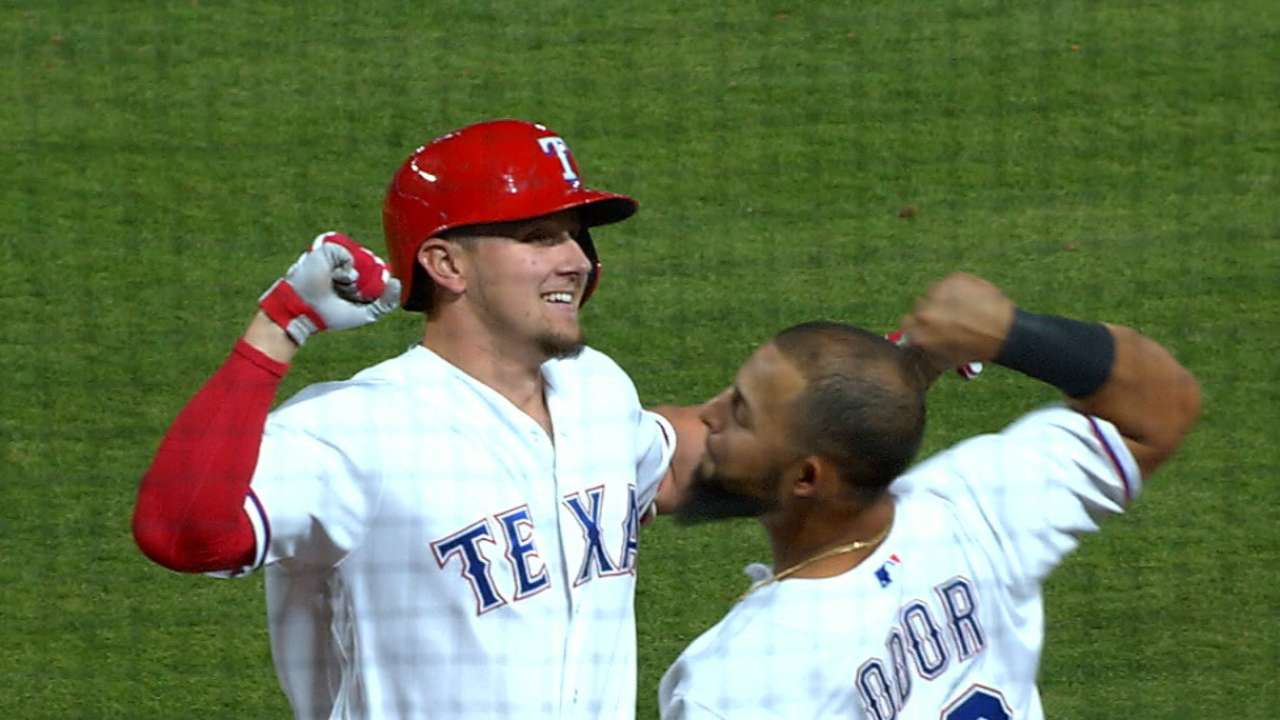 You never know. You keep playing. You compete. Again, you never know. Texas Rangers manager Jeff Banister says stuff like that a lot.
Actually, Banister sometimes doesn't actually say it. Instead, he'll point toward his clubhouse and nod.
"Those guys," he'll say.
Banister means that his players get it. Consummate professionals.
"Twenty-five players engaged, prepared and playing hard," he will say.
That's the lesson of this mini-surge in which the Rangers have won five of six games to move five games above .500 for the first time this season at 20-15.
It's not that the Rangers have won five of six that's so impressive. It's how they've done it. They've come from behind to win four of those games. Twice, they've come behind in the eighth inning.
Let's recount:
• Texas was down, 5-2, in Detroit in the sixth inning last Saturday and won, 10-5.
• On Sunday, they trailed the Tigers, 2-0, in the eighth and won, 8-3.
This is where it gets really good.
On Tuesday night, the Rangers trailed the White Sox, 10-5, in the seventh inning and 11-6 in the eighth before rallying to win, 13-11.
• Rangers ride 7-run rally to topple White Sox
And Wednesday afternoon, after a long, draining night at the ballpark, they trailed the White Sox by scores of 1-0, 4-2 and 5-4 before scoring twice in the sixth to finally win, 6-5.
In the two games, Banister used all seven of his relievers. Seven Texas players drove in runs.
Banister got a tremendous 4 1/3-inning performance from 24-year-old left-hander Alex Claudio on Tuesday, and he turned to one of his setup men, Sam Dyson, for the save on Wednesday.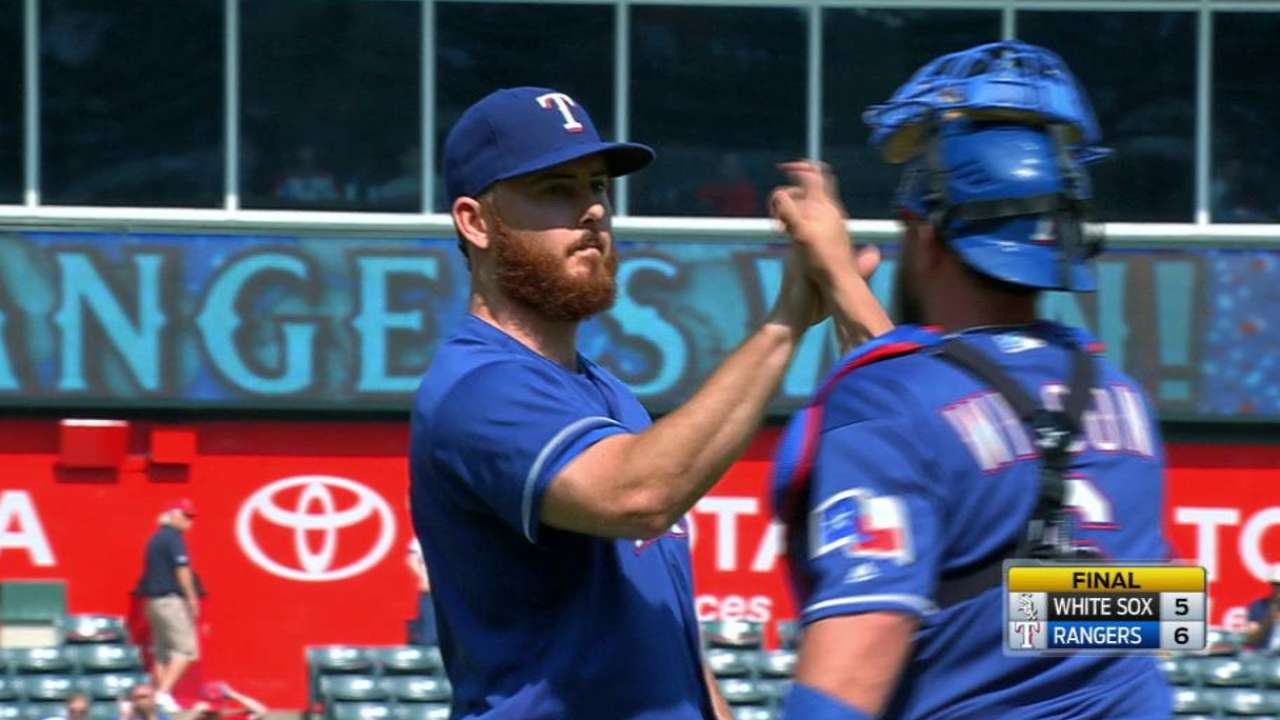 "Multiple contributions from guys all over the place," Banister said. "The fashion of how we're winning ballgames, we've had to have everybody."
Tuesday, it had been a two-run home run by reserve outfielder Ryan Rua that completed that seven-run rally in the eighth. Wednesday, it was a string of hits and great at-bats, ending with Adrian Beltre's single to drive in what turned out to be the winning run.
Sure, it's just a couple of nice victories in the middle of a long grind. But if the Rangers are your team, if you're a player or a coach or a fan, you're walking a bit taller. You ought to feel really good about what they have going, about the kind of people they have, the resilience, etc.
"Incredible," Banister said. "Look, we've talked a number of times about the sheer heart and will and resilience. These guys believe in each other and themselves."
Texas won Tuesday despite getting just 2 1/3 innings from starter Derek Holland, who was charged with four earned runs. However, he won all kinds of points for pitching two innings, then waiting out a 78-minute weather delay and going back to the mound. Holland never got his rhythm back once he returned, but that's not what mattered.
"Derek gutted it out," Rangers left fielder Ian Desmond said.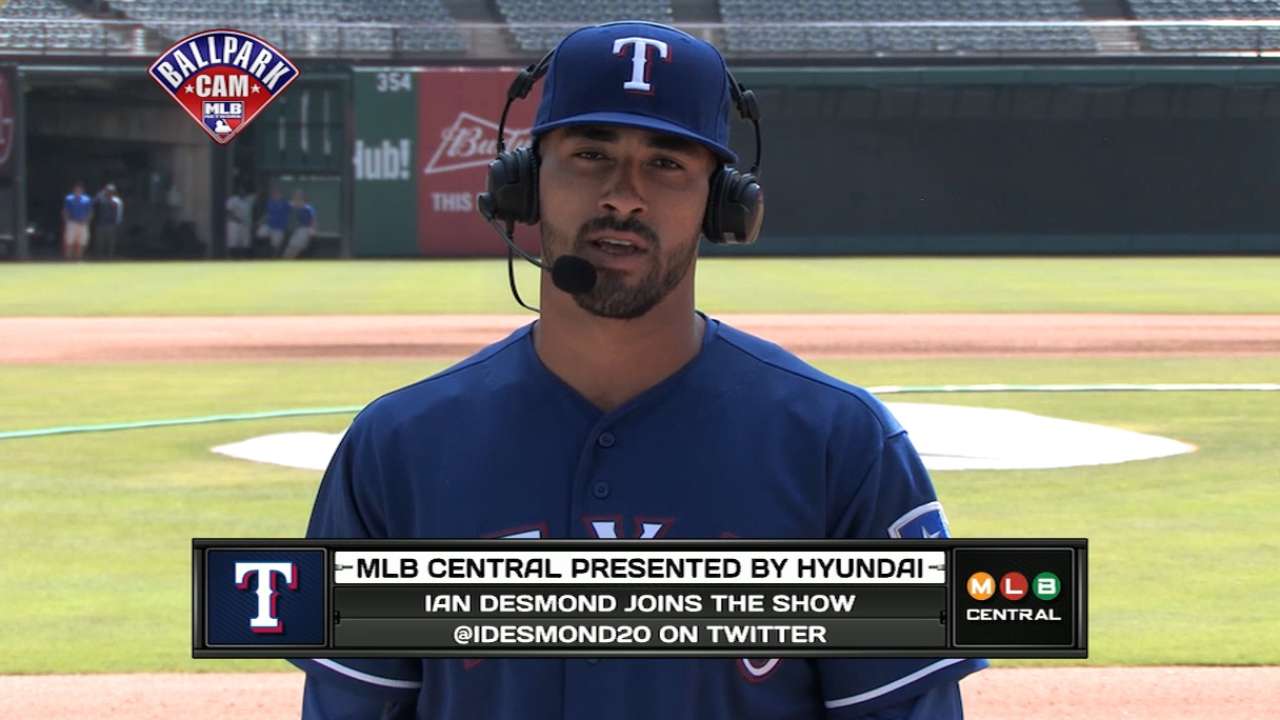 Trailing, 11-6, in the eighth Tuesday, Texas had one of those innings that can carry a team for a few days. To sum up: two singles, two walks, a double, a triple and, finally, a home run. Banister used two pinch-hitters and a pinch-runner.
White Sox manager Robin Ventura countered with three relievers. He came close to getting out of it, too.
Beltre made the second out of the inning with a sacrifice fly that scored Bryan Holaday to make it 11-8. Even when Desmond followed followed with a two-run triple, it was 11-10. But then Rua, in a one-ball, two-strike hole, hit a ball over the center-field wall to score the winning runs.
To sum up: 24 runs, 30 hits, six relievers, all in three hours, 22 minutes, which would actually be four hours, 40 minutes if you're counting that little timeout for lightning, wind, thunder and rain.
Again, it was one game. It was also the Rangers' biggest comeback in four years.
Afterward, Banister beamed when he spoke of contributions from guys like Claudio.
"He's probably the next-to-last guy in the bullpen," he said. "He never says anything. He takes the ball when we give him the ball. To do what he did was phenomenal. He gave us an opportunity to do what we did."
And then on Wednesday, they did it all over again.
"These guys never quit," Cole Hamels said.
Richard Justice is a columnist for MLB.com. Read his blog, Justice4U. This story was not subject to the approval of Major League Baseball or its clubs.