Maddon: No thought of lifting Soler in key spot
Cubs drop consecutive games for first time this season
CHICAGO -- In the eighth inning Wednesday night, the Cubs trailed the Padres by a run, but had the bases loaded and two outs. Jorge Soler, who had struck out in his three previous at-bats, was up. And he struck out again.
The Cubs lost, 1-0, and for the first time this season, they have dropped back-to-back games, with the Padres completing a doubleheader sweep. Addison Russell was available on the Cubs' bench. Did Chicago manager Joe Maddon consider lifting Soler for a pinch-hitter?
"Of course not," Maddon said. "You don't do that. This is a guy who is a big part of our future. He could've just as easily hit the ball over the wall, get a knock. There's really no thought of that."
Soler had battled Padres' starter Drew Pomeranz in the first inning, eventually getting called out on strikes after a 10-pitch at-bat. The young outfielder is batting .175.
"He had to cover a lot of strike zone, so that makes it a little more difficult," Maddon said of Soler's night. "He's fine. There's not a thing wrong with him. He had a tough night but 'George' will be just fine. You can't read into one game like that and denigrate a really good young prospect or hitter like that. He had a tough night. He'll rebound. He'll be fine."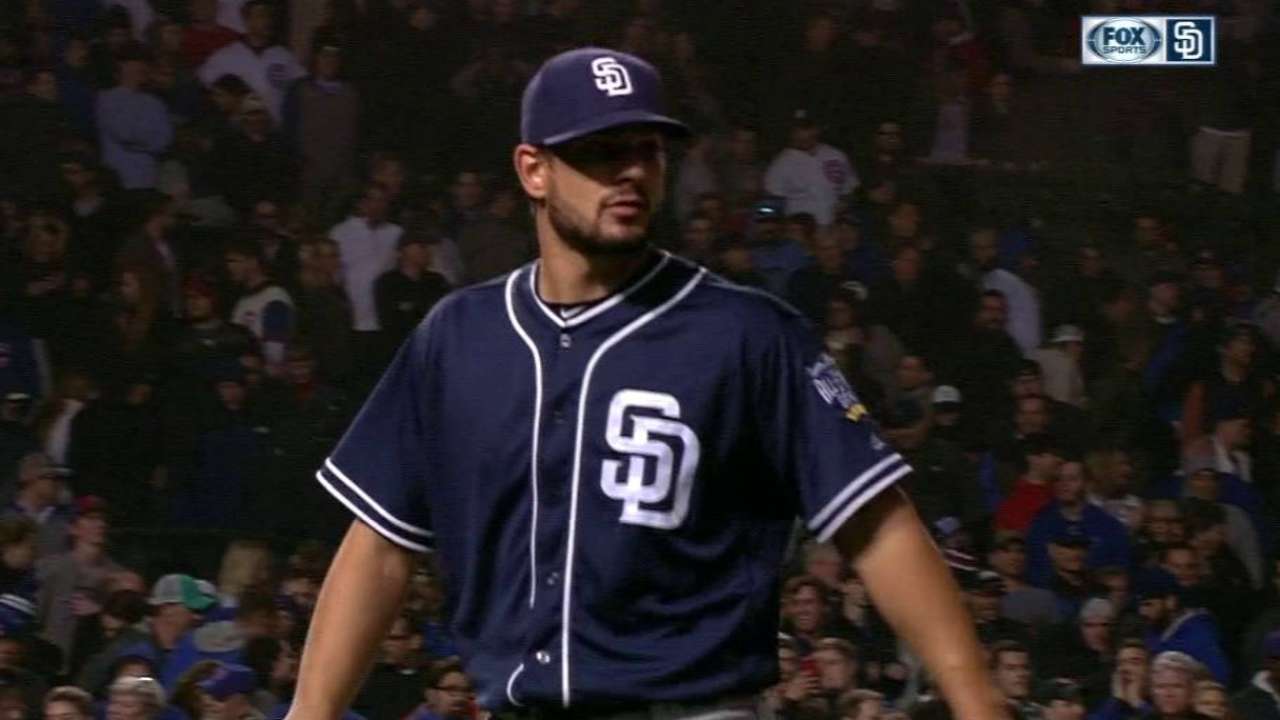 So will the Cubs, who were swept in a doubleheader for the first time since July 8, 2014, at Cincinnati, and didn't use the party room in their new clubhouse at all.
This is the deepest the Cubs have gone into a season without losing consecutive games since 1907 (34th and 35th games). Wednesday's second game was No. 33 for the Cubs.
"It's strange, because we hadn't done it this year," Ben Zobrist said. "That's a great thing -- here we are in May, and it's the first time we've lost two games in a row. It speaks volumes about how well we've played so far. We're not going to let one day that we struggled deter us from continuing to do what we've been doing the last month and a half. We'll come back strong on Friday."
Cubs catcher David Ross wasn't going to blame a teammate for one bad at-bat as the reason they lost back-to-back games.
"It's baseball, and baseball is really hard," Ross said. "[Soler's] role is off and on. Bench roles are tough, getting sporadic at-bats. I see good at-bats, and I think we're looking for good at-bats out of one another. It's hard to get down on your teammates when you're 25-8 or whatever we are. I'm not going to talk bad about anybody."
The Cubs will have an off-day Thursday to think about it, then have to deal with the Pirates on Friday.
"We don't like it," Maddon said of losing consecutive games, "but it's probably inevitable during the course of a baseball season that you may lose two games in a row. It's unfortunate it happened on the same day. I have nothing to lament. I think we all need a day off tomorrow. ... Our guys have played well, we pitched really well today, and we could just not get a run."
Carrie Muskat has covered the Cubs since 1987, and for MLB.com since 2001. She writes a blog, Muskat Ramblings. You can follow her on Twitter @CarrieMuskat and listen to her podcast. This story was not subject to the approval of Major League Baseball or its clubs.