Young Walsh looks to heat up at hot corner
Brewers see former second baseman as possible answer at third base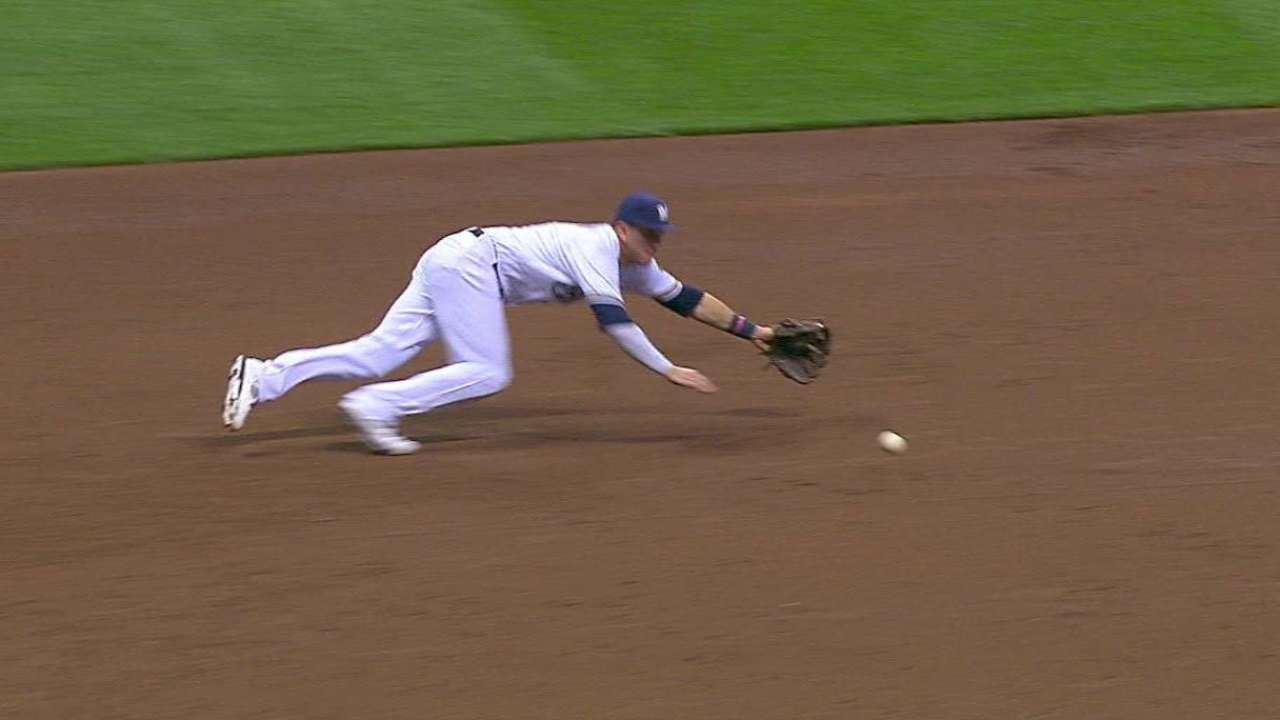 MIAMI -- A natural second baseman, Colin Walsh's future with the Brewers is at third base, and though it's taken some time, the Californian is settling into his new role.
"I'm feeling comfortable [at third base] now," Walsh said. "Initially in Spring Training, it was definitely a switch, a different environment. Now I'm where I need to be, basically."
Manager Craig Counsell likes what he's seen of the small sample size from Walsh, both at third base and at the plate. He said the move to third base fits the Brewers' roster and where Walsh can be most useful to the club.
"That's the spot for him," Counsell said. "And I know he's got a lot of [experience] at second base; he's played some left field. But we're focusing our work at third base."
Walsh played in 345 games at second base during his professional career. But he is easing into a spot he's played in just 74 games -- 63 in the Minor Leagues. He's played more games in left field (88) than at third base.
Over just nine starts at third base this season, Walsh is struggling for consistency at the plate, hitting just .098 in his first 54 plate appearances.
"But he's shown what we know he's good at -- his ball/strike recognition," Counsell said. "At some point you need to get some hits, there's no doubt about it, but we'll keep working with him and exposing him to the right situations, and see what we've got moving forward."
A 2015 Texas League All-Star, Walsh led all of Minor League Baseball in walks with 124. With Double-A Midland, he hit .302 with 13 homers and 49 RBIs, stealing 17 bases in 134 games.
Walsh said he hasn't let learning a new position affect his hitting.
"I feel like if you can't compartmentalize your three-minute at-bat, then no matter what factors are going on in your life, there's something definitely going wrong," he said. "I haven't hit great. It's not like I'm crushing the ball. I've hit some balls hard that haven't fallen.
"I wouldn't say I'm super unlucky -- there's definitely some stuff I could improve on -- but overall I feel good at the plate," said Walsh, who has nowhere to go but up with his batting average. "Statistically, you can't hit .090. It just doesn't happen as a position player. So based solely on that fact, [my average] has to go up at some point."
He's been inspired by teammate Aaron Hill, who has raised his average nearly 100 points since hitting .168 through April. Still, it's difficult to get in that kind of groove for a young player coming off the bench and not playing every day.
"You don't get a ton of opportunities, so you can drive yourself crazy if you worry about being judged by average, as opposed to trying to go up there and having a good at-bat every time up there," he said.
Glenn Sattell is a contributor to MLB.com and covered the Brewers on Wednesday. This story was not subject to the approval of Major League Baseball or its clubs.