Pomeranz: 'Best I've ever felt' in pro ball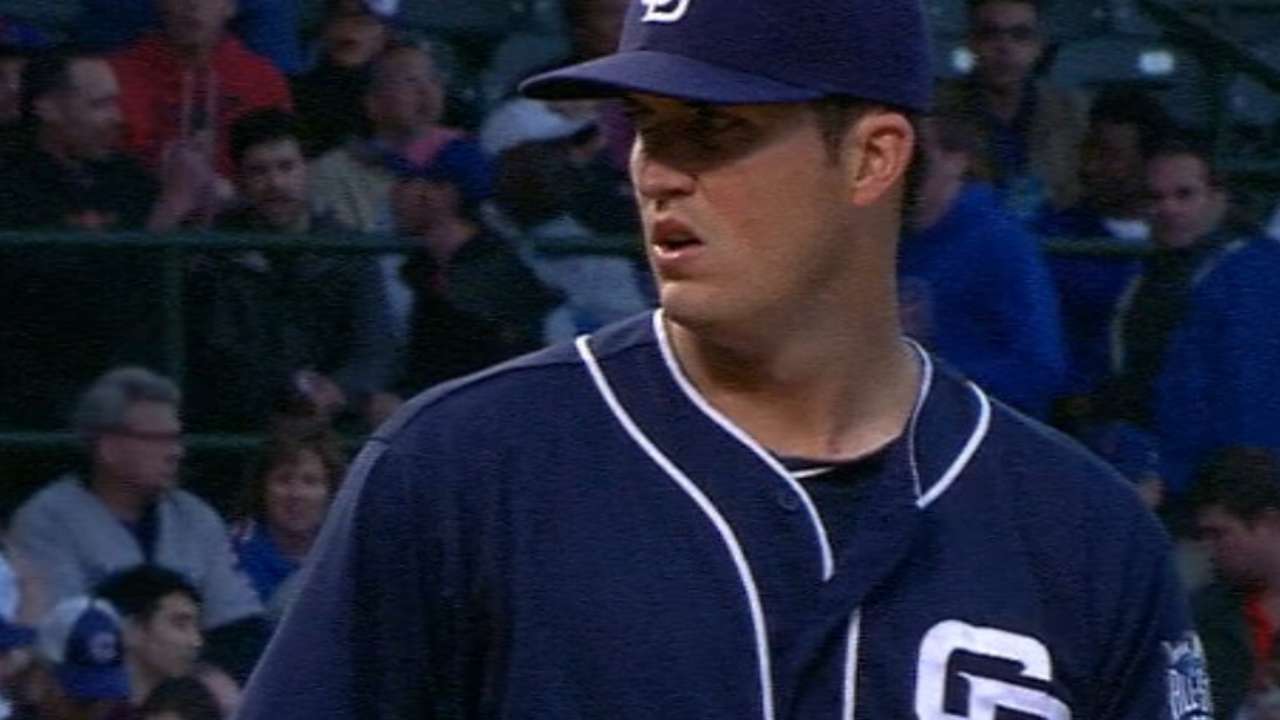 CHICAGO -- Wednesday night's start at Wrigley Field against the red-hot Cubs served as something of a litmus test for Padres early-season ace Drew Pomeranz. Sure, he was off to a fantastic start. But this was a matchup with the Majors' best team in a hostile environment.
Pomeranz passed his test with flying colors.
The 27-year-old left-hander tossed six shutout innings in Wednesday's 1-0 victory over the Cubs, allowing just three hits, while striking out a career-high-tying 10 batters.
"In pro ball, this is the best I've ever felt in a stretch," Pomeranz said afterward. "I felt strong out there tonight. I almost feel like I was getting better as the game went. That's a positive for me. Sometimes, early in my career, I'd kind of burn out early and taper off toward the end. But this year, I seem to be kind of settling in."
"Settling in" would be understating it.
Over his past three starts, Pomeranz has allowed just one run on seven hits over 18 innings. He lowered his ERA to 1.80 with Wednesday's gem.
In the eyes of his manager, this version of Pomeranz is here to stay.
"His stuff's legit," said Padres skipper Andy Green. "I don't think there's any doubt about it."
As usual, Pomeranz used a heavy dose of his devastating curveball to keep Cubs hitters off-balance all night. Pomeranz's six innings contributed to just the second shutout for Chicago this season.
"He's outstanding," Green said. "I know he'd love to go deeper in the game. He'd love to go seven or eight consistently. I think it's a byproduct of his stuff being so effective that his fastball and curveball get fouled off a lot, and he's very hard to square up. Some at-bats can linger."
For Pomeranz, it's been a remarkable couple months. In mid-March, he was projected by most as a part of the Padres' bullpen. With an impressive finish to Spring Training, he earned a rotation spot, and he's clearly made the most of it.
In Pomeranz's eyes, there's one thing he'd like to improve upon: Keeping his pitch count down. On Wednesday, he needed 101 to get through six innings.
"That's a lot of pitches in a short amount of time, and that's part of something that I want to work on -- to be a little more efficient with those pitches," Pomeranz said. "I guess that's the next step.
"Either way, I try to keep us in a position to win, no matter how long I go. But I'd like to get out there a little longer, save some of our bullpen guys for later in the season."
AJ Cassavell covers the Padres for MLB.com. Follow him on Twitter @ajcassavell. This story was not subject to the approval of Major League Baseball or its clubs.